Take Time to Declutter Your Home Before Moving
By Laurie Phillips
June 30, 2021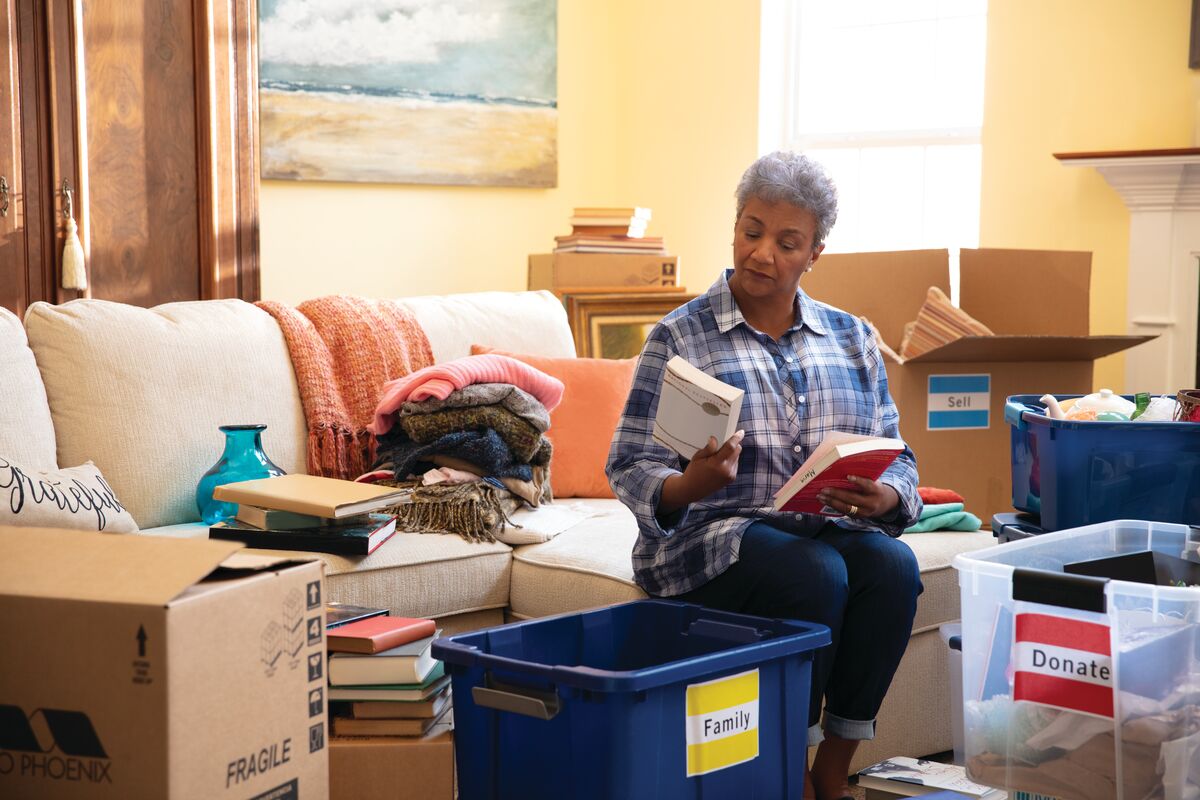 Here's a rainy day task that will leave you feeling like you really accomplished something--get started decluttering your house. 
Whether you've reserved an apartment home at an Erickson Senior Living community or are just starting to think about it, it's never too early to begin sorting, donating, and discarding. If you've been in your house for years or even decades, you've probably accumulated much more than you realize!
Some handy downsizing reminders
Before you begin, keep these few things in mind:
•Don't get overwhelmed. You don't have to complete this in a day. Create a plan, stick to it, and you'll get through it, one room at a time.
•It's your house that has the most value. Your house is your biggest asset, worth so much more than the things in it. What you might get for used furniture is a fraction of what your house will bring. Focus on decluttering to ensure better showings and potentially scoring a higher sales price.
•There's no need to rush. Allow yourself time for the emotional aspect of downsizing. So many objects we keep are associated with people, places, and events—and letting those things go can be hard. But those memories will come with you, even if the objects don't.
A new way to declutter your home
Before you tape a single box, you need a plan. Here are some creative ideas to get you started.
Schedule a home visit
A great first step is to schedule a home visit with one of Erickson Senior Living's personal moving consultants. We know the floor plans and square footage. We know what will and won't fit in your new apartment home. Let us help you be specific and intentional about what you bring to your new space.
Tailor your move with senior moving consultants
Personal moving consultants have guided hundreds of new residents through the process. We've seen every conceivable situation and can tailor your move to meet your specific needs. We'll break down each component of your move, create a timeline based on your needs, and make the entire process more manageable in ways that reduce your stress.
Don't reinvent the wheel when it comes to the moving process
Erickson Senior Living has resources in place to assist you at every step—from downsizing to the move itself.
For example, you don't need to spend valuable time interviewing multiple real estate agents, because we've already vetted and partnered with the most effective agents in your area.
The same is true of all our preferred partners. They understand what it takes to move to an Erickson Senior Living community and provide the experience, quality, value, and professionalism we demand. Leave the heavy lifting to them, so you can focus on decluttering. 
Take advantage of family and online resources for getting rid of old items
There are many online resources for getting rid of unwanted stuff—Facebook Marketplace, LetGo, Freecycle—and many creative ways to let people know.
If you're not tech-savvy, enlist your kids or grandkids to post photo albums of things you want to get rid of. Offer items to friends and family, and ask them to pass on the information only to people they know, so you can control the process and avoid having strangers in your home. 
Don't start packing before you've finished decluttering
If you start packing too early, you'll take more than you need and have to downsize again after you move. It's easy to empty cabinets of things you don't use every day, but your goal is to take only items you actually use.
Once stuff is out of your house, it's easier to assess what you need. You can make additional passes until you're down to the essentials. You'll pack less and still have exactly what you need. 
Enlist the help of a senior moving consultant today
These are just a few ways your personal moving consultant can offer assistance for an upcoming move to an Erickson Senior Living community. For even more useful information, speak with the personal moving consultant and request more information from the community that interests you.
We're happy to provide as much support as you need to execute a smooth, low-stress move. 
Back