Document Downsizing: Turning Paper Mountains into Mere Molehills
By Jennifer Hill, Personal Moving Consultant
October 7, 2021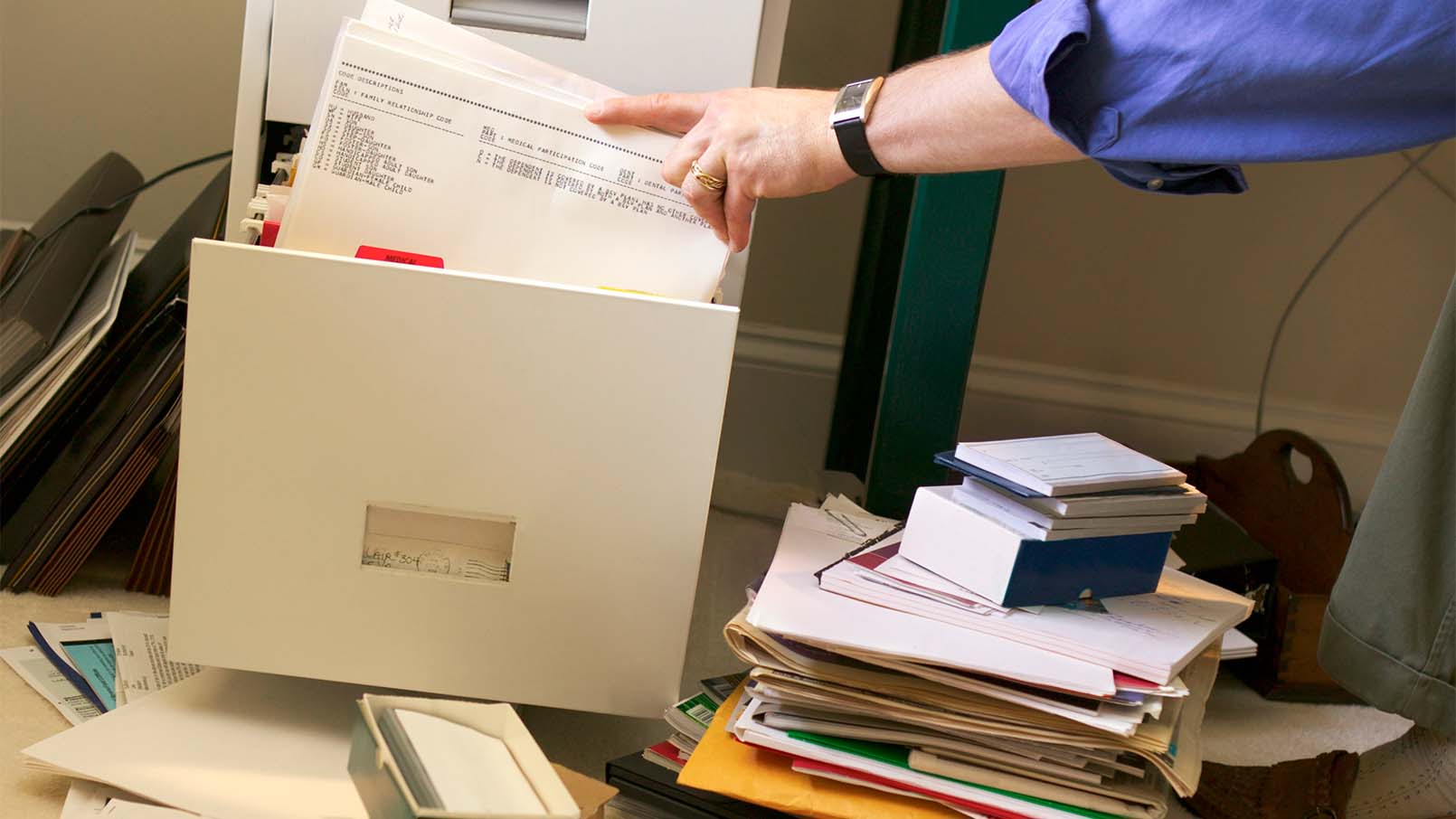 Of all the "stuff" we accumulate over the years, paper is the champ. 
Bank statements, tax returns, warranties, health records, insurance policies, appliance manuals, receipts for things you bought ages ago…the list is endless, and so are the piles.
Downsizing paperwork can be intimidating, but if you follow some basic rules about what to keep and what to discard, your dining room table will serve its intended purpose sooner than later. 
What documents to keep and for how long
Some papers should be kept forever, some for a month, and others tossed on the spot. One easy-to-remember rule is, if it has to do with taxes, keep it for three years. If not, one year or less is usually enough.
If you have questions about a specific document, please consult the appropriate professional, like a certified public accountant, lawyer, or investment manager. They can give you expert advice about what to keep or discard.
Here are some general guidelines:
Storage: 
Any vital documents should be stored someplace fire- and waterproof, like a bank safe-deposit box or a home safe that cannot be removed easily.
Forever documents:
Marriage licenses
Birth certificates
Adoption papers
Wills and trusts
Death certificates
Receipts for paid-off mortgages. 
Seven years:
All documents related to paid-off loans: auto, education, business, etc
All documents supporting a claim of loss on a tax return, like bad debt or worthless security.
Three years: 
Tax returns for the prior three years, because you can be audited for up to three years from the date you file a return. That includes all supporting documentation for deductions you claimed on those returns: utility bills for a home office, credit card statements and cancelled checks for expenses, and bank receipts that show income.
Any other documents that show capital gains, such as records of sold properties, home improvement records that could affect the loss or gain on those properties, stocks, and annual investment statements. 
One year: 
Medical bills and cancelled insurance policies, in case you need proof of insurance for a denied medical claim.
If your medical expenses are large enough to qualify for a tax deduction, the three-year rule applies.
One month or less: 
ATM receipts after you've balanced your checkbook for the month
Sales receipts outside the return policy date.
In-force paperwork: 
All documents related to insurance, pensions or retirement plans, contracts, and stock certificates should be kept as long as they are in force.
After that, discard them. If you have a warranty and need proof of purchase, staple the sales receipt to the warranty and retain it until it expires. 
Tie up the loose ends to protect your identify
If you have property tax bills for a property you've sold, or old contracts that have been executed satisfactorily, discard those. Toss expired warranties, owner's manuals, and the like.
Remember that most, if not all, of these documents can be accessed online. If you've already gone paperless for bills and statements, you're already on your way to reducing your cache of documents. If not, it's worth considering before you move.
Once you've winnowed your stockpile, protect sensitive or private information by using a shredding service. Purchasing a home shredder is another viable option. Look for a micro-shredder that turns sheets of paper into tiny pieces, so they cannot be reconfigured. You'll find these at any office supply store or online.
Digitize sentimental documents for easy storage and access
There's one last category of paper you'll have to consider: sentiments. The cards, letters, photos, and invitations you've saved over the years are meaningful reminders of loved ones, events, and adventures.
The best way to preserve them? Photograph them and store them digitally. There's no limit to what you can keep!
Plus, they're easy to retrieve and take up no space. If you need some help with technology, involve your kids and grandkids—it can be a fun project for the entire family.
---
Get help from senior moving experts for your downsizing project
For more tips on decluttering, downsizing, or any other moving-related question, contact the personal moving consultant at the Erickson Senior Living community that interests you.
Back