From the Chef's Kitchen: Citrus-Soy Salad with Salmon
By Michael Ritt, Greenspring Chef
February 16, 2022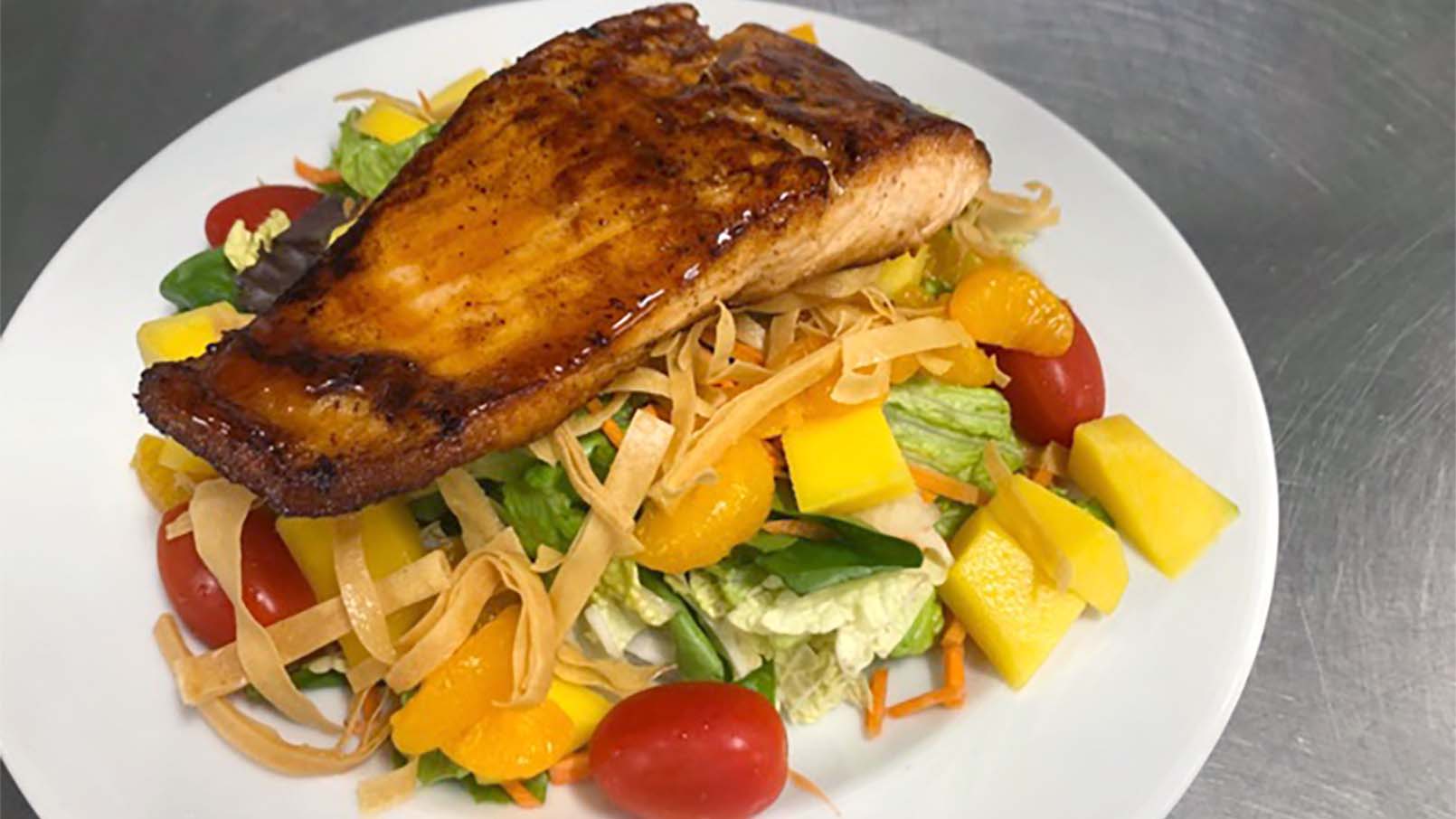 Erickson Senior Living community dining programs are staffed by highly-qualified, trained culinary professionals who develop delicious, healthy options. Each meal is fresh and made-to-order, allowing you to customize each dining experience! 
Check out this dish created by long-time Greenspring employee, Michael Ritt. Chef Ritt has been at the Erickson Senior Living community in Springfield, Va., for nearly ten years.
Citrus-Soy Salad with Salmon
This refreshing salad will brighten up your dinner table and delight your palate.
Ingredients
Marinade
1/2 oz garlic cloves, peeled and minced
1/2 oz ginger root, minced
1 cup orange juice
3 oz light soy sauce
1/2 oz light brown sugar
Salad
5 oz romaine lettuce
5 oz carrot
5 oz napa cabbage
5 oz red grape tomatoes
5 oz spring blend lettuce mix
1 lb 4 oz salmon filet, skin removed
20 oz frozen mango chunks
5 oz wonton skin wrappers
Directions
• Combine marinade ingredients in a mixing bowl and mix thoroughly.
• Marinate salmon in fridge for8 hours.
• Wash and dry all produce items.
• Chop both types of lettuce. Shred carrots and napa cabbage. Slice tomatoes.
• Sauté salmon.
• Drain liquid from thawed mangoes.
• Julienne wonton skins and fry.
• Place all ingredients, except salmon, in a mixing bowl and toss.
• Place mixture on an entrée salad plate and top with sautéed salmon.
Find an Erickson Senior Living community near you to learn more about the enterprise-wide Signature Dining experience. 
Back