Riderwood Couple Shares Passion for Social Justice
Riderwood couple recalls activist days in Selma, Alabama
Meghan Streit
October 29, 2019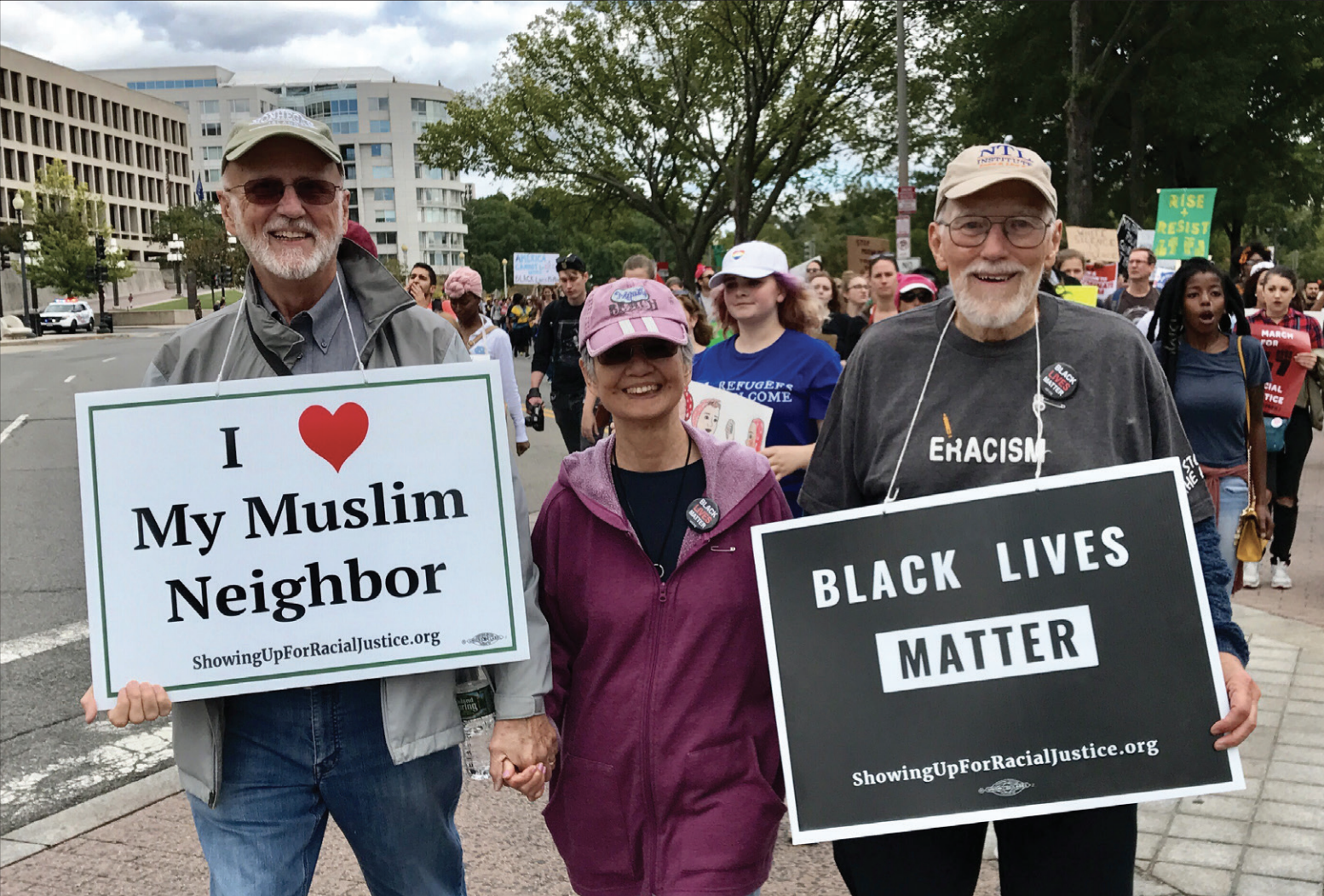 It's been more than half a century since thousands of Americans descended on Selma, Ala., to march in support of voting rights for African American citizens. But for the people who lived through those history-making days in March 1965, the memories are vivid.
Riderwood residents Dave and Toko Ackerman were among the civil rights activists who took to the streets in Selma. At the time, they were both students at the Chicago Theological Seminary, and Jesse Jackson was one of their classmates. 
A trip to Selma
Jackson, who was just beginning to make a name for himself in the civil rights movement, encouraged his fellow seminary students to travel to Alabama to march for voting rights and protest the violence that was taking place.
"Jesse rallied the community after Bloody Sunday," Dave says. "He gave a very impassioned talk about what had happened in Selma, and he said he was going down and whoever wanted to come should join him."
Dave and Toko didn't hesitate to answer Jackson's call to action. They and about a dozen other students loaded into two vans and headed south. As they entered Alabama, Dave says it was immediately apparent how segregated the state was.
"What most struck me was how different the white part of town was from the black part of town," Dave says. "Once we came to the black part of the community, there were no sidewalks, no street lights, no public services at all."
One of the things that left an impression on Toko was how local families opened their homes to house people who had traveled to Alabama from around the country. Toko and one of her classmates stayed outside of Selma in the home of two local schoolteachers.
"When we got up in the morning, we realized the whole family had taken turns guarding us on the outside all night," she recalls. "It was amazing, gracious hospitality; they had all this breakfast food, and they treated us like royal guests."
Strength in numbers
Dave and Toko had the opportunity to hear Dr. Martin Luther King Jr. speak while they were in Selma. They also participated in an all-night vigil after Boston minister James Reeb was beaten to death. Toko recalls the solidarity she felt with the other demonstrators at the vigil. The threat of danger and violence was real, possibly only prevented by the presence of media spotlights. Yet, the marchers stood firm and found strength in their numbers.
"They told us to lock arms, and it was so powerful. It just makes you feel so strong," Toko says.
When the sun came up the next morning, Baptist minister Ralph Abernathy called for the group to stand and sing the national anthem. The state troopers who were there to patrol the marchers faced the dilemma of whether or not to remove their helmets as the group sang "The Star Spangled Banner." When their leader eventually took off his helmet, the rest of the troopers followed suit. 
"It was a very poignant thing for us to be watching," Toko says. "I was very struck by it."
"It was a moment of unity across all of this hostility," Dave adds.
After a few days, Dave and Toko returned to Chicago, but their experience in Selma was not soon forgotten. Dave decided to drop out of seminary school and instead pursued a career in public law doing congressional research. 
Toko studied to become a director of Christian education and wrote her thesis about what happens in preschool communities where teachers encourage students to help one another. She eventually became a public servant and worked for the Montgomery County, Md., department of health and human services. 
Dave and Toko didn't stop fighting for human rights and other causes they believe in. They participated in marches against the Vietnam War, and in more recent times, they've been active in the Black Lives Matter movement and in demonstrations against gun violence.
Shared passion at Ridwerood senior living community
In 2016, the Ackermans decided to move from Silver Spring to Riderwood. Their house started to feel too big, and they were tired of tasks like taking care of the yard. 
"We love it here," Dave says. "We've had no regrets about making the move."
At Riderwood, they've found many like-minded retirees who share their passion for social justice. The community has over 100 resident-run clubs and committees, several of which are related to politics and activism.
"It's very interesting to find other people here who are well educated and have had such interesting lives," Toko says.
The Ackermans are active in Christ Congregational Church in Silver Spring. About 20 people from their church also live at Riderwood, which meant they had a built-in group of friends when they moved to the community. 
Every other month, the group of residents from the church all get together for dinner in one of Riderwood's private dining rooms, where they can enjoy a leisurely meal prepared by the dining staff.
"Organizing a gathering here is so easy," Toko says. 
To learn more about vibrant and engaged senior living at Riderwood, request your free brochure today. 
Back