Choosing The Perfect Layout for Your Retirement Lifestyle
Laurie Phillips, Personal Moving Consultant
April 29, 2019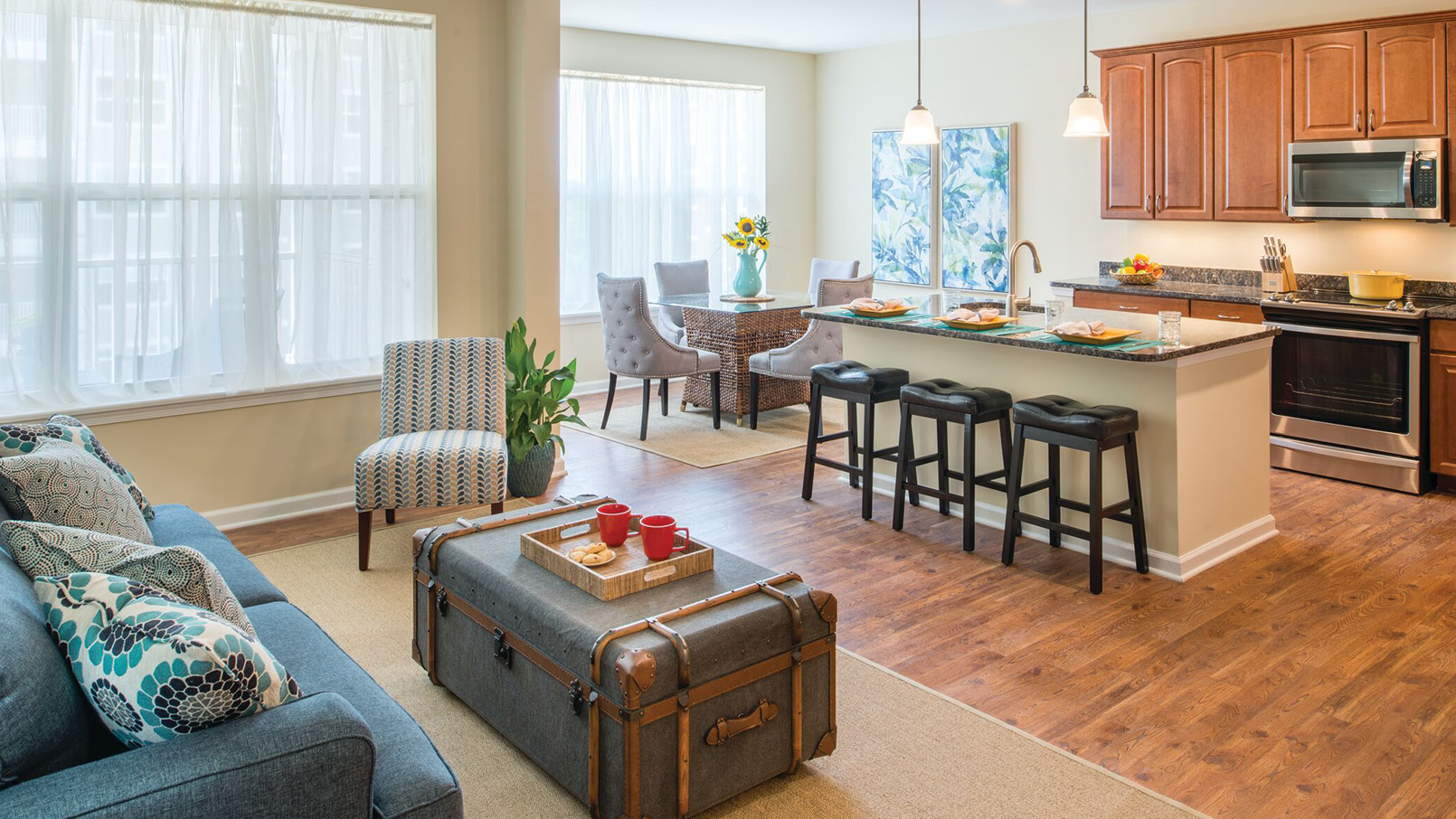 It can be exciting to envision a fresh start in a brand-new space. As a personal moving consultant at Brooksby Village, an Erickson Senior Living community in Massachusetts, I see that excitement firsthand when future residents sort through dozens of floor plans to select their new apartment home.
But there's a whole lot more to choosing the right floor plan than getting a certain number of bedrooms or discerning the direction that the windows face. In this column, I'll discuss the best ways to go about picking the perfect layout for your lifestyle.
Make downsizing easier with lists
When most people move into a senior living community like Brooksby Village, they're downsizing. That word can be daunting at best, but don't let it intimidate you. Downsizing is merely a simplification of your stuff and perhaps the most important step in determining what kind of space you'll need in your new floor plan.
To jump-start your downsizing, make three lists: "must have," "nice to have," and "don't want." Include furniture, clothing, dishes, linens, holiday decorations, home décor, paperwork—anything that will have to leave the house when you move. Identifying the items on your "must have" list will give you a more accurate idea of how much living and storage area you'd prefer in your new apartment home.
Evaluate your space requirements (honestly!)
Lots of future residents think they'll want a floor plan with as many rooms as possible, usually because they're used to living in large houses with thousands of square feet. You need to be honest with yourself and ask: What rooms do I actually use?
Spend a week taking note of where you spend your time in the house (make sure you include outdoor spaces in your analysis). The spaces in which you most frequently find yourself will tell you what you should really be prioritizing as you choose a floor plan.
For instance, if you haven't used the guest bath once and you have a cup of coffee on the porch every morning, you'll know an extra bathroom isn't necessary while a balcony or patio tops the list in potential apartment homes.
Keep your options open when it comes to choosing a senior living apartment style
Once you have a general picture of the space you'll need, it seems like the next step would naturally be to narrow down your floor plan options—and at Brooksby Village, where we offer dozens of different layouts, it's certainly an essential step. But even after you've selected your favorites, you should continue to keep an open mind.
If you settle firmly on one or two specific floor plans and refuse to consider any others, you will find yourself disappointed if they aren't available. By entertaining a range of options, you can realistically weigh all the pros and cons of each apartment home as it comes.
For example, one may not have the exact layout you imagined, but the location on campus is convenient. Or, even though the view isn't ideal in another, the spacious kitchen and cheery sunroom are.
Consider your true needs in retirement
Senior living communities offer much more than stylish apartment homes. You'll enjoy a fabulous array of amenities and services just steps from your front door. It's crucial that you factor in your access to and use of these spaces when you select an apartment home.
Let's say you have a treadmill in your current house that you use a few times each week, but you don't know whether it belongs on the "must have" or "nice to have" list. Remember that your community has a large fitness center with lots of updated equipment, group classes, and even personal training. So save yourself the space and move it to the "don't want" list.
Make the move to Brooksby Village independent senior living community
To get a fuller picture of life at a community like Brooksby Village, you'll want to talk with a senior move expert. They can help you make an informed choice about which floor plan will fit your budget, personal taste, and lifestyle. If you're not ready to speak to a representative, request a brochure for more information or schedule a community visit. 
Back