Tallgrass Creek Staff Members Help Residents Enjoy an Engaged, Relaxing Lifestyle
By Mary Bush
March 27, 2023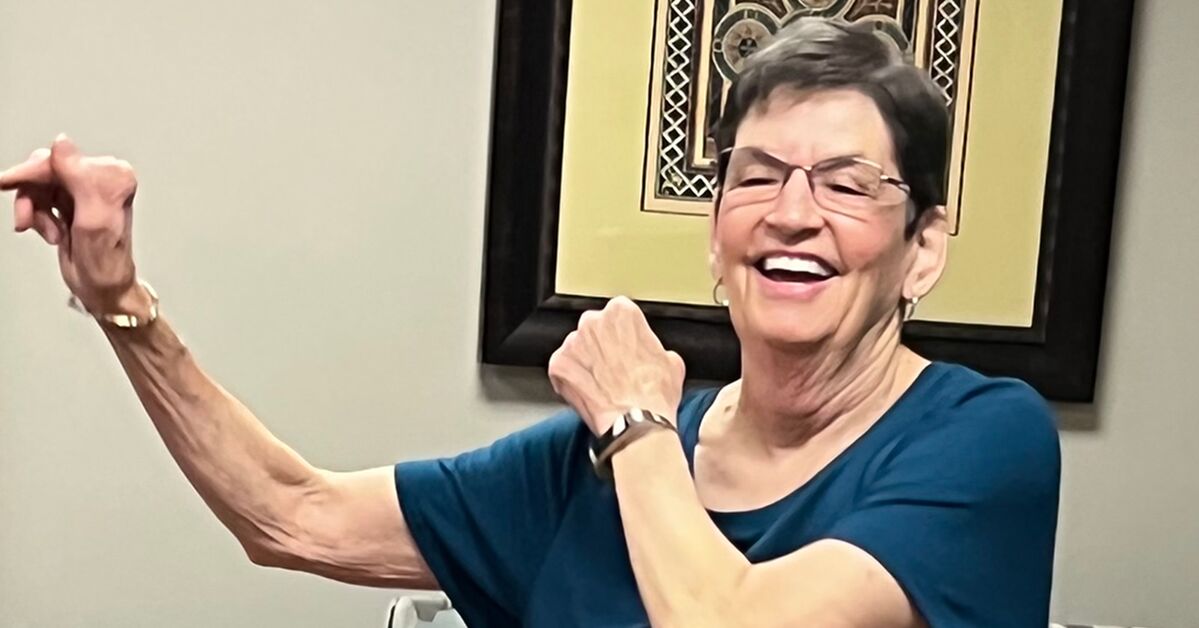 Tallgrass Creek, an Erickson Senior Living community in Overland Park, Kans., is known for its wide range of amenities and services. From the fully staffed, on-site medical center and the six on-campus restaurants to the multitude of fitness, educational, and social activities, all have one thing in common.
"It's the people that make it work," says resident Linda Westbrook. "Staff members go out of their way to be helpful."
And it starts at the front door. Tami Peckham is the first person to greet residents and guests when they enter the lobby at Tallgrass Creek. Peckham has handled concierge duties at the community for 13 years, and says she has shared hundreds of interesting conversations with "the wonderful people who live here."
Resident Barb Hise is among many who find Peckham to be a great source of information--for just about everything. "If she doesn't have the answer, she'll get it!" says Barb.
"Tami is patient and always pleasant," she adds. "She is a special person and makes a wonderful first impression for Tallgrass Creek."
Dedication and care
Resident Linda Peltzer gives those same high marks to the sales team and Nancy Worthington, the planning and moving consultant, who came to her rescue just before she she was ready to begin the move to Tallgrass Creek. 
"I was moving from Wichita, which is three hours away, and the estate sale I'd scheduled weeks in advance was canceled just days before the mover was scheduled to come," recalls Linda. "I was counting on getting rid of quite a bit, so I was absolutely panicked."
Worthington took charge, finding another company in Wichita that managed to add Linda's items to a sale that was happening that same week.
"It was such a relief," says Linda. "And that dedication and care still continue, even though I've lived here for five years now. If there's an issue with anything, the staff members are still here to jump in and help."
Top honors--twice!
Linda's high regard is shared by many in the local community. Last year, Tallgrass Creek was voted Best Senior Living Community in Kansas City magazine's 2022 Best of Kansas City awards through write-in votes from readers.
Just a few months later, readers of the Shawnee Mission Post and the Blue Valley Post voted to proclaim Tallgrass Creek the area's Best Active Living Community. 
Executive Director Adam Dickson gives full credit to the Tallgrass Creek team for the community's honors. 
"Our dedicated team goes the extra mile to ensure residents experience a relaxing lifestyle, high-quality, personalized medical care, and a host of engaging amenities and activities," says Dickson. "I'm grateful to see their hard work recognized."
Meaningful careers
Tallgrass Creek supports its employees' professional growth through meaningful career development opportunities.
Nick Winchester, who joined the community's dining team in 2020 as an assistant manager, was promoted to general manager last year. He now oversees the operation and finances of three of the six busy restaurants at Tallgrass Creek.
Winchester notes that his upward mobility at Tallgrass Creek contributes greatly to his job satisfaction. "Erickson Senior Living encourages professional growth for all employees," he says. "You can start as a dishwasher or manager--any position, really--and you'll receive training to advance and succeed."
Alan Butler, CEO of Erickson Senior Living, says that senior living should be considered a destination for career-driven people who possess a passion to serve others.
"We continue to innovate and train our workforce because the services we offer are only as good as the people who provide them," says Butler. "I'm confident we have the best in the industry working for Erickson Senior Living."
Year-round fitness
Resident Esther Redelsheimer agrees, citing three Tallgrass Creek fitness team members she views as the best in the business: Camin Bell, who leads exercise classes; Ashley Huesers, who coordinates aquatics classes; and Gabby Torline, a class instructor and personal trainer. 
"I usually exercise about eight times a week, and I can't emphasize enough how much it has positively impacted my life," says Esther. "I just feel and move better, and I know the instructors had a lot to do with that."
Esther adds that the experiences she has with other Tallgrass Creek employees are equally as positive. "It's a great place to live," she says. "And it's largely because the people who work here really care!"
Invest in your future at Tallgrass Creek. From top-notch amenities and activities to affordable, maintenance-free apartment homes, you'll enjoy living your retirement to the fullest. Request more information today!
Back