Building Success Through Service at Tallgrass Creek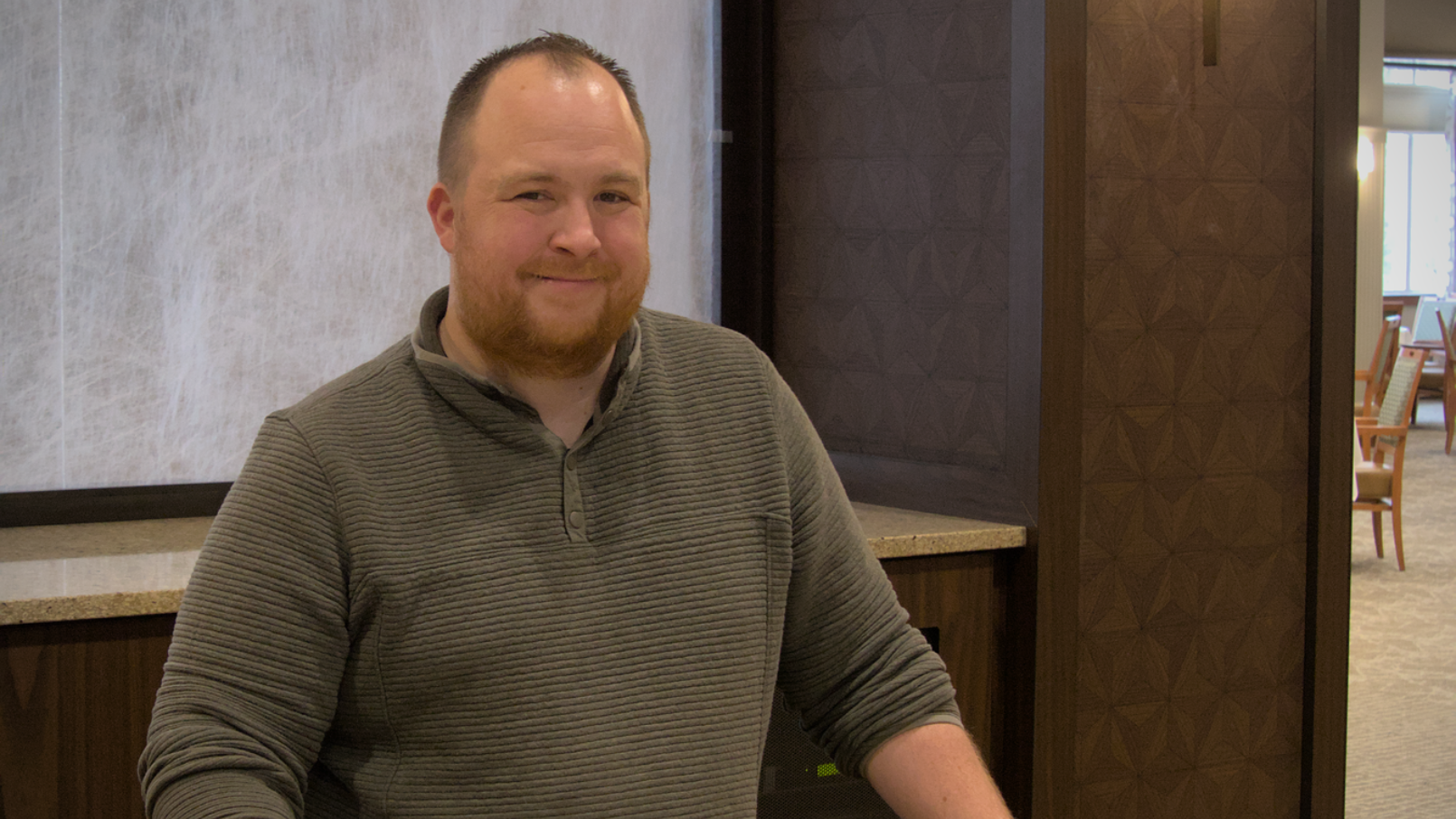 As general manager of two, soon to be three busy restaurants at Tallgrass Creek, an Erickson Senior Living community in Overland Park, Kans., Nick Winchester's days are very full.
"I oversee the operation and finances of the newest restaurants at Tallgrass Creek," says Nick. "We serve hundreds of residents every day so I work closely with the executive chef and entire dining team."
Nick joined the dining team in 2020 as an assistant manager of dining services at Tallgrass Creek and has since been promoted the general manager position. He sees lots of opportunities for continuing to build his career not only at Tallgrass Creek but across Erickson Senior Living's enterprise, with more than 20 senior living communities across the country.
"Erickson Senior Living offers meaningful career opportunities as you grow," says Nick. "It doesn't matter if you start as a dishwasher, manager, or really any position, you receive training and encouragement if you want to succeed."
Tallgrass Creek's five on-site restaurants provide plenty of options and opportunities. Residents enjoy lunch (and later, happy hour) in the Sunflower Bistro or Amelia's where meals are served in open casual environments. They frequently end the day dining in the elegant Blue Sky Restaurant, enjoying a unique, themed meal at Heartland Restaurant, or just grabbing a cup of homemade soup at the Marketplace.  
Before joining the dining team at Tallgrass Creek, Nick had considerable hands-on and management restaurant experience. However, he made a dramatic career change in 2017 when he went to work for Union Pacific as a train conductor.
"It was different from anything I'd ever done and I enjoyed it," says Nick who has a degree from Kansas State University. "But when the pandemic started, I was furloughed and decided I wanted to be back in the restaurant business."
As he was updating his resume, he learned of the assistant manager position at Tallgrass Creek and quickly arranged an interview with the community's director of dining.
"I remember walking into Tallgrass Creek for my interview and was blown away," says Nick. "The campus is beautiful with restaurants, a mini-golf course, huge pool - just so much going on."
Nick earned the job and dove right in, quickly becoming an integral member of the team as together they manage the service hundreds of meals for residents each day.  
"We are like a family," says Nick. "I was impressed from the start, and am proud to be part of such a hard-working, caring group where no one ever says 'that's not my job'. Everyone goes the extra mile to serve the residents."
As general manager, Nick is responsible for overall operations of Amelia's, Heartland Restaurant, and Champions, the community's sixth eatery, which will open next year. Champions will feature indoor and outdoor dining and highlight Kansas City's professional sports teams.
Nick and his wife Rebecca now have two young children under the age of four, so in addition to career growth and job satisfaction, the strength and stability of Tallgrass Creek and Erickson Senior Living as an employer have become even more valued.
 "Tallgrass Creek, like all Erickson Senior Living communities, is quite competitive when it comes to overall benefits," says Nick. "Now that I have a growing family, that's very important."
To learn more about career opportunities at Tallgrass Creek, www.ericksonseniorliving.com/careers.