Residents Create TV Program to Share Love of Sports at Charlestown
By Danielle Rexrode
June 17, 2021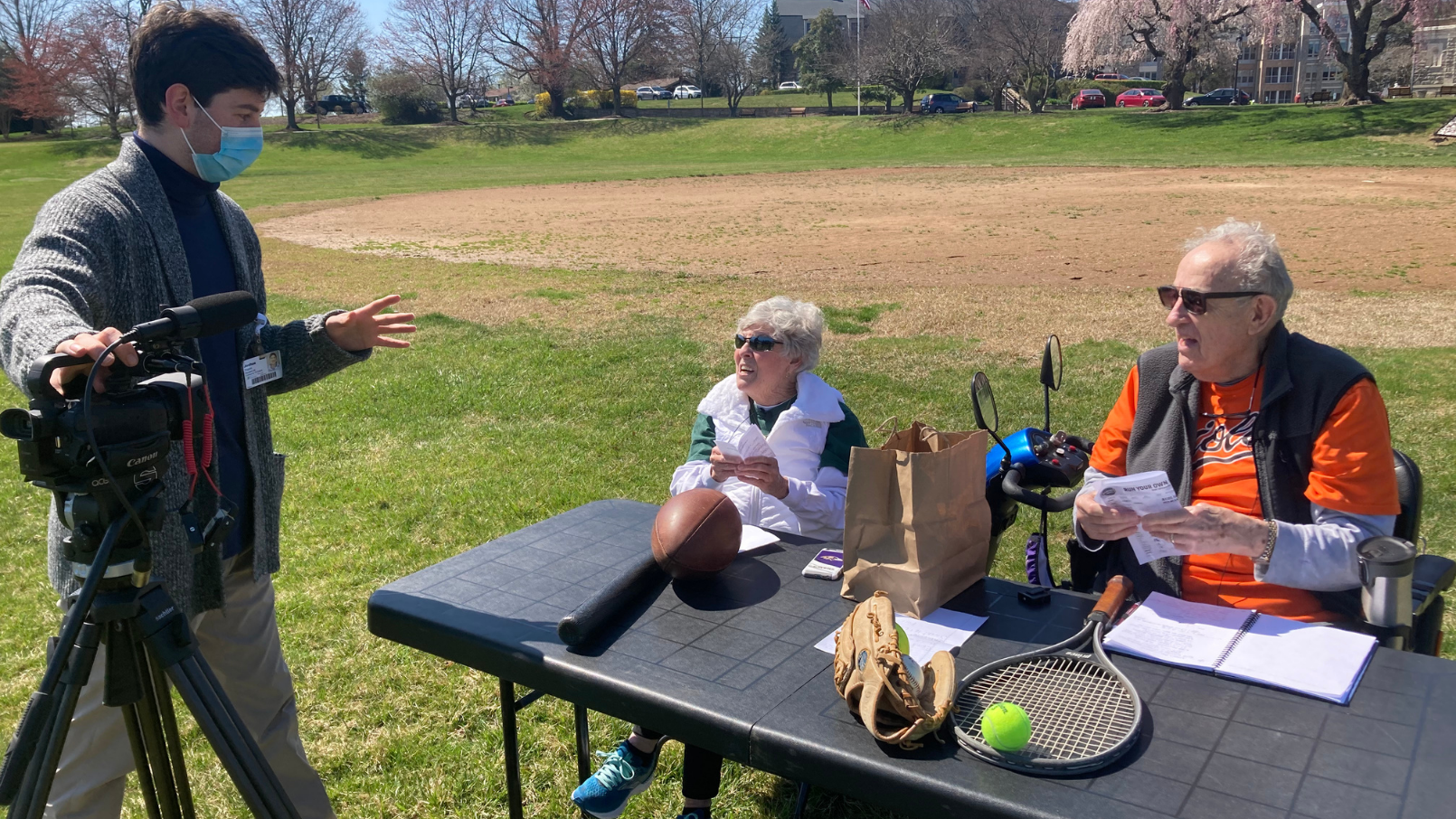 In the world of broadcast television sports, ESPN has Stephen A. Smith and Max Kellerman, Fox Sports One has Shannon Sharpe and Skip Bayless, and Charlestown's Channel 972 has Cindy McManus and Philip Benzil. Together, these neighbors at the Erickson Senior Living community in Catonsville, Md., host Sports Nuts, a weekly sports talk show on the community's in-house television station.
"We cover the Ravens, Orioles, [Washington] Capitals hockey, golf, you name it—pretty much everything except NASCAR," says Cindy.
Team players
A shared interest in sports and a desire to volunteer at the on-campus television station was the impetus for Sports Nuts. Cindy's background in radio and television and her time working in public relations for the Baltimore Orioles made her the perfect cohost for Philip, a retired dentist whose spotlight in local politics makes him a natural behind the camera.
"I walked into the TV station one day and I said, 'What can I do to help out here?' They asked what my interests were. I told them I was interested in sports," says Philip. "They said there was another lady who had the same interests. They paired Cindy and me up and it took off."
A longtime Orioles fan, Cindy was a season ticket holder for many years. "We got our tickets in 1988. They were second row, third base," says Cindy. "My daughter and I went to all the games and shared so many happy times watching them play and getting autographs."
Cindy later worked for the Orioles. "I started out in ticket sales and moved to public relations when Camden Yards opened," says Cindy. "I gave tours and answered questions. Eventually, I moved to the third floor and sat outside Frank Robinson's office. It was wonderful. Frank was a bastion of baseball knowledge."
A perfect fit
Cindy and Philip quickly discovered they had a good rapport.
"I know a little bit about a lot of things, and Phil knows a lot about a lot of things," says Cindy. "He brings the facts; I bring the laughter. He always comes with a legal pad full of notes. I regularly check my ESPN app, and read The Baltimore Sun's and The Wall Street Journal's sports sections."
Cindy continues, "Neither of us is ever at a loss for words. We have a lot of fun. I like to have a gimmick. One day, I wore a wig and introduced myself as Rod Stewart. I have a plastic crystal ball that answers questions and we used it for the Super Bowl."
Philip says the feedback they receive about the show has been encouraging. "Cindy has a bubbly personality. We have good banter back and forth and we play off each other well. People stop me regularly in the hall and say nice things. It's flattering and gratifying. I think we are doing a semi-professional job," he says.
Slam dunk
Channel 972 Station Manager Tom Moore says he's not surprised at the show's success. "People of all ages love sports, and sports programs tend to be standard operations for television. Having a resident-run sports program just seems natural," says Moore. "Cindy and Phil are both very natural on-camera talent. They do not try to be anything other than themselves. They both have a strong interest in sports, stay up-to-date through TV and news, and most importantly, have a good sense of humor. Their chemistry works well on screen."
Sports Nuts isn't the only show featured on Channel 972. More than 15 regularly occurring programs are led by residents, including a medical show by the former head of the University of Maryland Medical Center, Dr. Stephen Schimpff; a history program by former Marine and writer for Leatherneck Magazine, John Strumsky; a music program hosted by a former promoter for Arista and A&M, Johnny Powell, who worked with artists including Styx, The Carpenters, Whitney Houston, and Michael Jackson.
Other original programming is hosted by various resident-led faith groups, programs focused on women's history, Black history, Latino history, poetry, and even a ghost hunter program.
TV station volunteers
Since its inception in 1983, resident volunteers have played an indispensable part of the station's success, both in front of and behind the camera, hosting television programs, developing show content, operating cameras, inputting data for the community's electronic bulletin board, editing, and dressing the set. For Cindy, Sports Nuts is more than just an outlet to discuss sports.
"I like knowing I'm bringing joy and laughter to people," she says.
Are you interested in being part of an active, vibrant community of neighbors where you can explore new hobbies and friendships? Request more information about Charlestown today.
Back