'Outdoor Oasis' For All to See at Charlestown
By Danielle Rexrode
March 31, 2022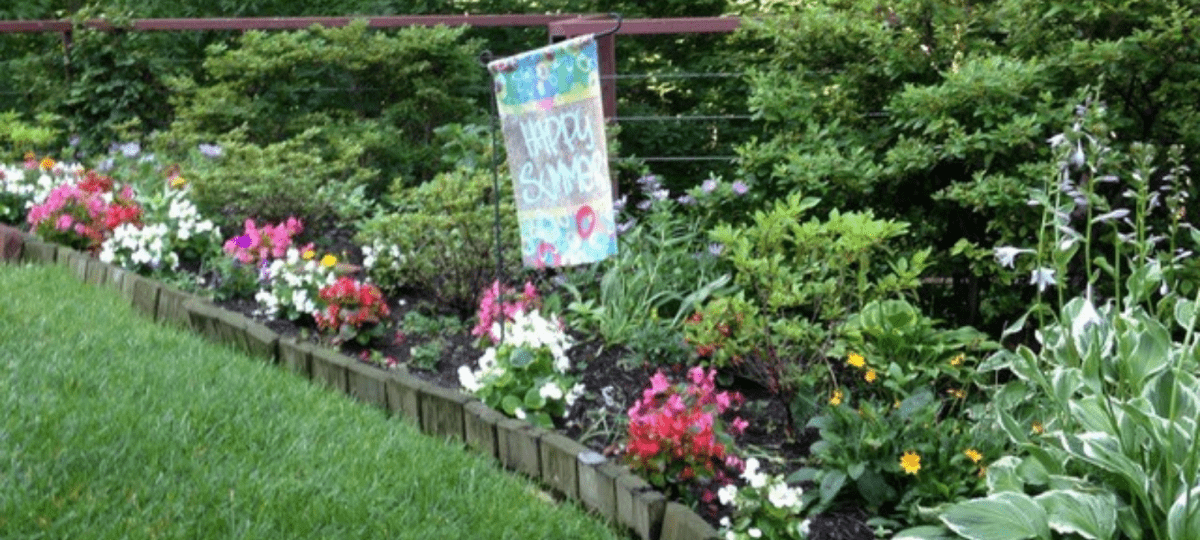 French painter Claude Monet believed that his garden was his most beautiful masterpiece. Former artist Betty Brown-Young shares that same philosophy.
After years of painting, Betty traded her brushes and paints for hand shovels and pruning shears, focusing her talents on nurturing the "outdoor oasis" she's created just beyond the two-bedroom apartment home where she and her husband Glenn live.
"What I love about gardening is it allows you to be artistic outside. I used to paint, and now I tell people that my painting is my garden," says Betty, who lives at Charlestown, an Erickson Senior Living community in Catonsville, Md.
Birds of a feather
Betty was widowed before moving to Charlestown in 2012. She met Glenn at the community and discovered they shared a love for the outdoors.
"Glenn and I moved to Charlestown around the same time," says Betty. "My mother had lived here for 16 years, and Glenn's sister had moved here. He and I later got married, and he moved into my apartment. The people who lived here before us laid out little gardens all around the perimeter of the property. Glenn and I connected and extended the gardens and installed edging."
She adds, "I go out in the morning and weed and water. Glenn digs the holes for me. It's good having each other to work on the garden together."
In living color
Whether she's planting, watering, pruning, or weeding, most days you'll find Betty, a former home economics teacher at Catonsville High School, out in the garden refining her green thumb - a process that requires knowledge and a little bit of luck.
"Gardening is trial and error. You need to know whether what you're planting requires shade or sun," says Betty. "Annuals, like marigolds and zinnias, need to be updated and planted every year. Perennials, like hydrangeas and azaleas, need to be fertilized and pruned. I've been doing it for so long and I've learned a lot along the way."
Charlestown's nature trail is the perfect backdrop for Betty's vibrant garden, which is teeming with nearly fifty species of colorful annuals, perennials, and flowering shrubs - including fuchsia-colored zinnias; pink hydrangeas; bright, orange marigolds; and red, white, and pink begonias.
"We have a wide variety of flowers and plants, but hydrangeas are my favorite," says Betty. "When they bloom, it's so beautiful! The flowers attract hummingbirds, bees, and butterflies. We spend a lot of time sitting out on the patio watching the birds come to the feeder. It's really like having an extra room for a good part of the year." 
Nature on display
Betty loves sharing the fruits of her labor with her neighbors, and she often swaps plants with fellow gardeners at Charlestown.
"I cut flowers from the garden to make small bouquets for people," says Betty. "I love being able to share something that others can enjoy as much as we do. My neighbors have also shared their gardens with me. I have a lot of perennials like Shasta daisies, purple phlox, bee balm, and hosta that come up every year. I divide them and share them because if you don't, they tend to get overgrown and go crazy."
Passersby can see Betty's garden from the enclosed walkway that connects Cross Creek Clubhouse to the Herbert's Run residential building. Sales Counselor Molly Fricker says she likes seeing Betty's garden from a bird's eye view as she leads prospective residents on tours around the campus. 
"Betty's talent for gardening is something that we all get to enjoy," says Fricker. "Her patio is beautiful, and almost everyone who walks past it comments on how lovely it is."
Outdoor opportunities abound
Aside from gardening, Charlestown's 110-acre campus offers many opportunities for residents to explore the outdoors. Beautifully landscaped courtyards, a three-acre lake stocked for fishing, vegetable and flower gardens, paved walking paths and a half-mile-long nature trail, as well as bocce and shuffleboard courts, are right outside the door of every apartment home.
"One of the great advantages to living at Charlestown," says Fricker, "is access to a vast number of outdoor activities. As a resident, you don't have to worry about the hassles of homeownership, like mowing the grass or raking leaves. It is all taken care of for you. Instead, you get to enjoy spending time doing the things you love."
For Betty, there's nothing better than spending time in her garden - their "outdoor oasis" - with her husband.
"It's my joy! I love being out there," says Betty. "We sit out on the patio and talk about how fortunate we are. It's something we love sharing with the community."
Invest in your future self at Charlestown. From top-notch amenities to affordable, maintenance-free apartment homes, you are sure to live your retirement to the fullest. Request more information today!
Back