Outdoor Enthusiasts Find a Lot to Like at Charlestown
By Danielle Rexrode
August 26, 2021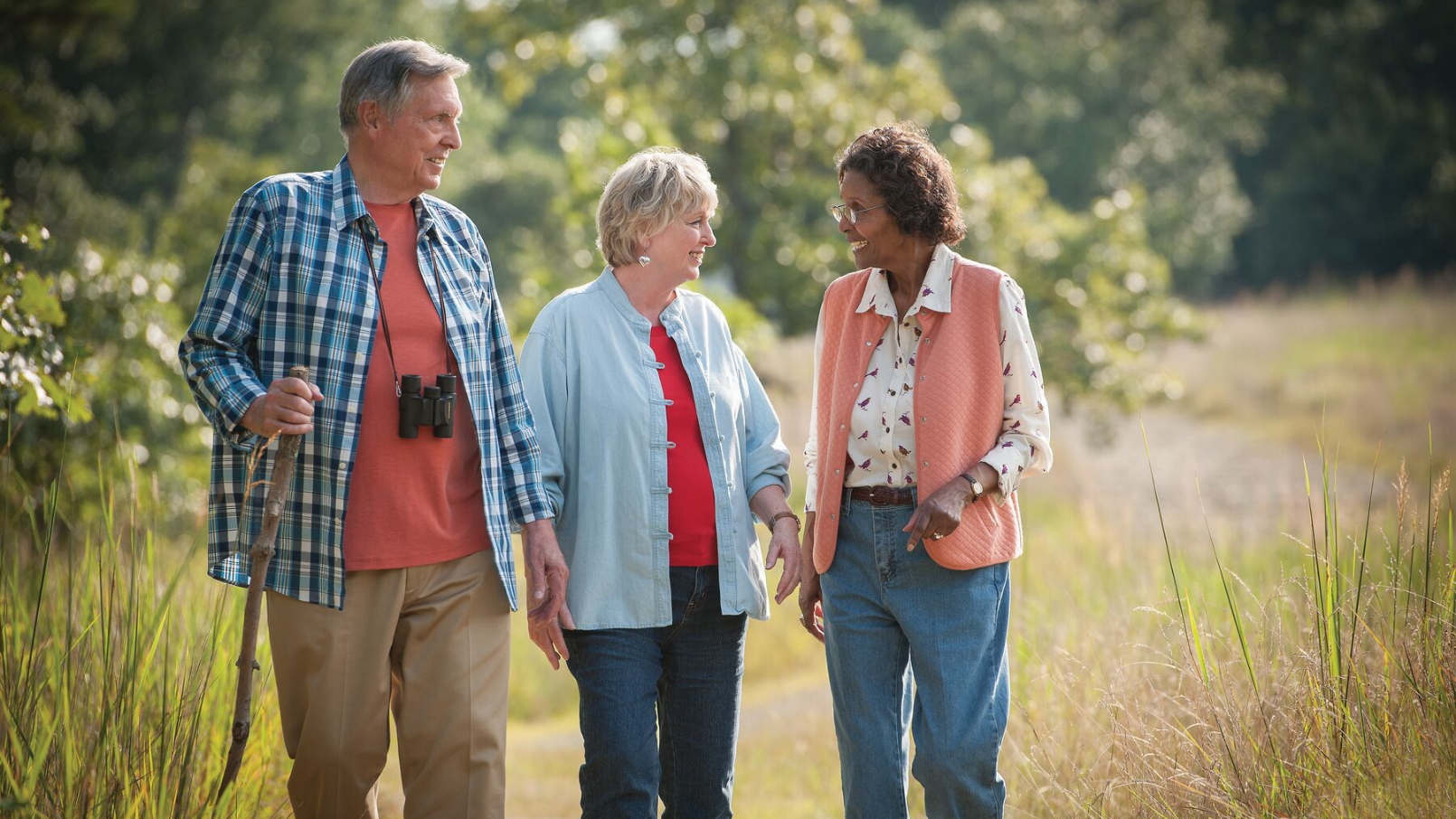 Studies show that spending time outdoors can have a significant impact on health and well-being, including increased physical fitness, improved mental health and sleep patterns, strengthened immune function, and enhanced relationships. At Charlestown, an Erickson Senior Living community in Catonsville, Md., residents can make the most of their retirement years while enjoying a wide variety of outdoor leisure activities, from walking paths and nature trails to bocce, gardening, and photography, as well as outdoor dining, social events, and other programs, all just steps from the door of their apartment home.
"One of the many great advantages to living at Charlestown is the vast number of outdoor activities," says Sales Counselor Molly Fricker. "As a resident, you don't have to worry about any of the hassles of homeownership, like mowing the grass, cleaning the gutters or raking leaves. All that is taken care of for you. Instead, you get to enjoy spending time outdoors doing the things you love, whether that's gardening, joining the softball team, or fishing at the lake with your grandkids."
Cultivating a healthier environment
Community member David Callahan knows his way around Charlestown's 110-acre campus as well as anyone. On Saturday mornings, you can usually see David and other volunteers from the Invasive Plants Crew removing damaging vines and pulling weeds across the campus, particularly on the nature trail.
"It's a chance to pal around with people and enjoy the outdoors. Our two main focuses are keeping the English ivy off the trees and pulling up garlic mustard, a weed that grows two to three feet high and spreads like wildfire all over the place," says David.
The half-mile-long nature trail meanders along Herbert Run, a stream that flows through Baltimore County and is a tributary of the Patapsco River that flows into the Chesapeake Bay. The trail features nearly 70 different species of wildflowers and 30 species of trees. Benches are situated along the trail, and a butterfly garden and gazebo at the entrance offers the perfect spot to relax and bird watch.
By spending Saturday mornings this way, David and his neighbors are not only helping to improve the health of the landscape around them. They are also gaining meaningful health benefits for themselves.
A report by the University of East Anglia in England shows that living close to nature and spending time outside has significant and wide-ranging health benefits. The report gathered evidence from over 140 studies involving more than 290 million people in 20 countries to see whether nature really does provide a health boost. What they found was spending time in or living close to natural green spaces increases sleep duration while reducing the risk of type II diabetes, cardiovascular disease, and premature death. Time spent outdoors has also been shown to help lower blood pressure, heart rate, and stress, according to the study.
Enjoying water sports
For most of his life, John Ogaitis' prescription for relaxation and fun has been boating and sailing on Maryland's Eastern Shore. When he moved to Charlestown, he thought his days on the water were behind him. But thanks to Lake Charles, a three-acre lake located just steps from his maintenance-free apartment home at Charlestown, John is now navigating the waters (albeit on a smaller scale) as a member of Charlestown's Black Swan Yacht Club, where he serves as commodore.
"The lake is a tremendous asset to Charlestown," says John. "We race Victoria Class radio-controlled boats that are 31 inches long and weigh about four pounds. About half of the members have their own boats, they buy the kits and assemble them. The rest of us use one of the club boats. We follow a triangular course positioned by floating markers. The rules are pretty loose. We are just out there to have fun and enjoy the outdoors."
Other pursuits
For residents who prefer earthier pursuits, 10- by 10-foot garden beds located in the green area outside the community's Charlestown Square Clubhouse offer the perfect hobby. Here you'll find residents growing everything from roses and herbs to tomatoes and peonies.
For those whose idea of green conjures up golf clubs instead of growing fruits and vegetables, the on-site putting green is the perfect place to practice their short stroke or have some fun when their family visits. Charlestown is also home to a cornhole league, bocce league, softball team, and walking groups who enjoy the 1.5-mile outdoor loop around the campus.
According to Fricker, it's the unique blend of a country setting along with the conveniences of a metropolitan environment that sets Charlestown apart from other retirement communities. "When you are here on the campus, it's easy to forget you're just a few miles away from the area's best shopping, dining, golf courses, parks, and outdoor recreation," she says.
To learn more about the active, engaged, and maintenance-free lifestyle that Charlestown residents enjoy, request more information today.
Back