Out And About at Charlestown
By Danielle Rexrode
October 18, 2023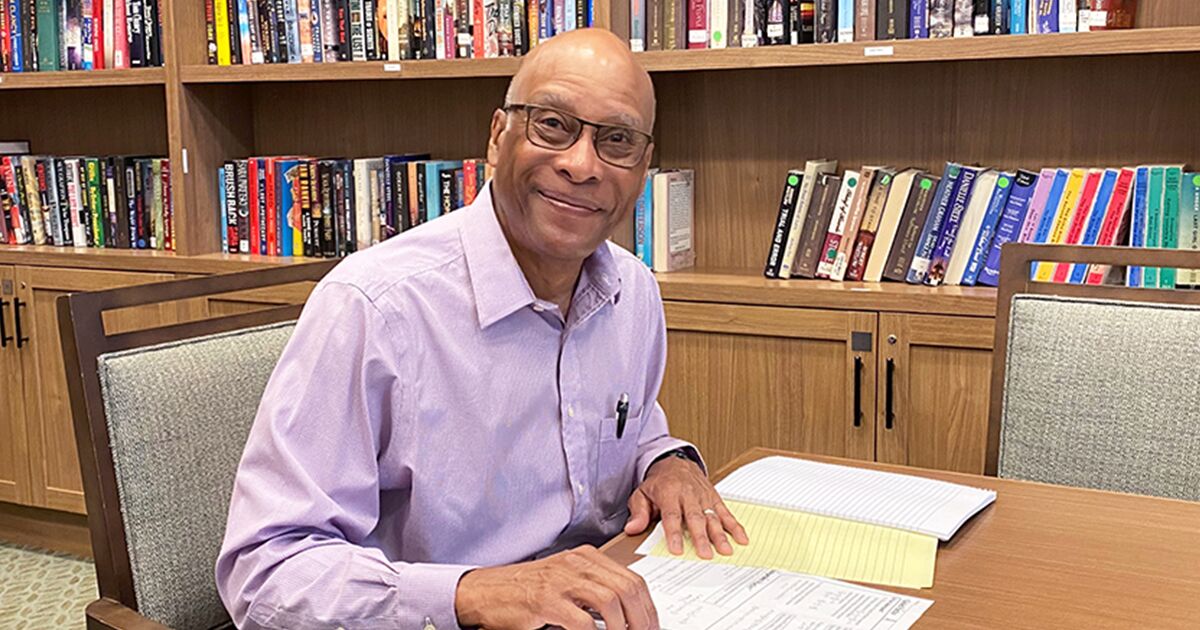 As students at New Song Academy in Baltimore, Md., were getting ready to start a new school year this past August, so was Daniel Matthews. 
Daniel, a resident of Charlestown, an Erickson Senior Living community in Catonsville, Md., volunteers at the charter school as part of an initiative called the Charlestown-Sandtown Connection that his neighbors started.
"I tutor fifth-grade mathematics, provide classroom support by grading papers, and do any other activities and tasks that help the kids," says Daniel. 
Like all Erickson Senior Living communities, Charlestown offers the best of both worlds--local volunteer and cultural events paired with exciting on-campus happenings keep residents like Daniel active and engaged.
A heart of gold
Daniel, who was born and raised in West Baltimore, moved to Charlestown with his wife in May 2022. 
"The beautiful campus was impressive," recalls Daniel. "Plus, there was a large variety of on-campus activities and clubs to get involved in."
Soon after settling into their apartment home, he joined a number of clubs and began volunteering at New Song Academy as a way of giving back to a community that's so close to home. 
"Throughout my entire education, I had a passion for mathematics," recalls Daniel. "I want to show kids--in their formative years--that math can be learned, but it takes hard work and dedication. It can even be fun, but you have to understand the fundamentals to be successful!"
Volunteering together
Former teacher Peggy Reiber also enjoys the chance to give back. She moved to Charlestown in 2009 and has volunteered over the years, both on and off campus. She regularly supports her church, Charlestown's skilled nursing center, the Charlestown Treasure Sale, and, most recently, the Charlestown-Sandtown Connection.
"A lot of volunteers are retired teachers. We enable the kids by reminding them of their possibilities. We want to help them grow and develop into successful people," says Peggy. "We do a school supply drive every August and a glove and mitten tree at Christmas. We also collect money to donate to the school. I love being a part of it!"
Tutoring and assisting the teachers at New Song Academy is just one of the action groups that resulted from the Charlestown-Sandtown Connection. Other groups support a healthy food program, neighborhood cleanups, job training, youth programs, and more. 
"Here at Charlestown, we have the resources and volunteers to help the greater community," adds Daniel. "There is so much need, so why not help?"
Community ties
Aside from volunteering, Charlestown's proximity to Baltimore makes it easy for residents to see Orioles and Ravens games, museums like the Maryland Center for History and Culture, and performances at the Everyman Theatre. In addition to the city, Catonsville and nearby Ellicott City are bustling historic areas. 
"There's local businesses, churches and other centers of faith, significant landmarks, and educational institutions that residents can explore--independently and through our organized trips," says Allison Chlada, volunteer and community resources coordinator. 
If residents don't have their own cars, Charlestown's shuttle service is available to take them nearly anywhere nearby, whether for a quick grocery run or a church service. However, residents can find almost everything they need right on campus. 
"Fresh produce is available at our weekly farmer's market. The Baltimore County Public Library's Bookmobile visits Charlestown regularly too," explains Chlada.
"A lot of the activity originates from the residents themselves. We have over 300 resident-run clubs, groups, and organizations here!" she adds. "We also host various performing artists, from traveling musical groups to Polynesian dance companies. And our strong relationship with the Community College of Baltimore County (CCBC) in Catonsville allows residents to choose from a quarterly catalog of courses that are taught on Charlestown's campus--exclusive to Charlestown residents." 
Fun, family, friends
As active as he is off campus, Daniel also participates in the community's Ravens' Fan Club, plays with the Charlestown Sluggers softball team, is a Treasure Sale volunteer, and leads Charlestown's Phoenix Society.
And while Daniel appreciates Charlestown's proximity to entertainment venues, sporting events, and volunteer programs, he especially enjoys having family and friends close by. 
"For us, proximity to family and friends influenced our decision to move to Charlestown," says Daniel, who loves spending time with his granddaughter. 
Erickson Senior Living communities like Charlestown are redefining retirement living by offering residents an unparalleled lifestyle that combines convenience, opportunity, and the joy of being a part of something greater.
Invest in your future self at Charlestown. From top-notch amenities to affordable, maintenance-free apartment homes, you are sure to live your retirement to the fullest. Request more information today!
Back