Healthy Living—A Hallmark of the Charlestown Lifestyle
By Danielle Rexrode
January 18, 2022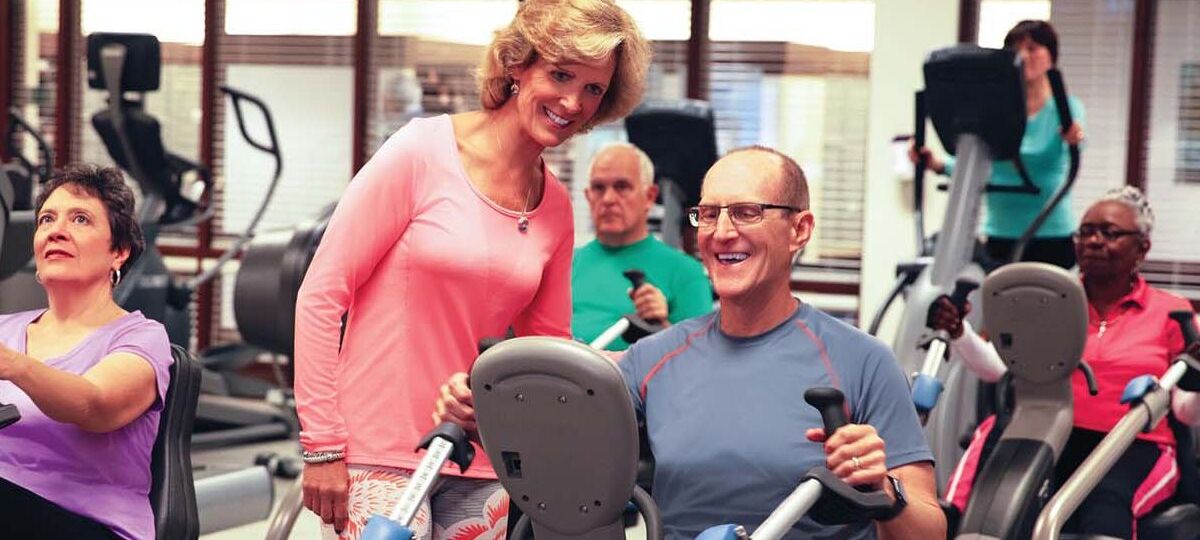 The new year is upon us, and residents at Charlestown, an Erickson Senior Living community in Catonsville, Md., are resolving to reinvigorate their lives, given all the opportunities available to maintain their health and well-being—right within the community.
There are plenty of on-site amenities to stay fit, engaged, and relaxed; including a fitness center, walking paths, a medical center staffed by experienced providers, and pastoral ministries resources—including programs to explore spirituality and increase mindfulness.
Fitness, friends, and fun
Before Eric Bowman and his wife Fern moved to Charlestown three years ago from Annapolis, Md., he was an avid cyclist, runner, and swimmer. Eric was also a regular at the Annapolis YMCA. Now he enjoys the benefit of having Charlestown's on-site fitness center just down the hall, making it easy for Eric to stick to his fitness routine. He also appreciates the ability to join group fitness classes like yoga. 
"I have been practicing yoga, off and on, for the last 20 years," says Eric. "I've really enjoyed the fact that yoga classes are offered here at Charlestown. Our instructor is great—she never pushes us beyond our limits. It's the perfect blend of challenging ourselves, stretching, relaxing, and connecting the mind and body."
Fitness Specialist Sylvia Moore is a certified personal trainer and yoga instructor. She says yoga helps link the mind and the body, emphasizing that the benefits are endless.
"You can expect a greater sense of relaxation; better flexibility, posture, and sleep; increased strength; improved balance and bone and heart health; and lower blood pressure," says Moore.
Charlestown residents receive a basic gym membership for free, which includes a fitness assessment and consultation, personalized exercise program, and monthly monitoring of exercise progression from the center's professional fitness trainers. Personal training and specialized classes are offered for a nominal fee.
Built-in support system
"We try to offer personalized experiences with our fitness classes. For more one-on-one reinforcement, residents can sign up for personal training sessions. We also ensure that members who prefer to work out independently are doing so safely," says Moore.
"Living in a community-based setting encourages socialization—making friends is easy," she adds. "This is certainly the case in our gym. I have residents tell me how happy they are to be living in a community. We have a built-in support system. Living in a community like Charlestown fosters a sense of belonging to everyone who lives and works here."
Pedestrian friendly
Charlestown is uniquely designed to offer retirees an active lifestyle year-round, as every building is connected by climate-controlled, indoor walkways. These walkways enable residents to access virtually every amenity and 300-plus clubs, regardless of the weather.
A .75-mile indoor walking loop is clearly marked, allowing walkers to keep track of their distance. And when the weather is nice, Charlestown has plenty of outdoor spaces for exercise, including a 1.5-mile walking loop, walking trails, a lake, and spacious grassy areas.
"Well-being is an important factor in many people's decision to move to Charlestown," explains Sales Counselor Molly Fricker, who also happens to be Eric's daughter.
"When new residents realize how convenient it is to stay active here—and how much fun it can be—I think it's very motivating for them. There's no pressure or intimidation, so folks of all fitness levels can be as active as they want to be."
Holistic care
Eating nutritious, balanced meals is another important part of maintaining good health. Charlestown has six on-campus restaurants that offer a plethora of fresh, healthful, made-to-order meals. Nutritional information about the meals served is available through My Erickson, an app designed for community members. As a result, residents can choose the entrées, sides, and desserts that best meet their unique dietary needs.
Another facet of Charlestown's commitment to sustaining the health and well-being of the community is the convenient, on-site medical center. The hand-picked medical staff specializes in geriatric care and works exclusively with Charlestown residents. Providers offer same-day appointments, telehealth calls, and home visits. Residents may choose to see one of the doctors on campus or keep their current primary care physicians and still utilize the center for flu shots, strep tests, and urgent care options, as needed.
Charlestown also strives to foster spiritual well-being and celebrate religious diversity in its wellness offerings. Pastoral Ministries Coordinator Tammy Collier and her team help create opportunities for worship within several different faith traditions, located across campus and in the century-old Our Lady of Angels Chapel.
Looking forward to embracing the new year, Charlestown residents are well equipped to reinvigorate their lives and make physical, mental, and spiritual wellness their priority.
Ready to take a look at the endless wellness amenities offered? Schedule a virtual or in-person visit to Charlestown today.
Back