The Feeling of Freedom at Charlestown Senior Living Community
By Danielle Rexrode
July 12, 2021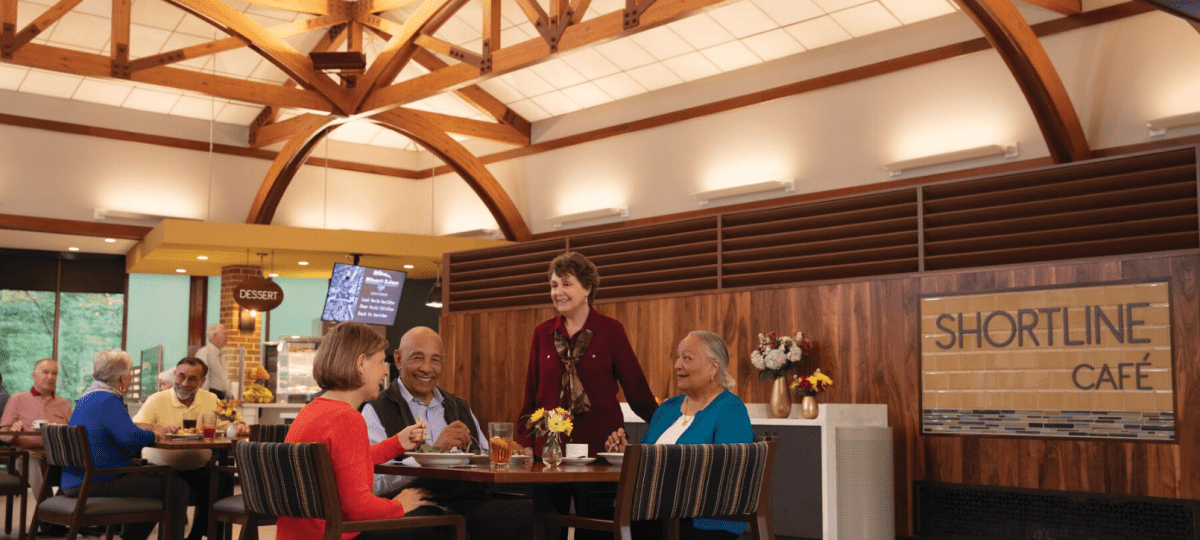 Mel and Ray Milio sold their home in Crofton, Md., 15 years ago when they decided to move to a condominium in Odenton in search of a maintenance-free lifestyle. But after a decade, they decided condo life didn't suit them and set out to find a new home where they could experience true freedom.
"We moved to the condo because we thought it would be a lot less maintenance than the house, but instead it was just different things we were responsible for," says Ray. "Anything outside of our condo was considered community property and taken care of, but everything inside was our responsibility. So, if the refrigerator or dishwasher broke or it needed to be painted, we were responsible for it."
Their search initially landed them at Riderwood, an Erickson Senior Living community in Silver Spring, Md. At Riderwood, residents eliminate the hassles of homeownership so they can focus on making the most of their retirement—socializing, being active, pursuing hobbies and interests, enjoying great food, and staying healthy.
Choosing Charlestown for retirement living
They really liked Riderwood but decided to visit Charlestown, another Erickson Senior Living community located in Catonsville, Md.
"We weren't that far from Charlestown, so we came out and took a look and just absolutely fell in love with the place," says Ray. "It just felt like home."
For Mel, there was something else that validated their decision. "When we found out that the people in Charlestown's sales department not only believe in what they are selling, but many of them have family members who live here at Charlestown, we knew it had to be a good place to live and we were making the right choice," says Mel.
Now, the Milios are enjoying every bit of their newfound freedom at Charlestown. "The services we get are just great," says Ray. "We had a light bulb go out in a ceiling fixture and we just picked up the phone and called maintenance and they took care of it. We appreciate the convenience."
Personalize your new senior living apartment
The apartment homes at Charlestown feature one-level living and can be customized with an endless variety of upgrades, including crown molding, built-in bookcases, custom closets, new lighting, tile or hardwood flooring, tile backsplashes, and custom window treatments.
Outside each apartment door is an expansive 110-acre campus with easy access to amenities in three clubhouses, including an on-site medical center, fitness center, indoor swimming pool, seven restaurants, the Our Lady of the Angels Chapel, a television studio, woodshop, salon, bank, as well as outdoor gardens, a lake, bocce courts, and walking trails.
"Our apartment is located on a corner and we have woods on both sides," says Mel. "We really love the fact that Charlestown has so much open space. Just this morning, I was watching a red fox out behind our apartment," adds Ray.
Charlestown Sales Counselor Molly Fricker says it's a common misconception that staying in your house equates to a higher level of independence. Those who call Charlestown home know the opposite to be true.
"Without the burdens of homeownership, your time is freed up to pursue interests that you might not otherwise have the time, nor the energy to focus on," says Fricker. "At Charlestown, residents have complete freedom to come and go as they like, filling their day with the type of activities that are appealing to them, whether that is traveling, gardening, volunteering, or spending more time with friends and family."
An array of retirement activities and amenities
"We had a clubhouse in our condo community and they did some things, but it was nothing like the array of activities we have here at Charlestown," says Mel.
Just a few months after moving in, Mel and Ray began volunteering with Charlestown's Treasure Sale, an on-campus flea market whose proceeds help fund various clubs and causes within the community.
"I've met so many people volunteering with the Treasure Sale; it's been great," says Ray.
Ray also enjoys walking, bocce, and shuffleboard; Mel volunteers editing Charlestown's resident newspaper, The Sunburst, and is on the Charlestown Scholars' Committee, which provides awards to assist eligible student employees with scholarship funds to support their education after graduation from high school.
"Even if you aren't involved in anything, you can enjoy the beauty of the campus," says Ray.
Mel says close to a dozen of their former neighbors from their condo community have joined them at Charlestown.
"Charlestown has a culture where everyone is so friendly and everyone says hello to each other in the community," says Mel. "I think what I appreciate most about living here is I feel safe and taken care of. It's nice not to have to worry about anything. I think the best advice I can offer is you need to keep an open mind. Be flexible and you will be more successful in finding what you want."
Learn more about independent living at Charlestown
If you are interested in a maintenance-free, lively retirement lifestyle at Charlestown senior living community, be sure to request a brochure or schedule a visit today!
Back