Enjoying The Great Outdoors at Charlestown
By Danielle Rexrode
July 10, 2023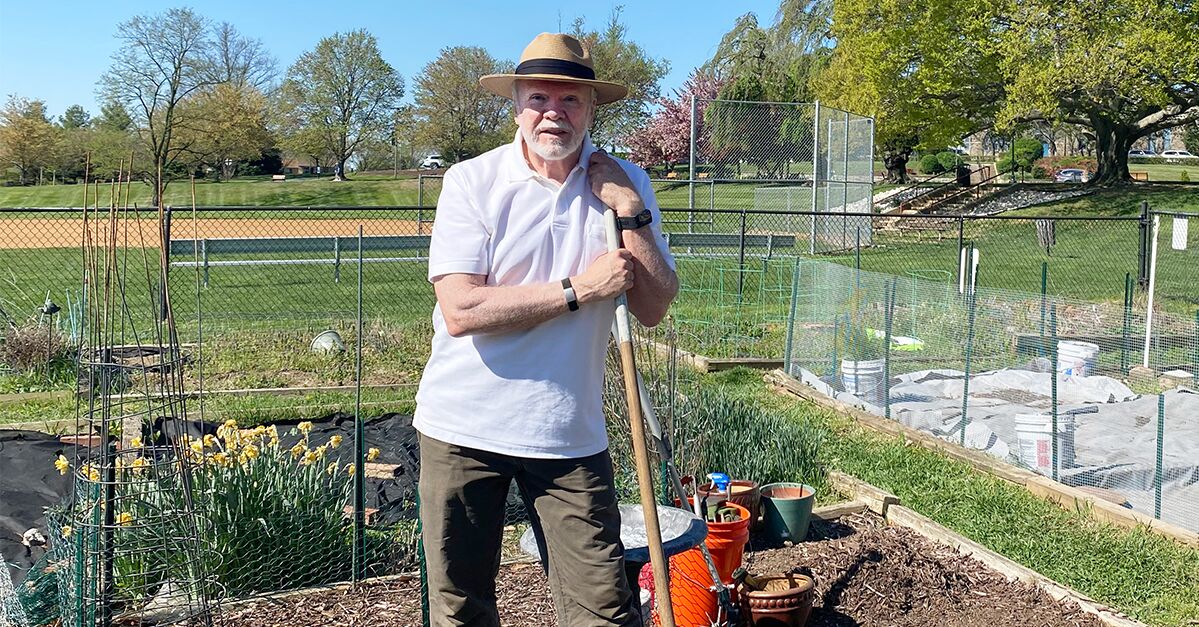 As naturalist John Muir once said, "In every walk with nature, one receives far more than he seeks." Outdoor lovers living at Charlestown, an Erickson Senior Living-managed community in Catonsville, Md., undoubtedly agree with this philosophy. 
Whether you love to walk, bike, garden, fish, or immerse yourself in nature, Charlestown's 110-acre campus offers plenty of fun ways to soak up some sunshine. 
I mostly enjoy walking and gardening," says Phil Vess, who moved to Charlestown with his wife Jane in 2020. "I'm out walking all the time. You can get a good walk in without ever leaving the campus. I usually walk about three miles, never crossing the same area." 
At Erickson Senior Living communities across the country, residents enjoy exercise and social activities in the great outdoors, thanks to beautiful, secure spaces that are woven throughout each campus. 
"There are all kinds of things to do outside here!" adds Phil. 
Making connections
When Phil, who has quite the green thumb, was researching his senior living options, finding a community with garden space was at the top of his list. Charlestown checked that box and more. 
"When we were selecting our apartment home, we looked at places with outdoor patios so that I could have a place to garden," he says.
While the couple ultimately decided on a corner apartment home on a higher floor, Phil was in luck. In the field below Charlestown's Town Center Clubhouse, residents can claim a garden bed to plant an array of flowers, vegetables, and herbs.
"Having a garden space works just fine for me!" says Phil, with a laugh. "I'm growing irises, lilies, dahlias, zinnias, black-eyed Susans, tomatoes, and peppers."
Throughout the week, Phil swings by the garden to tend to his plants and chat with fellow gardeners. 
"One of the nice things about having a garden space is that you meet other gardeners, and we often share with each other," he explains. "For example, if someone has plants that are thinning out, they will offer them to you. Last year, somebody gave me a few tomato plants because they had more than they needed."
Outdoor hobbies
Erickson Senior Living communities like Charlestown offer safe, accessible outdoor environments that encourage residents to get active and socialize, enhancing their overall well-being. By taking advantage of these amenities, residents feel more energized and have greater focus and stamina.
"Spending time outdoors is good for you, mentally and physically," notes Teresa Reymann-Curran, fitness manager at Charlestown. "It can increase the serotonin levels in your brain, making you feel happier. Getting outside also alleviates stress, and enjoying nature with friends provides social stimulation." 
From active spaces such as well-manicured walking paths and bocce courts to entertainment like model yacht racing on the lake, the opportunities are everywhere!
Charlestown's lush, scenic campus is also the perfect backdrop for nature photography - another one of Phil's hobbies that was enhanced by his move to the community.
"It's a great place to take pictures because of all the wildlife," says Phil. 
So far, he's spotted fox, deer, geese, ducks, and even herons. 
He adds, "I'm still working on getting a perfect picture of geese taking off from the pond. I also go through the gardens and take photos of the flowers. The flowers attract birds, like chickadees and other colorful species, which I love to photograph."
'Beautiful views'
For outdoor lovers Lynn and Andy Kochis, the expansive view of the woods from their fifth-floor apartment home allows them to take in nature from the comfort of their living room. 
"When we toured this area of the community, we walked across the climate-controlled walkway through all the trees," recalls Andy. "It was very similar to our house in Granite, Md., and that appealed to us very much. We're thankful to have such beautiful views here."
When they venture outside, Lynn and Andy love riding their bikes along the Catonsville Rails to Trails park and walking on Charlestown's campus.
"Many residents are into softball and bocce, but what I enjoy most is walking around campus and going down to the lake and looking at wildlife," says Lynn. "Sometimes, Andy and I will go down to the lake and have a picnic, and that's really fun. We see the geese when they are nesting and having their babies. It's such a gift to live in a beautiful environment!"
Thanks to resident-led efforts and investments in outdoor spaces, an increasing number of Charlestown residents are finding ways to spend time outside, which is proving to be an integral part of their active, worry-free lifestyles.
Invest in your future self at Charlestown. From top-notch amenities to affordable, maintenance-free apartment homes, you are sure to live your retirement to the fullest. Request more information today!
Photo: Resident Phil Vess likes to tend to the flowers and vegetables growing in his garden space, as well as strolling along Charlestown's walking paths. 
(photo credit Riley Ritter)
Back