Chefs Serve Up Creative Fare at Charlestown's Restaurants
By Danielle Rexrode
September 15, 2022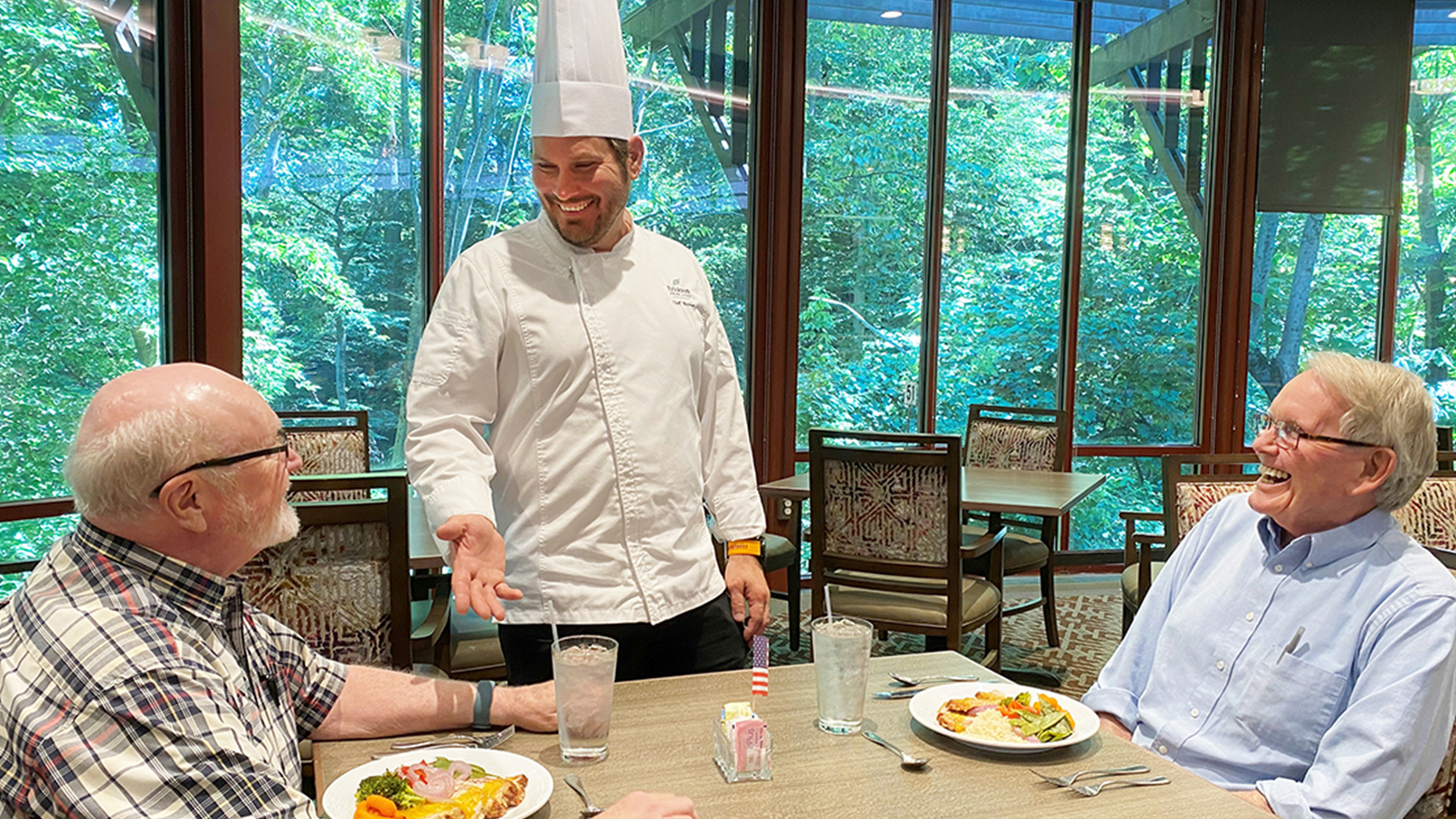 Charlestown is well-known for its friendly atmosphere and worry-free lifestyle. A key element of that carefree environment is the outstanding cuisine served up daily at each of the community's six on-site restaurants.
What's cooking?
Thanks to Charlestown's Signature Dining program, which emphasizes preparing high-quality, cooked-to-order dishes, residents enjoy delicious meals made with fresh ingredients and extraordinary service each time they dine.
"Our chefs are really creative and come up with amazing menus," says Ken Zahn, Charlestown's dining services director. "I think one of the most exciting things about dining at Charlestown is that there are 130-plus made-to-order dishes to choose from on any given night."
With the Chesapeake Bay just miles away, it's no wonder that Charlestown is serving up crab all kinds of ways. "We have an award-winning Maryland crab soup, as well as crab cakes," says Zahn. But these culinary professionals don't stop at the sea. "Some of our chefs even like to fire up the smoker and smoke ribs," he adds.
Zahn also points to the local, fresh ingredients that Charlestown sources for every dish. "We take advantage of what's in season by serving ripe fruits and vegetables. One of my favorites is a brunch menu item that includes a watermelon and tomato salad. We have other dishes like strawberry-stuffed crepes and plum-glazed shrimp risotto - these are the types of dishes that our kitchens are producing for our residents."
Options galore
Charlestown features a wide variety of full-service restaurants, each with its own distinctive personality and flair. The Atrium features an outdoor seating space, as does the Terrace Café.
Chesapeake Bar & Restaurant offers a private dining room for parties, as well as a new contemporary bar and small plates venue with an innovative cocktail selection. The Fireside boasts an expansive bar, and the Short Line Café is a great go-to casual lunch and dinner spot.
Offering insights
Bob Caulfield, who currently serves as co-chair of the dining services committee for Charlestown's Resident Advisory Council (RAC), moved to the community four years ago from Reisterstown, Md. The RAC fosters collaboration between community members and staff to ensure resident comfort, safety, and satisfaction. Given his career in the hospitality industry, Bob thought he could bring his expertise to the position.
"I was the general manager of the Johns Hopkins Club for 41 years. Prior to that, I was the manager at the Suburban Country Club in Pikesville, Md.," says Bob. "I pretty much spent my entire adult life in the hospitality industry, so that was something I thought I might be able to assist with."
The committee meets with Zahn and the community's chefs on a regular basis to discuss menus and offer insight and suggestions.
"Our function is really to be a conduit of information for dining services, so that the managers, cooks, and chefs know what residents are seeing, hearing, and experiencing," explains Bob. 
"We frequent the Short Line and occasionally go to the Chesapeake or Atrium," Bob adds. "Short Line is great because if you want to get a hamburger and a soft drink and a piece of pie, you can get it and go on your merry way - it's very easy and convenient."
The more the merrier
Bob says he especially appreciates not having to venture off campus when friends and family visit. "We are very fortunate that most of our children and grandchildren live nearby in Ellicott City, so they visit often and we have dinner together. We usually take them to the Chesapeake or the Atrium," says Bob.
"And when we don't feel like going out, we host friends and family in our apartment home for dinner."
Ronald MacNab, who moved to Charlestown two years ago from Silver Spring, Md., co-chairs the dining committee with Bob.
"The complexity that goes on behind the scenes is incredible," says Ronald. "You think, 'It's just having dinner. How complicated can that be?' But when you multiply a single meal by two thousand residents, a lot goes into it."
Ronald's wife Janet is a big fan of the community's cuisine, too. "We eat in the restaurants daily. We go to all of them - we like variety. When we first moved to Charlestown, we ate dinner with different people all the time. Now, we have Meet and Greet tables where you can meet new people and interact. It's a great way for residents to socialize."
Invest in your future self at Charlestown. From top-notch amenities to affordable, maintenance-free apartment homes, you are sure to live your retirement to the fullest. Request more information today!
Back