Charlestown's Staff Members Share a Commitment to Care
Danielle Rexrode
March 14, 2023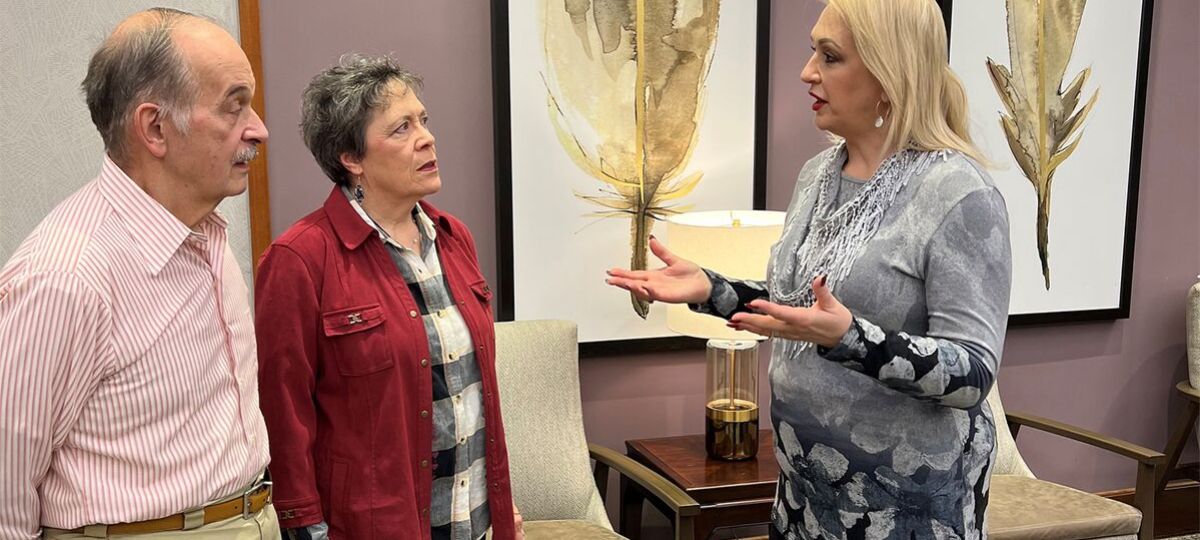 There are a lot of factors to consider when choosing a senior living option. Take an even closer look, and you'll see a world of difference in the experiences that each retirement community offers.
Ask any Erickson Senior Living resident what sets their community apart, and they'll tell you it's the people.
"The staff is wonderful!" says Elaine Evenson, a resident at Charlestown, the Erickson Senior Living community in Catonsville, Md.
From the knowledgeable sales associate who helps you find the perfect apartment home, to the fitness trainer who motivates you to reach your goals, to the enthusiastic servers at your favorite on-campus restaurant, it's the staff members who make Charlestown such a great place to live.
"There are two components that make up a successful Charlestown employee," says Paulette Tansill, director of human resources. "Our staff members not only need the skills to perform the jobs for which they are hired, but they also need to demonstrate our values. In other words, it's not just about doing their job, it's also about how they do their job."
Offering support, whenever needed
Elaine, who moved to Charlestown from Odenton, Md., with her husband Jim, was determined to find a community with a welcoming atmosphere. 
"We visited eight other communities, but we kept coming back to Charlestown. We realized that Charlestown was the benchmark that we were judging all of the other communities against," says Elaine. "There is such a friendly atmosphere here. People talk to you, and it's easy to make friends. It didn't feel like that at other communities!"
She also notes that the dedicated, caring employees are essential to the community's personality. With one employee to every three residents, Charlestown's professionals are always available to support residents' needs with a smile. 
"One time, Jim cut his finger late at night," recalls Elaine. "We didn't want to go to the emergency room if we didn't have to, so I called security."
Within five minutes, one of the emergency responders on the security team arrived at their apartment home.
"All Jim needed was a compression bandage - and no stitches!" she says. "The responder said that if we needed anything in the future, even in the middle of the night, to just call. He was willing to come up and take a look, just to reassure us. I thought, 'Wow, this is why we moved to Charlestown.' It's nice to know that everyone is here to support you."
'Best in the business'
Erickson Senior Living and its national network of communities hire the best talent in the industry to provide an excellent resident experience. And with a track record of offering a vibrant, engaging lifestyle to seniors for nearly 40 years, many residents would agree that they've succeeded in this mission.
"Senior living should be considered a destination for career-driven people who possess a passion for serving others," notes Alan Butler, CEO of Erickson Senior Living. "We continue to innovate and train our workforce because the services we offer to residents are only as good as the people who provide them. I am confident that we have the best in the business working for Erickson."
Tansill, who has been with Erickson Senior Living for 21 years, notes that her meaningful interactions with residents contribute greatly to her job satisfaction. And, she seeks to hire those who feel the same way.
"This is a highly relational business! We seek out people who live our values, and people who can build and maintain positive relationships with both coworkers and residents," says Tansill. "A lot of our employees volunteer at activities that go beyond the scope of their job descriptions, in the spirit of sharing their gifts with as many residents as possible."
Exceeding expectations
Picnics and potlucks, theater productions, dance competitions, and themed parties are commonplace at the lively community, which provides many opportunities for residents and employees to bond over shared interests.
"Everyone loves coming together to celebrate and appreciate all of the good things that make Charlestown a great place to live and work," says Tansill. "Whenever I'm having a rough day, I just walk around the community and talk with residents and colleagues. This immediately helps me gain perspective, lightens my spirits, and reminds me why I love Charlestown and Erickson Senior Living - the people."
Invest in your future self at Charlestown. From top-notch amenities to affordable, maintenance-free apartment homes, you are sure to live your retirement to the fullest. Request more information today!
Back