Charlestown's Knitted Knockers Chapter Helps Local Breast Cancer Survivors
By Danielle Rexrode
December 14, 2022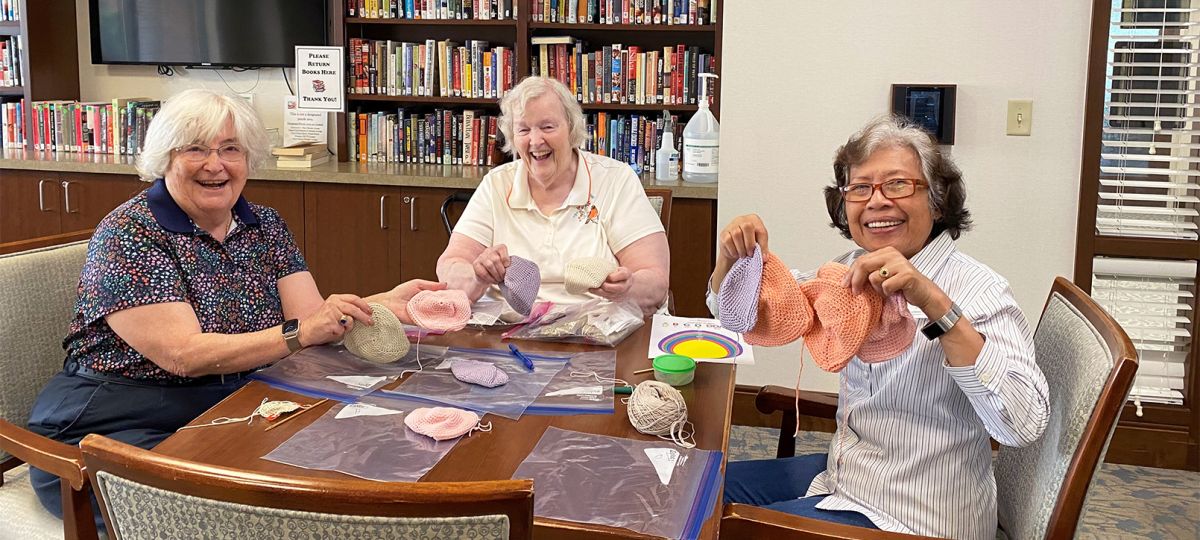 Research has found that about 1 in 8 women in the United States will develop breast cancer. This year alone, an estimated 340,000 new breast cancer cases are expected to be diagnosed.
Thankfully, there are more than 3.8 million survivors of breast cancer, due to early screening and advanced treatments. Although some survivors choose to have reconstructive surgery, many do not.
The Knitted Knockers, a worldwide network of over 3,000 knitters across America and 30 countries, knit and crochet handmade breast prostheses for women who have undergone mastectomies. Made of soft yarn and stuffed with a hypoallergenic polyester filling, the prosthetics come in all colors and sizes and are designed to resemble natural breast tissue.
At Charlestown, an Erickson Senior Living community in Catonsville, Md., a group of experienced knitters is pitching in.
Pastime with a purpose
Pat Phayer, lifelong knitter and founder of the Charlestown chapter, began working with Knitted Knockers ten years ago while she was living in Annapolis.
"I used to knit prosthetics for Anne Arundel Medical Center through my knitting guild and I really missed doing that," recalls Pat. "So, I decided to start a group here at Charlestown. I had a friend who crochets and I talked to a couple of other women. We put the word out, scheduled a meeting, and people showed up."
"We make anywhere from 35 to 50 prosthetics a month," says Pat. Since the chapter started in September 2021, the group has knitted about 280 prosthetics. "Half of those went to the national organization and the rest were distributed to two breast centers we adopted locally, St. Agnes Hospital and Mercy Medical Center. In the past, they were getting them from the national organization. We are thrilled that they can now get them locally from us."
'A way to give back'
"These are made out of love," says Pat. "Most of us know somebody affected by breast cancer, so it's a way to give back. I can make one in about a day and a half. I try to spread them out over a few days. I usually knit when I am watching TV. Some people do six or eight of them a month; others knit two. There is no quota - it's up to you how many you make."
Members of Charlestown's Knitted Knockers chapter work independently, but everyone meets on a monthly basis to measure and sort the completed prosthetics by cup size and check for quality and consistency. Each prosthetic receives washing instructions and a tag that reads, "Made with loving care by Charlestown Knitted Knockers."
"We also include a bag of stuffing in case the recipient needs to adjust the fill," says Pat. "That way, they don't have to run out and buy it while they are recovering."
Helping hands, big hearts
Resident Susan Brown has been knitting since she was a teenager. Over the years, she has knitted everything from sweaters and prayer shawls to afghans and lap robes. After she moved to Charlestown in 2021, she was able to add handmade prosthetics to her list. 
"When I heard about the group, I thought it sounded interesting and was a great opportunity to give back," says Susan. "It takes me about three to four hours to make one. It's easy enough to pick up, do a few rows, and put it down. It's been a great way to meet new people and make friends."
According to Mary Evans, community resources manager at Charlestown, more than 800 residents - over a third of the community's population - volunteer their time and talents. Knitted Knockers, homeless shelters, libraries, elementary schools, and churches are just a handful of organizations that residents share ties to.
"Charlestown volunteers are an inspiration to anyone they come in contact with," says Evans. "Not only do they seek volunteer opportunities and act on them without hesitation, but their actions also inspire others to serve as well. It amazes me to see many of our residents use their time to better others' lives. It shows how genuine their hearts are."
Inspiring others
Pat hopes the Charlestown Knitted Knockers will inspire other Erickson Senior Living communities to start their own chapter.
"There is a great need for these at hospitals across the country," notes Pat. "It's not a hard pattern and there are videos that are very helpful. I think I can speak for the rest of our chapter when I say that we feel like we are making a positive impact on women's lives. We feel really good about that."
To learn more about affordable, independent senior living at Charlestown, request your free brochure to get the scoop on amenities, floor plans, and so much more.
Back