Charlestown Wins Annual Inter-Community Softball Tournament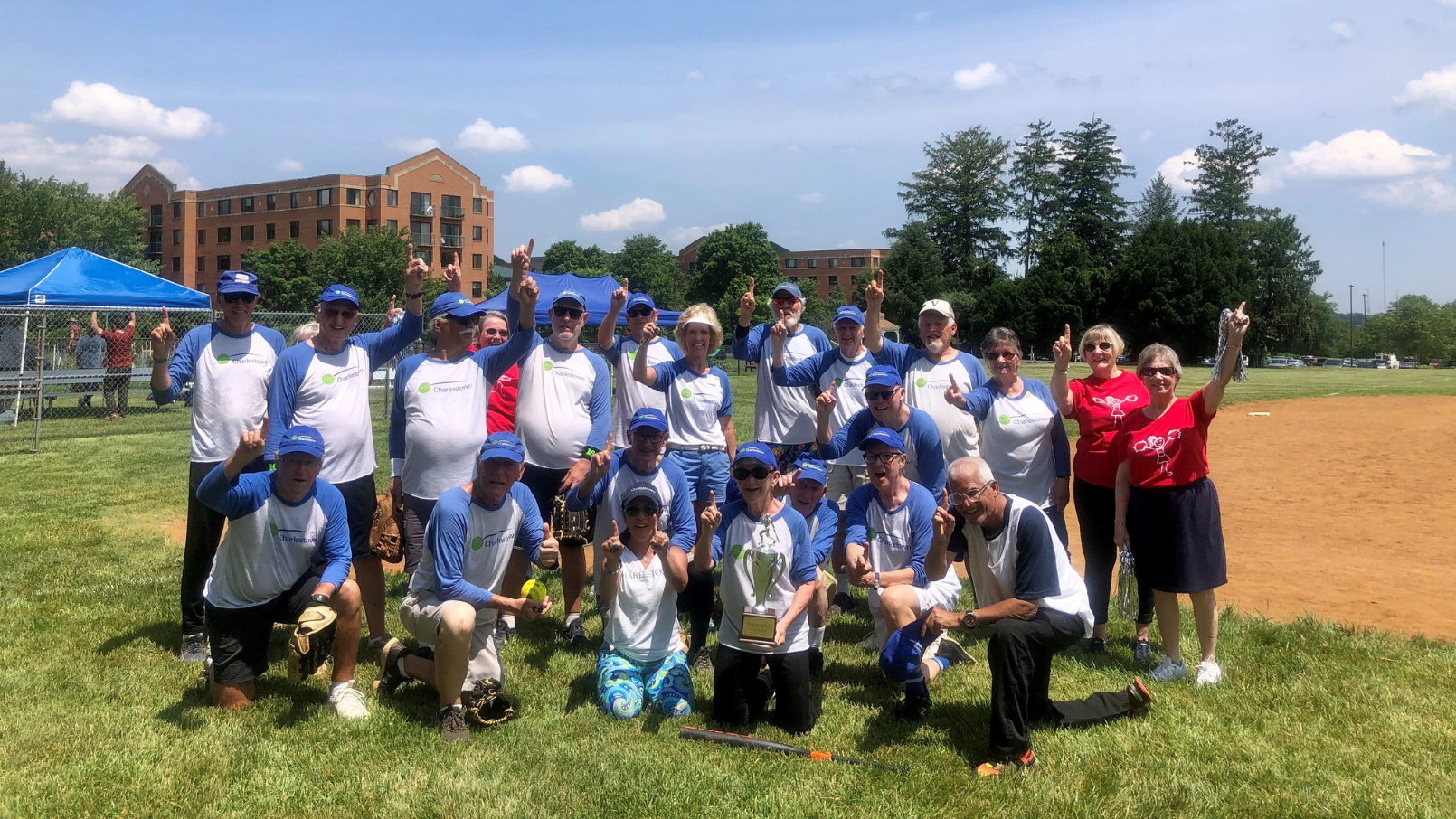 The June sun shone brightly last week onto a softball diamond tucked into a small hillside shaded by trees on Charlestown's picturesque campus in Catonsville, Md., just outside of Baltimore. There, hundreds gathered for Erickson Senior Living's 16th annual inter-community softball tournament featuring teams from across the Mid-Atlantic.
In addition to Charlestown's "Sluggers", teams from Oak Crest in Parkville, Md., Riderwood in Silver Spring, Md. and Greenspring in Springfield, Va. came to play, having practiced at their home communities for months in preparation for their return to the diamond after a three-year hiatus.
The competition was fierce, friendly and fun. In the end, it was the home team who came out on top in a stunning upset over the Oak Crest "Good Guys", who had enjoyed a decade-long winning streak until the final game. Charlestown took the lead early and although Oak Crest managed to score a few late-inning runs, the Sluggers held on for the victory.
"I couldn't be more proud of this team and how hard they have worked for this moment," said Teresa Reymann- Curran, Fitness Manager at Charlestown and tournament organizer. "They've been out here practicing in all kinds of weather, honing their skills and enhancing their teamwork. It all came together today with impressive performances from every player. This was an incredibly well-deserved win and we look forward to celebrating it!"
As fans—including the "Charlestown Cheers" resident cheerleaders—rallied the team from the sidelines, nearby, other community residents tended to their garden plots and or joined friends on the bocce court throughout the day.
"That's what's so special about this tournament. It's truly the embodiment of community and the active, vibrant lifestyle that our residents enjoy every day," said Chandra Kumar, executive director at Charlestown. "I'm proud of our players and grateful to our amazing staff, fans and Erickson Senior Living partners, who helped make the event such a success. We're already looking forward to next year!"
Request more information about active retirement living at Charlestown or schedule a tour by visiting CharlestownCommunity.com.
Back