Charlestown Residents Spread Holiday Cheer by Doing Good and Helping Others
By Danielle Rexrode
December 21, 2021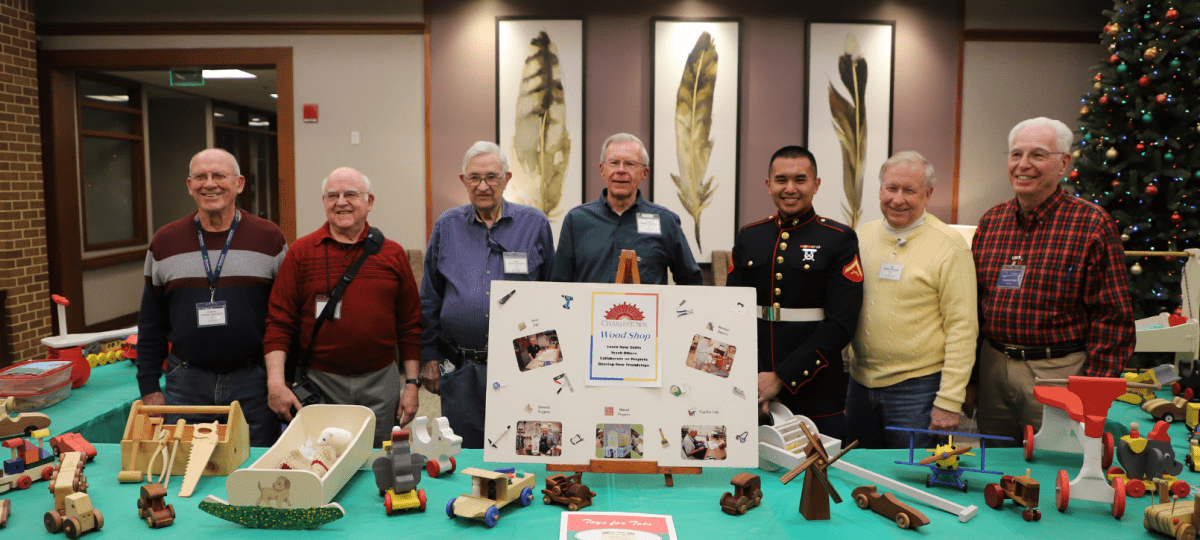 This year as we plan our holiday get-togethers and check off those last-minute gifts, residents of Charlestown, an Erickson Senior Living community in Catonsville, Maryland are weaving acts of kindness into the holiday season by giving back to those in need.
Of the 2,300 residents who call Charlestown home, at least 800 volunteer their time to dozens of different organizations including homeless shelters, libraries, elementary schools, and churches.
Charlestown Volunteer Program Coordinator Stephanie Knowles supports volunteers within the community and says they are fortunate to have a core group of dedicated and engaged residents who think of others not only around the holidays, but year-round.
"Volunteering gives our residents the ability to do what they are passionate about while also giving to others," says Knowles. "The volunteers at Charlestown are an inspiration to all those they come in contact with. Not only do they seek out volunteer opportunities and act on them, but their actions also inspire others to serve as well."
The holidays in particular are a busy time of year for residents like Gordon Piche, a member of the Charlestown woodshop. Piche, a retired Rear Admiral of the U.S. Coast Guard, is in charge of collecting hand-made toys from woodshop members for the annual Toys for Tots toy drive sponsored by the United States Marine Corps Reserves to help children in need.  
"We have some really nice toys," says Piche. "They are all wood, made by hand and painted. We make everything from small wood trucks and cars to stuff big enough for kids to sit and ride on. It's great to be able to use your hobby to bring joy to others."
The toys are made in Charlestown's on-site woodshop and funded from woodshop members, as well as from scrap lumber and donated paint and supplies. The multi-room woodshop features professional-grade saws, sanders, and hand tools, a finishing room for painting and staining equipped with an exhaust system, and a separate assembly room. Dave Callahan made 24 of the 79 toys being donated this year.
"I wasn't a woodworker when I moved to Charlestown," says Callahan. "But there were plenty of people down at the woodshop willing to teach me the techniques and how to run the machines and use the tools."
Callahan started out making simple toys like trucks and bulldozers and worked his way up to ride-on toys including an airplane and a school bus.
"We enjoy making the toys. It's a big part of what we do in the woodshop and we find it rewarding," says Callahan. "We hope that today's kids don't expect everything to have batteries in it."
Erickson Senior Living's Director of Operations Jeff Watson says the impact of Charlestown residents' generosity is far-reaching.
"Even during this busy time of the year, residents are so generous with their time, talents, and treasures, not only to do good in the world but to also feel good in the world," says Watson. "It's this spirit of kindness that always radiates throughout our campuses and enables those who call Charlestown home to make a joyful difference in the lives of so many."  
Peggy Budzyna, along with a group of 24 women, better known as Stitches from the Heart, is making a big difference in the lives of little babies. Throughout the year, the group knits and crochets baby hats, blankets, socks, mittens, and booties for preemies and children up to age 2 at Mercy Medical Center in Baltimore City.
"We have contributed as much as 1,600 items in one year," says Budzyna who moved to Charlestown seven years ago from New York. "We have a volunteer who comes and picks up the finished items, washes them, and delivers them to Mercy. We find it very rewarding to be able to contribute in a small way by doing something that we love to do."
Knowles says she is humbled and inspired by the outpouring of generosity she witnesses day in and day out from Charlestown residents.
"It amazes me to see many of our volunteers, who are retired, choose to spend a great deal of their time bettering the lives of others," says Knowles. "Serving others is a selfless act and it shows how genuine their hearts are." 
To learn more about opportunities to give back while making new friends and pursuing your favorite hobbies, request more information about Charlestown today.
Back