Charlestown Residents Enjoy the Freedom to Live a Fulfilling Retirement
By Danielle Rexrode
July 25, 2022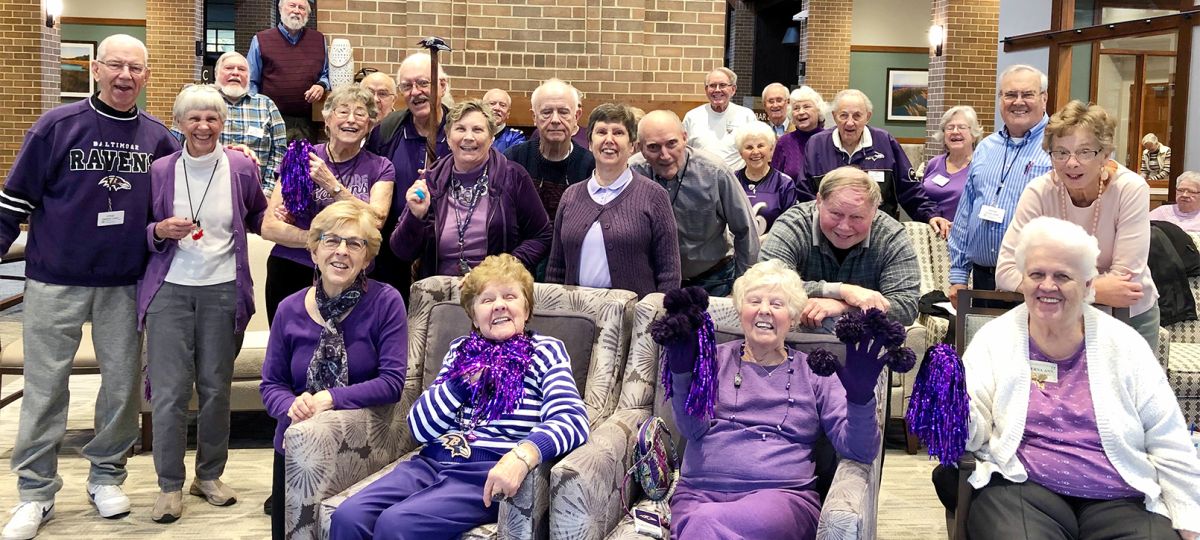 Nearly two and a half centuries after the Declaration of Independence was written, Americans continue to value the unalienable rights of life, liberty, and the pursuit of happiness. At Charlestown, an Erickson Senior Living community in Catonsville, Md., residents are embracing those freedoms, claiming their independence from the headaches of homeownership and pursuing an active, vibrant lifestyle.
Charlestown's maintenance-free apartment homes grant residents the opportunity to live out the retirement they've always wanted. In contrast to being isolated in a house that no longer suits their needs, residents are part of an engaging community that fosters meaningful connections and supports their overall well-being.
Whether it's participating in clubs and activities, artistic pursuits, or volunteer endeavors that enrich the lives of others, residents can be as social and creative as their imaginations allow - especially when forming new groups is so easy. Charlestown features more than 300 groups, clubs, and service organizations, with an average of four new groups starting each year, led by residents like Steve Lauer.
Finding friendship in Senior Living
After he and his wife Ruth moved to Charlestown in 2019, Steve, a Baltimore Ravens season ticket-holder for 17 years, went seeking fellow fans.
"I looked at the list of clubs, but I couldn't find anything that had to do with the Ravens," recalls Steve. "I thought, 'There have got to be a lot of Ravens fans here - this is a community of 2,000 people!' So, I decided to start one."
It turns out Steve was right. Before he knew it, the Ravens Fan Club was attracting upwards of 50 fans at game time.
"During the season, we usually meet about 30 minutes before each game. We bring food and drinks and then watch the game together on the big screen TV. Some residents bring pom-poms and foam fingers, and everyone wears their Ravens gear. It's a lot of fun! We even have families come and celebrate birthdays during Ravens games."
Endless opportunities for staying social at Erickson
Steve's experience is not at all uncommon, according to Mary Evans, the community resources manager at Charlestown. "Everyone has a passion, hobby, or something they love to do," says Evans. "The great thing about a community like Charlestown is that, chances are, others share that same passion."
And thanks to a daily calendar filled with activities and special events like concerts, movies, live shows, dances, lectures, and happy hours, there are always opportunities for fun and engagement.  
Through Charlestown's monthly service package, several expenses that every homeowner incurs are taken care of. Without having the worries of lawn care, home maintenance, and appliance repair, residents are free to enjoy all the clubs and amenities they're eager to try.
New and old connections
It's also not uncommon for residents to find a walking partner, a dinner companion, or a travel buddy right around the corner - whether it's a new acquaintance or an old friend.
"A very close friend, who lived across the street from us for many years, had moved here," says Steve. "She talked about how great it was all the time. We visited her several times and came to the sales events. We researched and looked around at a few other places, but when we considered everything Charlestown offers, we knew this was the place for us."
Charlestown's expansive 110-acre campus features world-class amenities and services, including an on-site medical center, fitness center, indoor swimming pool, seven restaurants, and the historic Our Lady of the Angels chapel, as well as outdoor gardens, a lake, bocce courts, and walking trails.
As a continuing care retirement community, Charlestown provides resources that encourage residents to care for their physical, mental, and spiritual health - now and for the future - resulting in a fulfilling retirement.  
Community matters at Erickson Senior Living
"Everyone has been very friendly," notes Steve. "They go out of their way to make you feel at home." 
Evans emphasizes that another benefit of living in a larger community like Charlestown is the diverse population of residents from all walks of life. "Charlestown is filled with hundreds of accomplished, interesting, caring people," she says. "Each person brings their own unique experiences, passions, and gifts, and the result is the inspiring, dynamic community that Charlestown is today."
Invest in your future self at Charlestown. From top-notch amenities to affordable, maintenance-free apartment homes, you are sure to live your retirement to the fullest. Request more information today!
Back