Charlestown offers residents lifelong learning opportunities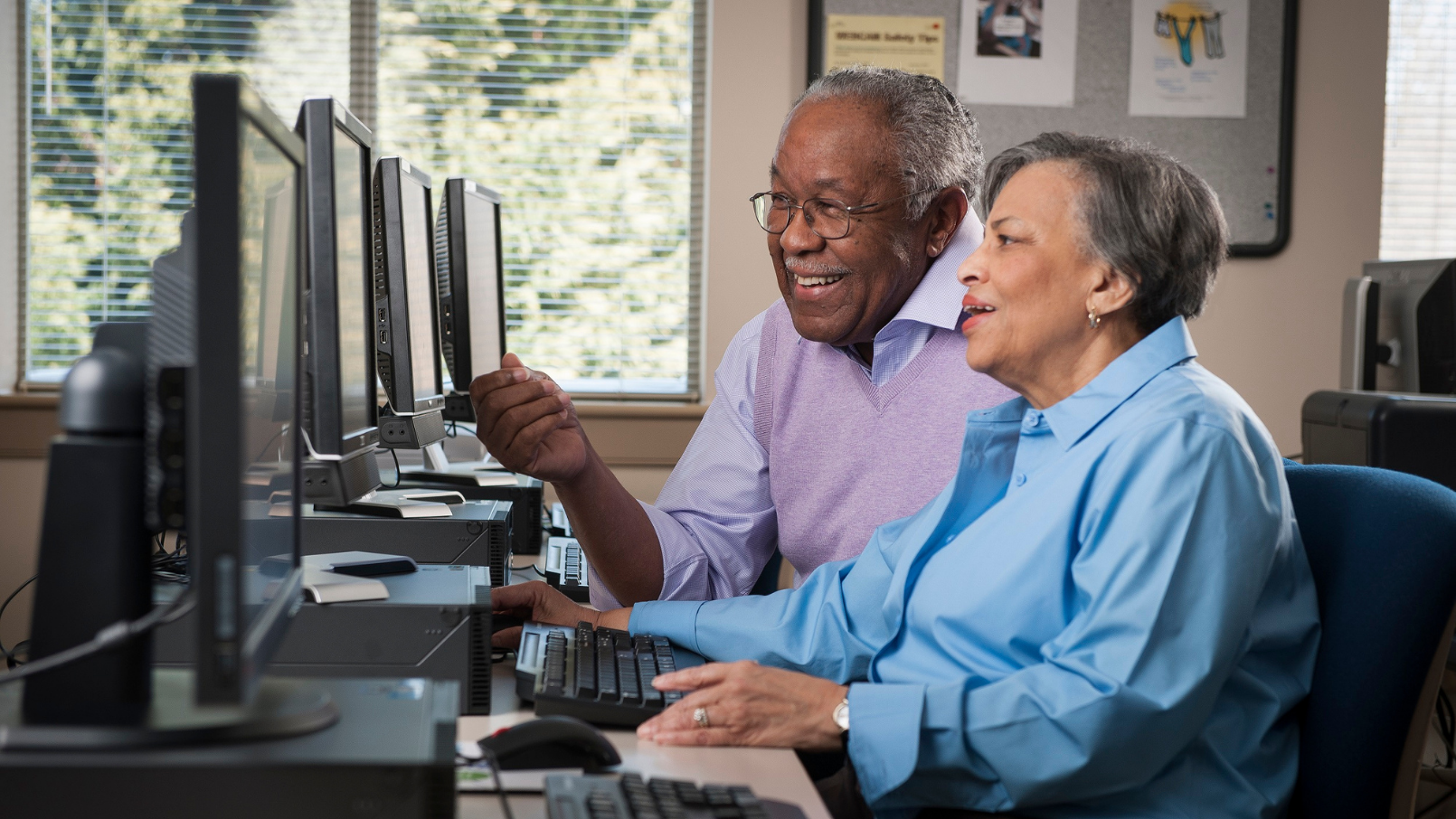 With its friendly, easygoing atmosphere and wide-ranging variety of on-site amenities and clubs, Charlestown, an Erickson Living-managed community, is often compared to a college campus. So, it's not surprising to hear that residents of the Catonsville, Md., community are gearing up for a spring semester of on-site classes.
Elderhostel Lifelong Learning Institute at Charlestown (ELLIC) invites residents to participate in on-site, non-credit college-level courses. Now in its fourteenth year, ELLIC offers Charlestown residents the opportunity to participate in 30 different classes and special programs for a flat fee of only $25.
"When I came to Charlestown for the first time, I fell in love with it. It's a beautiful community. It feels like a college campus," says Mary 'Gif' Intlekofer, moderator of the ELLIC program. "The ELLIC classes are taught by residents who are retired teachers, world travelers, or just have a special hobby or interest. They cover a variety of topics such as history, science, social sciences, entertainment, and travelogues. We also have paid instructors."
Zooming right along
Like many colleges and school systems throughout the country, this semester looks a little different for ELLIC students. "The majority of classes will be taught online via Zoom," says Mary. "We have been in training to educate our fellow residents on how to use Zoom and can accommodate up to 100 people per class. Some classes will still be held in person in Charlestown's auditorium, however, the number of people is restricted to 25 to accommodate social distancing requirements. We have two other classrooms available with a maximum of ten people each, if needed."
Classes typically begin in October and run through June, and the year is divided into two semesters: fall and spring. A virtual course catalog is posted online at the start of each semester. Classes are on a first-come, first-served basis.
In 2019, 450 Charlestown residents participated in the ELLIC program. Mary got involved with ELLIC shortly after moving to Charlestown in 2013.
"I was an English teacher and an editor and writer, so school is my kind of thing," says Mary. "I had a friend who was involved with ELLIC, and when I attended the Fruits of Our Labor, which is an expo for residents that features all of the programs available at Charlestown, ELLIC had an information table. I was thrilled."
"I expect we will have at least half of that amount this time around, but we wanted to keep the program going," says Mary. "Art Chenoweth, our curriculum chair, did a masterful job of pulling together a comprehensive collection of programs."
Live and learn
Studies show that learning something new, something that challenges the brain in different ways, stimulates new connections that help the brain stay sharp.
"Learning is the mechanism for development no matter how old you are," Rachel Wu, an assistant professor of psychology at the University of California Riverside told NBC reporter Erika Edwards in a July 2019 article. Wu published a study in the Journals of Gerontology, Series B, on seniors ages 60 and up who participated in three simultaneous college-level courses for 15 hours a week.
"After just six weeks", the article says, "the participants' scores on standardized tests assessing thinking and memory abilities were similar to a middle-aged adult's scores—a significant improvement over their scores before the study began.'"
In that same article, Dr. Laurie Archbald-Pannone, an associate professor of geriatric medicine at the University of Virginia and medical director of the geriatric clinic at the Jefferson Area Board for Aging in Charlottesville, Va., said, "As we age, our brain becomes different, but it doesn't stop. The brain is still working. Aging is not a disease. It's part of the normal process of life. The brain may work differently, but still engaging the brain is really important."
ELLIC's spring semester begins on February 1 and runs through June with offerings that include: Phillis Wheatley, African American Poet; Benjamin Banneker: Mathematician and Scientific Thinker; Actions of the Women in the American Revolution; Spring and Summer Birds of Charlestown; Travelogue Alaska, The Last Frontier; and Contemporary Issues in Criminal Justice. In addition to serving as moderator, Mary says she will be participating in at least a dozen of those programs.
"I always sign up for a lot of the classes and I go to many of the special programs," says Mary. "There's a lot of work to do to get it all together. We have people here from all walks of life. It's interesting and fun. It's a marvelous program."
Consider Charlestown if you're interested in living in a connected and engaged senior independent living community. Educational and social opportunities, resort-style amenities and new friends await. Request more information today.
Written by Danielle Rexrode
Back