Charlestown Embraces Wellness at 15th Annual Inter-Community Softball Tournament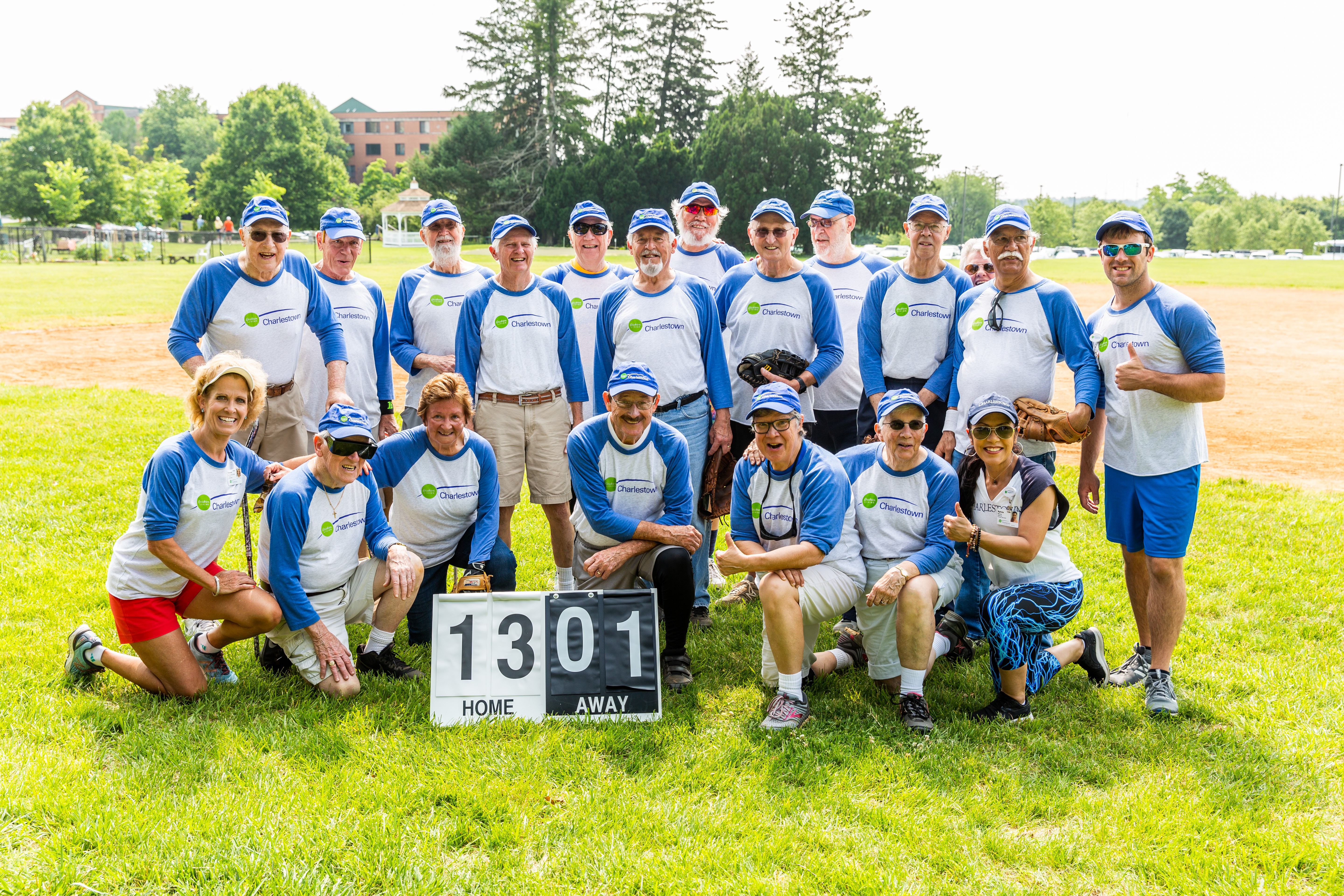 Competition brings together teams from four Mid-Atlantic retirement communities
Catonsville, Md. – This week, Charlestown hosted its 15th Annual Inter-Community Softball Tournament, welcoming teams from Oak Crest, Riderwood and Greenspring, all continuing care retirement communities managed by Baltimore, Md.-based Erickson Living.
Co-ed resident teams competed in front of a large crowd of fellow residents, staff members and fans at Charlestown's campus in Catonsville, Md. Although the forecast was calling for storms, the weather held out and everyone enjoyed a warm, sunny day before the clouds began to roll in.
In the first game, the Charlestown Sluggers continued their record two years in a row defeating the Riderwood Rockets. Then, the Oak Crest Good Guys defeated Greenspring for its spot in the Championship. Despite a valiant team effort, Charlestown ultimately fell to Oak Crest in the Championship game, which ended in a score of 15-5.
"Throughout the competitive tournament, the Sluggers showed poise and determination. Their skills shined through with strong defensive plays and impressive hits at bat," said Teresa Reymann-Curran, Fitness Manager. "Even though they were unable to bring home the winning trophy, their enthusiasm continued until the very last pitch."
Charlestown's Sluggers practice three times a week at the on-campus ball field under the leadership of resident coach Bob Nitsch, who said that the team's goal is to play their best, stay healthy and have fun. "That's what it's all about," he said.
At Charlestown, softball is just one of more than one hundred groups and activities for Charlestown residents to participate in, from cornhole to bocce, yoga, swimming and much more.
"Charlestown's Annual Softball Tournament is a testament to our community's culture of well-being which incorporates many dimensions of wellness," said Nathan Blumberg, Associate Executive Director. "In addition to the physical benefits of playing a sport, resident players enjoy the camaraderie and social aspects of being part of a team, the environmental benefits of spending time outdoors and the occupational and intellectual advantages of learning and honing new skills on the field. We're thrilled to see residents embracing wellness in this way and proud of the Sluggers' performance in the tournament this year!"
As a leader in senior health care, Charlestown utilizes a uniquely holistic approach, encouraging healthy living as part of every resident's vibrant retirement lifestyle. Its entire campus is designed with residents' physical, emotional and spiritual life in mind, including the on-site medical center, chapel, modern fitness center and all-season swimming pool, salon and day spa, library and more.
If you're interested in learning more about Charlestown's active, engaged retirement lifestyle, don't wait! Connect with us today and request more information.
Back