Charlestown Celebrates 35th Annual Scholars Program for Student Employees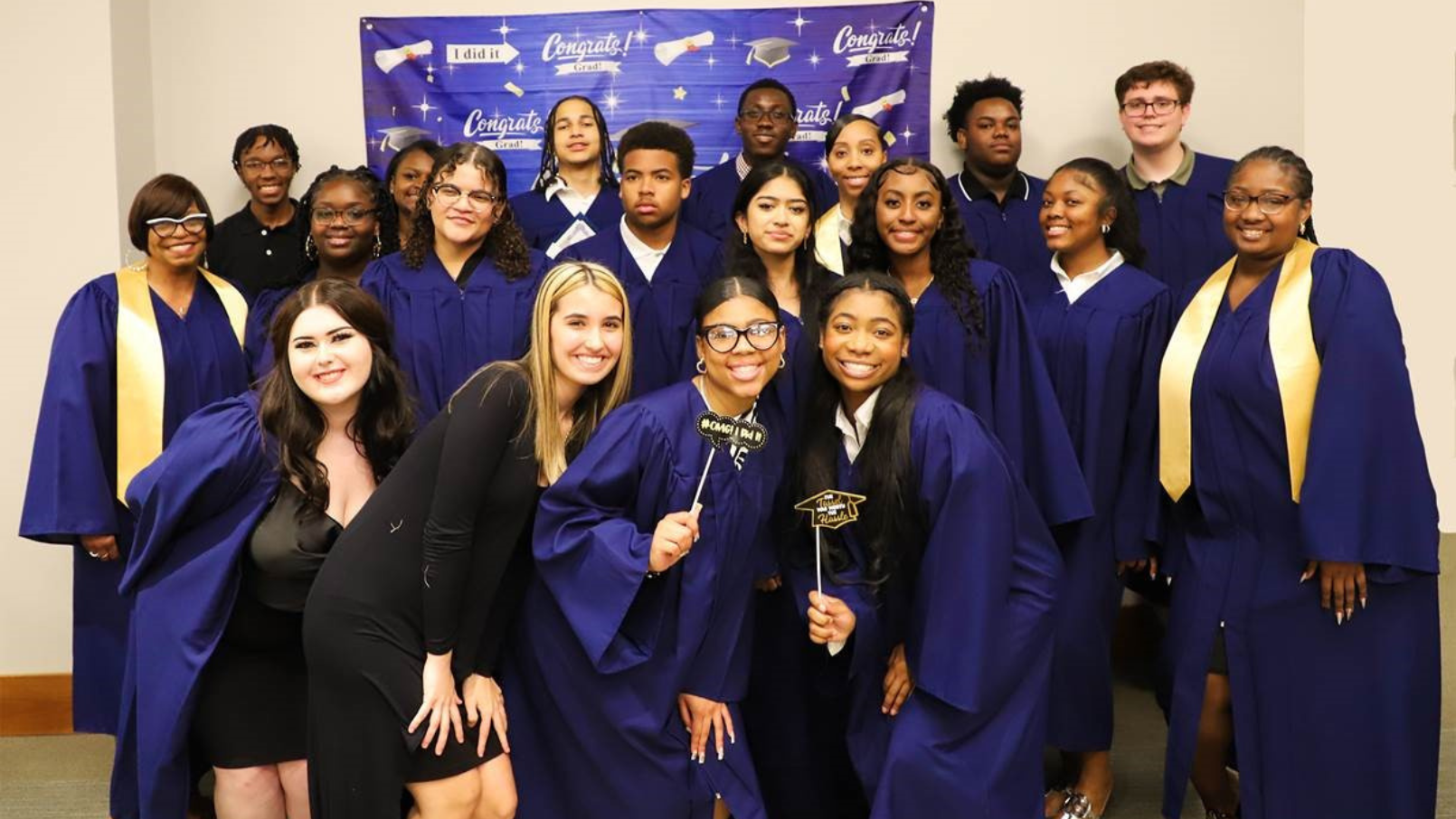 With graduation season in full swing, 19 local students are already looking ahead towards a bright future, thanks to the Scholars Program at Charlestown, an Erickson Senior Living-managed community in Catonsville, Maryland.
For 35 years, the Charlestown Scholars' Fund has provided awards to assist eligible student employees with scholarship funds to support their education after graduation from high school. Students who meet the criteria receive scholarships for college or other accredited educational institutions. 
This year, 17 high school students employed in Charlestown's dining services department earned scholarships of $4,000 per year, for four years. Two other employees were adult learners who also earned one-year, renewable $4,000 scholarships. 
A recent ceremony celebrated the achievements of the 2023 Charlestown Scholars. The scholarships, which are made possible by generous resident contributions, can be used to offset tuition expenses for college, university, or accredited trade school based on their academic performance. In addition, each scholar will receive a one-time $500 technology grant to assist in the purchase of laptops, tablets or other tools that will support their higher education goals.
"These scholarships mean so much to our deserving student workers. On behalf of the entire Charlestown community, I'd like to thank everyone who donated to this year's Scholars Program. You helped make a difference in these students' lives," said executive director Don Grove.
Along with the Charlestown Scholarships, the scholar candidates has an opportunity to apply for a variety of named and partnership scholarships. The following Scholars received these special named scholar awards: 
Adithya Maya: Andrew Murray Myers Scholarship ($3,000)

Kaleigh Cromer: Fenton & Ted Robb Memorial Scholarship ($2,000)

Jelani Peterson: Don Brodeur "Joy of Learning" Scholarship ($4,000)

Sanaa Lee: "The Future is Now" Scholarship ($4,000)

Jordan Richburg: Treasure Sale Scholarship ($2,000)

Imani Johnson and Amaya Jones-Core: STEM Scholarships sponsored by AITP-Baltimore ($2,000 each)

Jordan Richburg, Ekene Oneyemeziem, and Amaya Jone-Core: Health Sciences Scholarships sponsored by Charlestown Retired Nurses ($4,000 each)

Kaleigh Cromer: CCBC partner scholarship ($500) 

Arnyia Hemphill: Coppin Partnership Scholarship ($8,000)

Lumell Mont: Morgan State Scholarship ($4,000)

Thomas Rogers: Committee Recognition Award ($2,000)
At the Charlestown 2023 Scholars' Celebration, alumni guest speaker Dr. Elizabeth Fadoju, DDS, MA, addressed the students, offering inspiration, motivation and encouragement, based on her own experience as a Charlestown Scholar. From 2007-2011, she worked in Charlestown's Atrium restaurant, as a coach, and in catering. She was educated at the University of Maryland and Columbia University College of Dental Medicine. She is currently a Comprehensive Dentistry Resident at the Naval Postgraduate School. Dr. Fadoju delivered a terrific talk to this year's scholars about finding a "community" for themselves at college and creating lifetime goals.
"We thank each of our residents who donated to the 35th Annual Scholar Campaign, without whom we would not be able to offer this opportunity to the student-employees that work so hard for us," said Charlie Eichenlaub, Charlestown resident and chair of the Scholars' Committee. "This scholarship, for some, makes the difference in their ability to afford to go to college and continue their education."
In total, nearly $205,000 was raised for the Scholars' Program this year, and more than half of all Charlestown residents participated.
"We are grateful for the support of this wonderful program to encourage our students to pursue their passion and follow their dreams," said Patti Santoni, director of philanthropy at Charlestown. 
The Scholars Program is just one of the many ways that Charlestown supports mission-driven staff members who are eager to further their education and professional development. To learn more about open positions and career benefits at Charlestown, visit www.CharlestownCommunity.com. 
Back