A Career in Healthcare Opens New Doors for Charlestown Employees
By Danielle Rexrode
July 7, 2023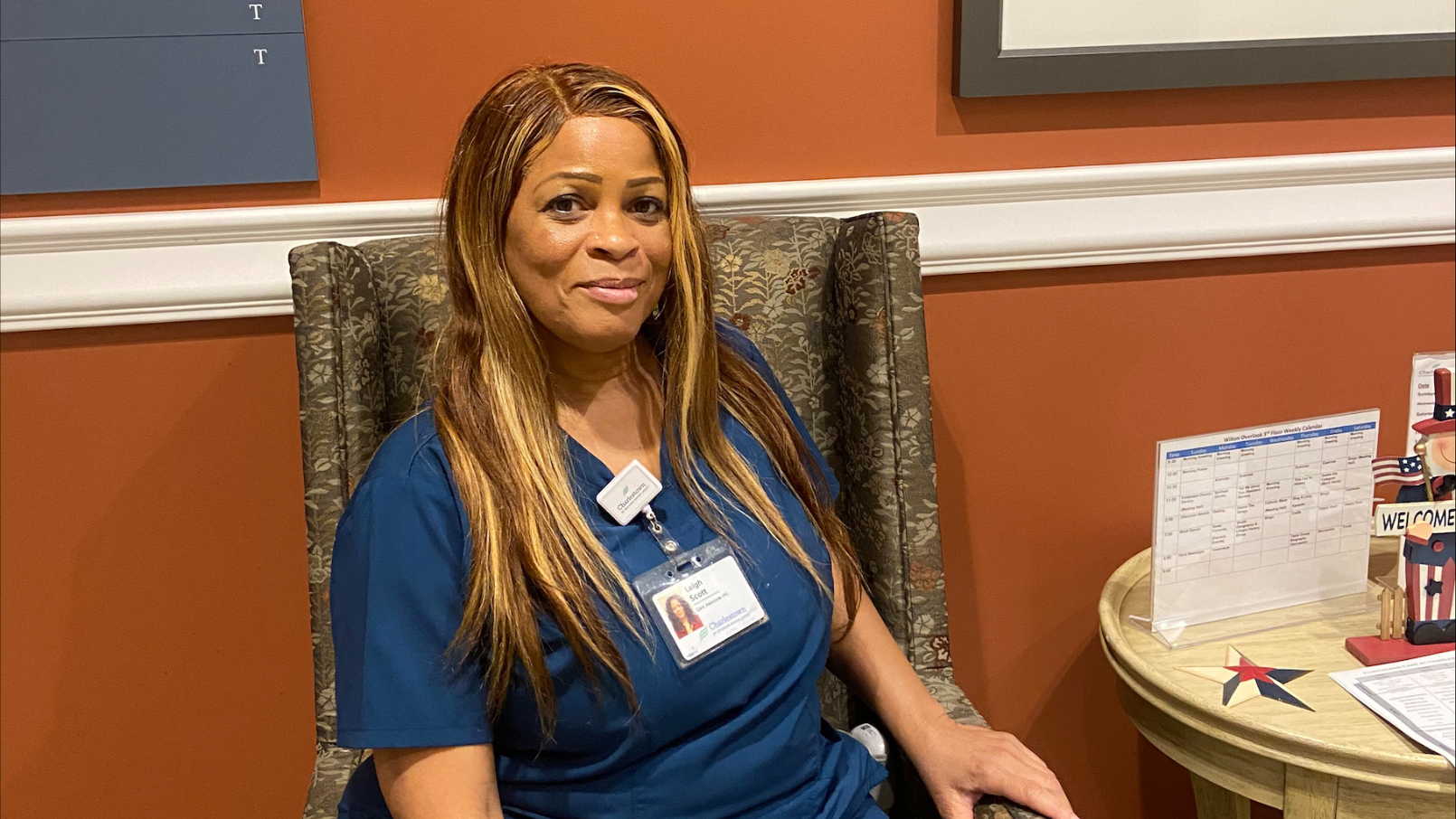 Caring for people comes naturally for Leigh Scott. As a geriatric nursing assistant at Charlestown, an Erickson Senior Living community in Catonsville, Maryland, Leigh is passionate about making a difference in the lives of Charlestown residents while building a career with one of the most respected names in senior living. 
"I love my job!" says Scott, who works at Wilton Overlook in Charlestown's continuing care neighborhood. "It is rewarding to give the best care that I can. You develop relationships with the residents. We are their family when their family can't be there." 
When healthcare professionals join the Charlestown team, they gain more than a great job in a booming industry; they gain unparalleled access to an array of rich experiences, knowledge, and opportunities that prove invaluable to long-term personal and professional growth. Even more rewarding is the chance to impact others' lives for the better.
The sky's the limit
Since 1983, Erickson Senior Living's national network of communities like Charlestown has been devoted to one mission, helping people live better lives. The company is a leader in senior healthcare with competitive benefits, a focus on work-life balance, specialty training, and much more. This ethos of opportunity results in long-term career growth, providing team members with the opportunity to pursue new and exciting roles as they gain skills and experience. 
"There is so much opportunity for growth at Charlestown, whether it is within the same department, another department or even another community," says Leslie Johnson, associate executive director at Charlestown. "There are leadership classes, the EMR program, and tuition support to further your education. We also offer scholarships for the adult learner who may want to advance their career or earn a certification."
Recently, Leigh graduated from a training program where she became a certified medication technician (CMT). Scott's supervisors and co-workers encouraged her to pursue the program and celebrated when she achieved her goals.     
"Leigh always goes above and beyond for the residents, their families, and her co-workers," says Johnson. "Her attention to detail and work ethic made her the perfect candidate for the CMT training. Leigh told me she had been in her position too long to learn something new but I knew she could do it."
"I have learned so much since I became a CMT," says Scott. "The more you do it, the more experience you get, and the more confidence you get. Now the nurses that I work with tell me I should go back to school and study to become a nurse. They encourage me and tell me I can do it."
Opportunity knocks
Johnson, a nurse, also experienced the opportunity for growth when she transitioned into the role of associate executive director.  
"As a nurse, sometimes it is hard to see that you can be in a different role that is not clinical," says Johnson. "Charlestown and Erickson helped me realize that my skills would translate into other roles. They provided leadership training, a mentor program and supported my decision to move into an administrative role in independent living. I am so thrilled to have the opportunity to be the associate executive director at Charlestown."
One of the many advantages to a healthcare career at Charlestown is the ability to work in a supportive environment, earn competitive pay, and take advantage of flexible work hours. With a predictable schedule, healthcare team professionals have a work-life balance that enables them to equally prioritize the demands of their careers with the needs of their personal and family lives.
"I like working the night shift so that I am able to spend the mornings with my grandkids," says Scott. 
Being a healthcare team member at Charlestown provides unique opportunities for employees to gain valuable life skills and career experiences while also being encouraged toward long-term success. Supporting team members' ongoing education and career development is one of the many reasons Charlestown is considered among the best places to work. 
"There are so many encouraging people here that cheer you on. When you get to know Charlestown, you become part of the family and I love that," says Scott.
If you want to explore a career in healthcare at Charlestown or one of the many other exciting career opportunities in the community, click here to browse the company's careers website. 
Back