Baker Betty Pearre Shares Sweet Treats with Her Charlestown Neighbors
By Danielle Rexrode
May 1, 2023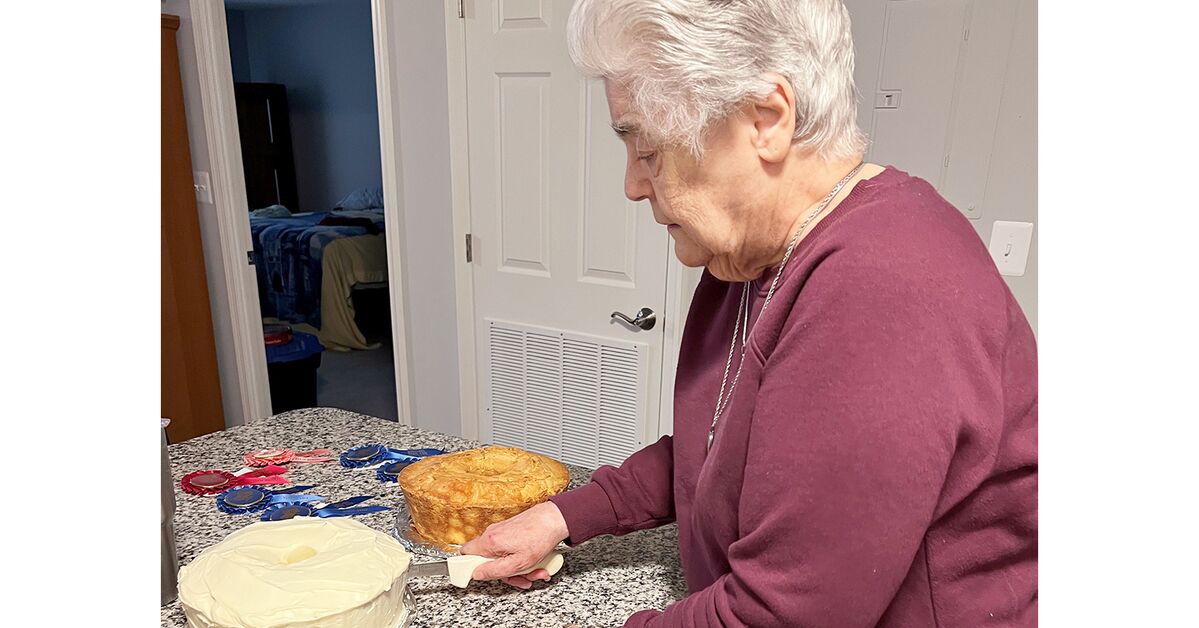 When friends and family want to visit Betty Pearre at Charlestown, an Erickson Senior Living community in Catonsville, Md., they just follow the delicious aroma of coconut cake, banana bread, and other desserts wafting from under her door - and they know they are at the right place.
In preparing for her move to Charlestown from Woodbine, Md., Betty's cherished baking tools and utensils were at the top of her packing list. "Including my KitchenAid mixer," she quips.
Betty, known as 'Betty the Baker' to her Charlestown neighbors, has won dozens of blue ribbons for her recipes over the last 25 years. She is always whipping up something to share as she searches for her next award-winning recipe.
"I get all of my recipe ideas off the Internet. Then, I tweak them and make them my own," says Betty.
The next 'Ace of Cakes'
Her ingenuity especially paid off last summer, when she took home six awards from the Maryland State Fair's Baking Show. She earned first place for her spice cake, nut cake, marble cake, and classic pound cake, which beat out 17 other competitors. Her red velvet cake took second place and her chocolate pound cake came in fourth, in their respective classes.
"I went through my recipe book and picked which ones I wanted to enter," she says. "I knew that I wanted to enter my pound cake because everybody likes it, but I didn't know how well it would go over with the judges. It ended up winning first place, and I was really surprised!"
The Baking Show featured more than 100 categories, including cookies, cakes, candy, pies, quick breads, and yeast breads, as well as special categories created specifically for children and teens. Entries are judged based on flavor, texture, and appearance.
For competitors like Betty, winning is more about bragging rights than award money. First prize awards contestants $8 and fourth place just $4. Specialty challenges, like the three-layer, Maryland-themed Governor's cake or the candied apple bouquet, can bring up to $38 for first place.
Coming up roses
Betty's talent runs in the family. Two of her great-grandfathers were professional bakers in Germany.
"When they came to America, they moved to Chicago and opened a big bakery," says Betty. "They passed down recipes that I still use today."
But, it wasn't until she visited her husband at work - Rice's Bakery on North Gay Street in Baltimore - that her passion for baking began.
"And that was in the 1970s," says Betty. "When I came across the ladies who decorated cakes for the bakery, I told them I would like to learn how to make icing roses. They taught me, and from there, I took two classes at Kake Kraft Korner in Glen Burnie. I have been baking ever since!"
Betty entered her first baking competition in 1984, creating 42 different desserts for her best odds at winning. Since then, she has won at least one blue ribbon every year.
Over the years, she has made birthday and wedding cakes for friends and family - and a special anniversary cake for her parents.
"My parents never had a wedding cake, so for their anniversary one year, I made them a wedding cake and put a bride and groom on top," says Betty. "My father cried when he saw it."
Sharing the love
"Ironically, I don't cook too much," she says, with a laugh. "I enjoy eating in the restaurants here on campus!"
Since her baked goods follow her wherever she goes, it's no wonder she's quickly made a circle of friends at Charlestown.
"After I moved to Charlestown, the first cake I baked was for my friend Norma. I made a birthday cake for her, and she was very surprised," says Betty. "I bake for my neighbors and friends a lot. And whenever I am doing something on campus, I take treats with me. At Thanksgiving, I made pumpkin cookies with white chocolate chips and cream cheese frosting, and at Christmas, I baked Santa cupcakes."
Like any labor of love, Betty will tell you to work slowly and carefully because it's all in the details.
"I spend a lot of time adding a little more of this and little more of that," she says. "My neighbors help me taste-test - there are plenty of volunteers! If I don't like it, and if they don't like it, the recipe goes in the trash and I go back to the drawing board."
To learn more about affordable, independent senior living at Charlestown, request your free brochure to get the scoop on amenities, floor plans, and so much more.
Back