Affordable Finds at Charlestown's Resale Stores Benefit the Community
By Danielle Rexrode
September 15, 2023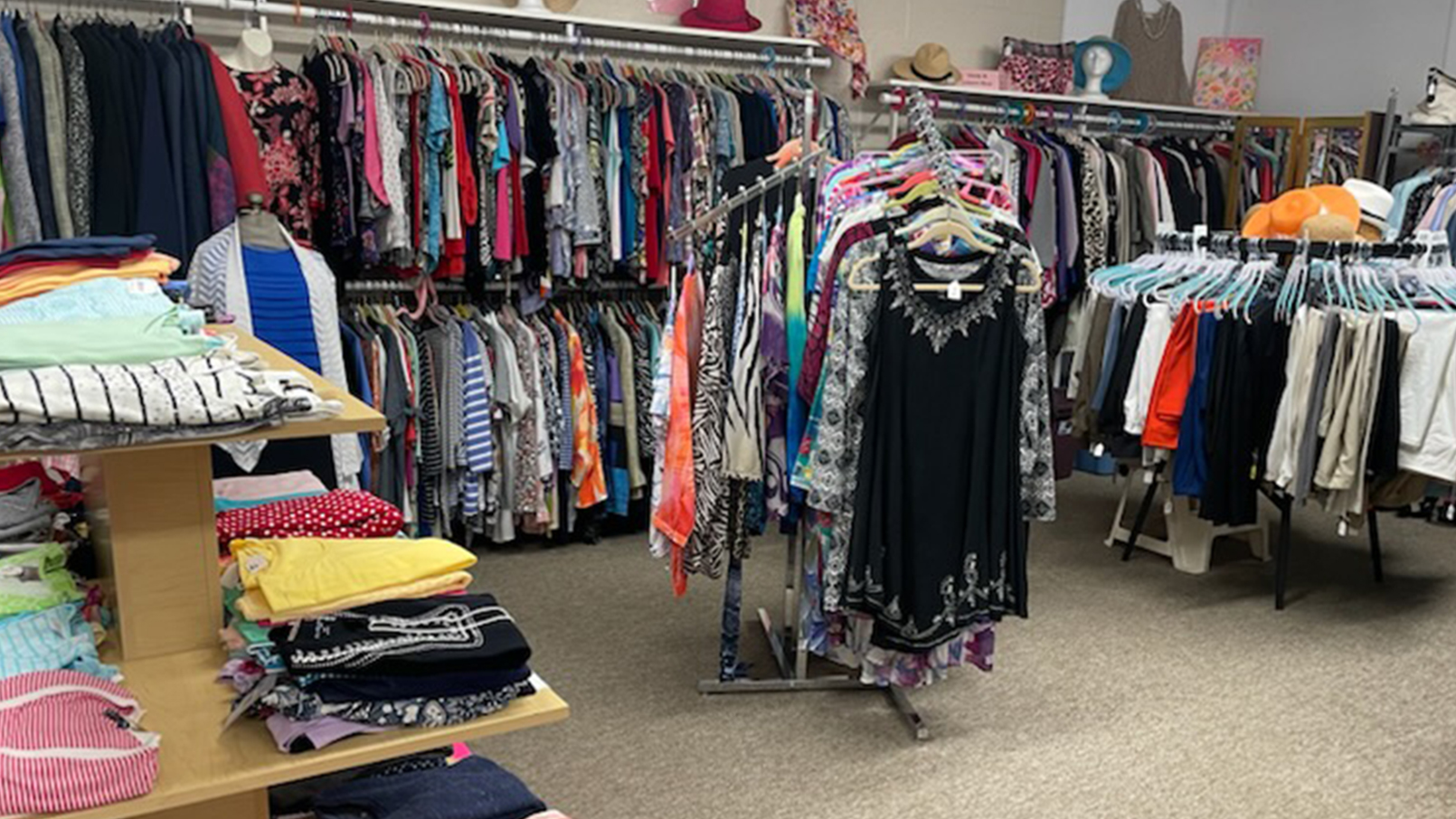 When staff and residents at Charlestown, the Erickson Senior Living community in Catonsville, Md., need a new kitchen gadget or cookware, there's a good chance they'll find what they're looking for at the on-campus Treasure Sale. 
The popular indoor flea market, run by resident volunteers four times a year to benefit community causes, sells a wide variety of donated items, including kitchenware, clothing, collectibles, and furniture. 
"I have bought cookbooks, mixing bowls, and casserole dishes," says Courtney Benhoff, Charlestown's communications manager. "I use some of the items several times a week and always think of the Charlestown residents when I do!"
A team effort
To prepare for the Treasure Sale, which is held in the community's Erickson Conference Center, 350 volunteers collect, sort, and price donated items. They also staff a donation line, taking calls and coordinating pickups.
"The volunteers do all of the pickups, so residents who donate items don't have to worry about dropping stuff off," says Charlestown's Philanthropy Director Patti Santoni. "Donated items go to two sorting rooms where a team of volunteers separate them out. Then items are priced and packed to be put out."
Volunteers shop on Wednesday, and it opens to residents, friends, family, and employees on Thursday. On Friday and Saturday, the Treasure Sale welcomes the general public. 
Unbeatable deals
Charlestown also features three specialty stores - open all year round - to sell the large volume of donated items that come in throughout the year. 
The Treasure Chest sells an assortment of household items and small appliances. Treasures Unlimited, a dedicated furniture store, carries sofas, dining room sets, area rugs, grandfather clocks, and antique globes. Women's clothing, outerwear, and shoes can be found in the Ladies Boutique, run by resident Peggy Romenesko.
"The Ladies Boutique is open on Tuesdays from 10 a.m. to 2 p.m., but in order to keep the shop fully stocked with newly donated items and seasonal changes, it would have to be a full-time job," jokes Peggy. 
She adds, "We research the value of items online to accurately price them. It's a lot of work, but I have a great team of volunteers that help. It's something I love to do!" 
The boutique sells new or nearly new items, including brand names such as Talbots, Chico's, Susan Graver, Alfred Dunner, and a wide collection of high-end handbags.
"I enjoy helping neighbors find outfits for their special events," says Peggy. "People who shop off-campus recognize the wonderful deals you get when you shop at the Treasure Sale or the Ladies Boutique."
Helping hands
Howard Nixon, who serves as the captain of Treasures Unlimited, began volunteering with the Treasure Sale after moving to Charlestown ten years ago. 
"We receive donations from residents who want to downsize or change their furniture," says Howard. "Items have to be in good condition and things we can likely sell. Our prices are generally far cheaper than what commercial discount stores and used furniture stores charge."
Peggy's husband Bruce works with Howard, delivering furniture and checking donated electronics to ensure they operate properly. 
"I enjoy working with the great group of people who volunteer with the Treasure Sale," says Bruce. "I'm happy to pitch in and help for a great cause."
Supporting the community
Proceeds from the resale stores are distributed quarterly, with the majority of funds going to Charlestown's Benevolent Care Fund, which assists residents who, through no fault of their own, outlive their resources. 
"One of our most recent Treasure Sales brought in $36,973!" says Santoni. "Being able to support the Benevolent Care Fund means a lot to residents. At Charlestown, you have a home for life."
Remaining funds are divided between the Student Scholars Fund, Chapel Concert Series, Staff Appreciation Fund, the community's film and book libraries, and the Charlestown Harmonizers. 
'Always find something I like'
"Every time I go to a Treasure Sale, it's a fun environment. I always find something I like," says Benhoff. "When I think about the dedication and teamwork that goes on behind the scenes to make these events successful, I am truly amazed. The fact that the money goes to support so many good causes is the icing on the cake!"
To learn more about affordable, independent senior living at Charlestown, request your free brochure to get the scoop on amenities, floor plans, and so much more.
Back