Adventure Awaits at Charlestown with New Virtual Reality Program
By Danielle Rexrode
January 28, 2022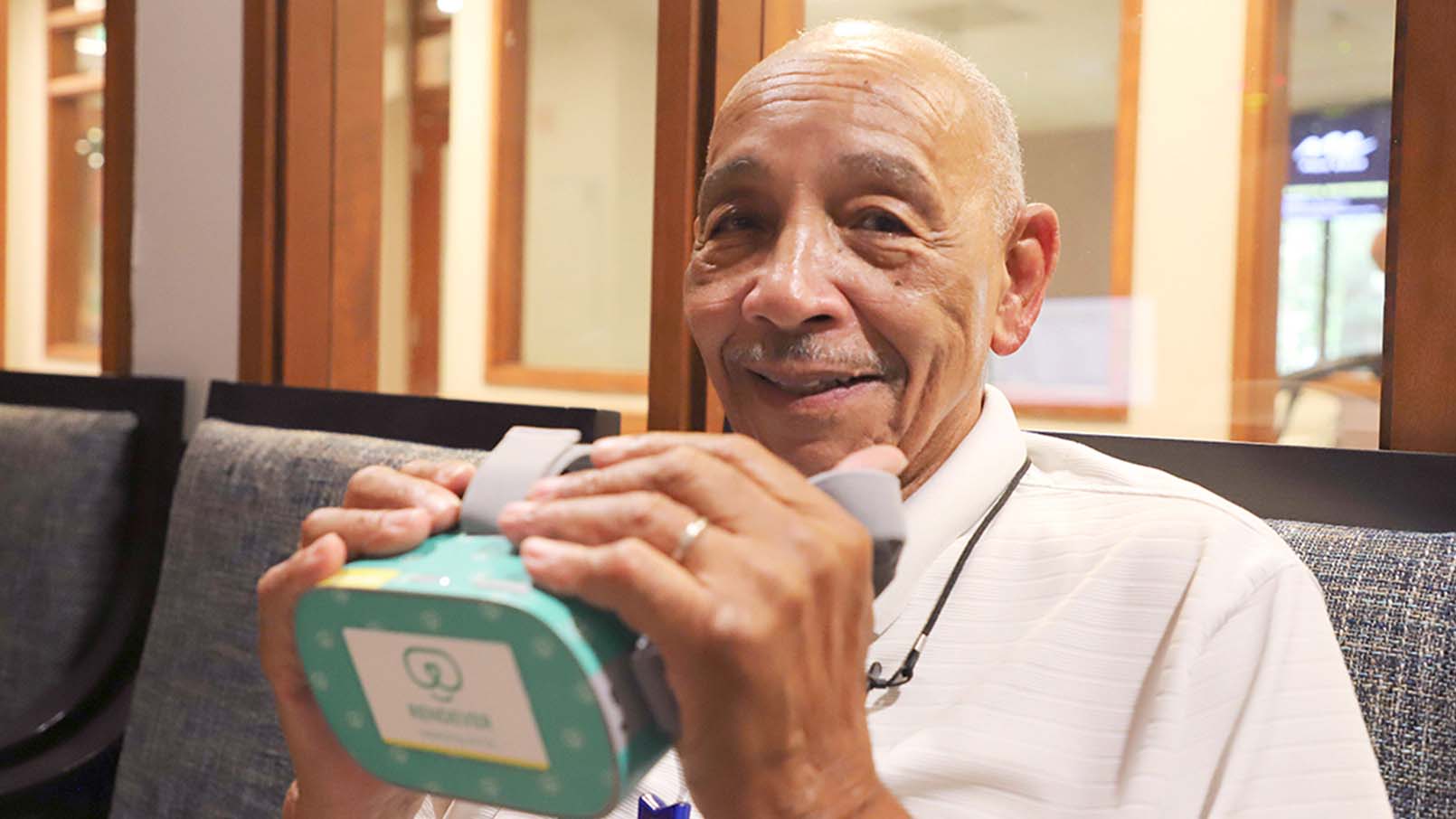 Imagine your dream vacation: strolling through the marketplace in Cairo, hiking through Yosemite to see the giant sequoias and plunging waterfalls, or swimming with a pod of dolphins off the coast of Florida.
For residents of Charlestown, an Erickson Senior Living community in Catonsville, Md., these adventures--and more--are at their fingertips, thanks to a new virtual reality (VR) program. The ability to virtually experience visits to far-off lands provides a thrilling opportunity for residents.
"I look forward to it every week. This is the first time I've ever tried virtual reality. Ever since it came on the market, I've always wondered what it would be like to try it. So when this came up, I said, 'Well, this is my chance to see what it's all about,'" says Austin Johnson, a resident of Charlestown since 2014.
"It's so realistic—when you put the goggles on, it's like you are right there. You can see all around you, a full 360 degrees," adds Austin. "I have been to Africa and Greece, toured cathedrals, walked right up to farm animals, and went swimming underwater with fish."
Healthy experience
Rendever, the VR program used at Charlestown, is the leading VR platform built to help seniors overcome social isolation through shared experiences. Studies show that social isolation can have a harmful effect on seniors' health and longevity.
In August 2021, Rendever announced that it was awarded a $2 million grant from the National Institute on Aging to fund a registered, multisite clinical trial—in conjunction with the University of California, Santa Barbara—to further Rendever's continued research on the effects of VR on seniors.
Data previously collected showed that VR helped seniors experience decreased negative emotions and feelings of isolation, increased positive emotions and engagement with their family members, and overall improved quality of life.
Nathan Blumberg, senior director, discovered Rendever after reading about how other organizations were using VR to improve the lives of seniors.
"This technology provides residents with the ability to engage in experiences virtually, as their current cognitive and/or physical abilities may not allow them to participate in person," says Blumberg. "Some of our executive team members experienced it, and they really liked it, so we purchased the program."
Immerse yourself
Rendever releases new themed experiences—based on holidays, seasons, and requested topics—biweekly. Up to ten residents at a time can participate in a two-hour Rendever session, featuring a presentation on the history of VR, followed by the use of VR technology.
Tom Moore, manager of Charlestown's in-house TV Station, channel 972, leads the community's VR program.
"The best way to describe it is like a visualized travel lecture," says Moore. "We travel [virtually] to various locations and learn about different things. I use an iPad that receives a live feed from Rendever. It's an immersive group experience—you are walking around; your hands are interacting in the environment; you are picking things up, moving around—it goes well beyond entertainment. You just put the headset on and I do all of the work. It's really no different than going to the movie theater and taking a seat."
Resident Bunny Rogers says she was hooked the first time she put the goggles on.
"I have experienced it about five times now. I had heard the term 'virtual reality' before, but I never really understood what it was, so I wasn't sure what to expect," says Bunny, who moved to Charlestown from New Jersey in 2020.
"It was like watching a movie, but you are in it. I have been to the Wailing Wall in Israel, rode a gondola in Venice, flew in the cockpit of a plane, and visited the hot springs in Tokyo. I think it's a great tool for people who aren't physically able to travel," says Bunny.
Expeditions ahead
Bunny adds, "It's made a big difference in my life. I'm seeing and going places—even if it's a digital replication. Whether I'm there with the goggles on—experiencing it in real time—or I'm talking about it, it makes me happy."
Moore is excited about the future of VR and says the feedback he receives from Charlestown residents is positive.
"I can't speak more highly about this program," says Moore. "When you encounter something that you know is really going to take off, you want to be part of it. There are so many possibilities that virtual reality offers. You can go on a trip to Mexico City and be back within a half-hour. You don't even have to pack your bags."
To learn more about the engaging activities and amenities offered at Charlestown, request a brochure today!
Back