2022 Staff Appreciation Fund Brings Good Tidings to Charlestown Staff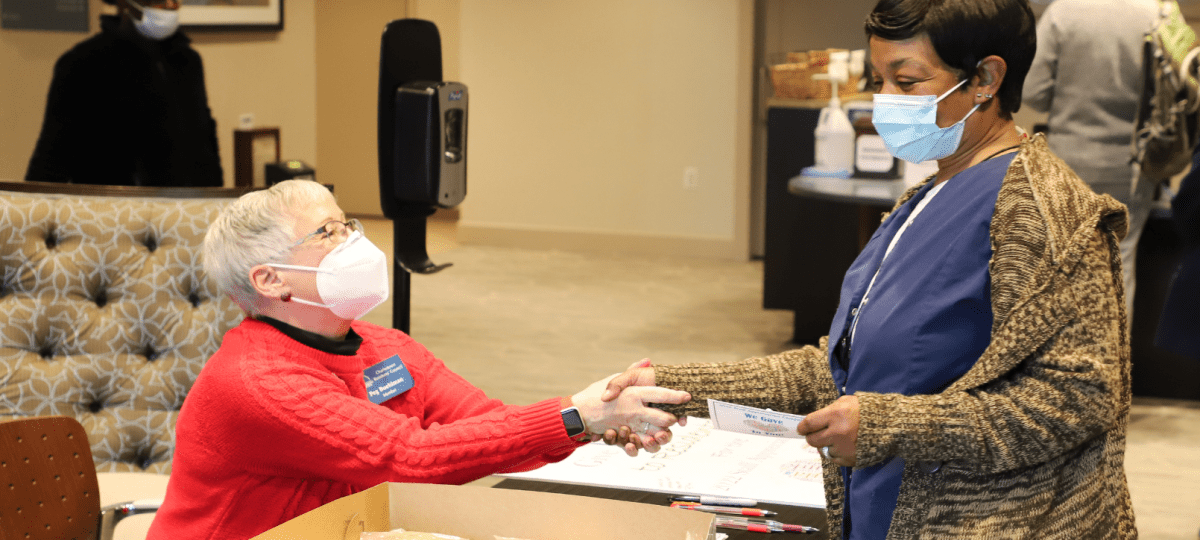 Smiles of staff members at Charlestown, the Erickson Senior Living community in Catonsville, Md. are shining brighter than tinsel this holiday season, thanks to residents' generous donations to the 2022 Staff Appreciation Fund.
Each year, Charlestown residents donate to the Staff Appreciation Fund as a way of recognizing the community's hourly employees, who work diligently to provide them an industry-leading level of service.
The funds are then dispersed among Charlestown's eligible employees, which include dining associates, security officers, maintenance workers, housekeepers, and medical and nursing assistants—all of whom are more than merry year-round.
In 2022 alone, Charlestown residents contributed $320,000 to the SAF—an historic high—and staff members are eager to share their gratitude. In all, 820 employees received a gift this year.
At a celebratory event earlier this month, residents had the opportunity to express their appreciation in person while enjoying cookies and hot cider with Charlestown team members.
In preparation for the event, Charlestown's resident-organized philanthropy committee collaborated with the community's Philanthropy and Human Resources departments to make this year's celebration even more unique and meaningful than the last.
The spirit of the tight-knit community, bolstered by this teamwork and residents' desire to give back, doesn't go unrecognized by Charlestown's leaders.
"At Charlestown, we genuinely care for one another, and I think our residents' generosity is a reflection of that," says Executive Director Chandra Kumar. "Our employees work hard to provide residents with a true maintenance-free lifestyle, and residents realize how much better their lives are because of it."
To learn more about Charlestown's workplace culture and the community's open job positions, visit EricksonSeniorLiving.com/careers.
Back