Enjoying the Culture of Excellence at Cedar Crest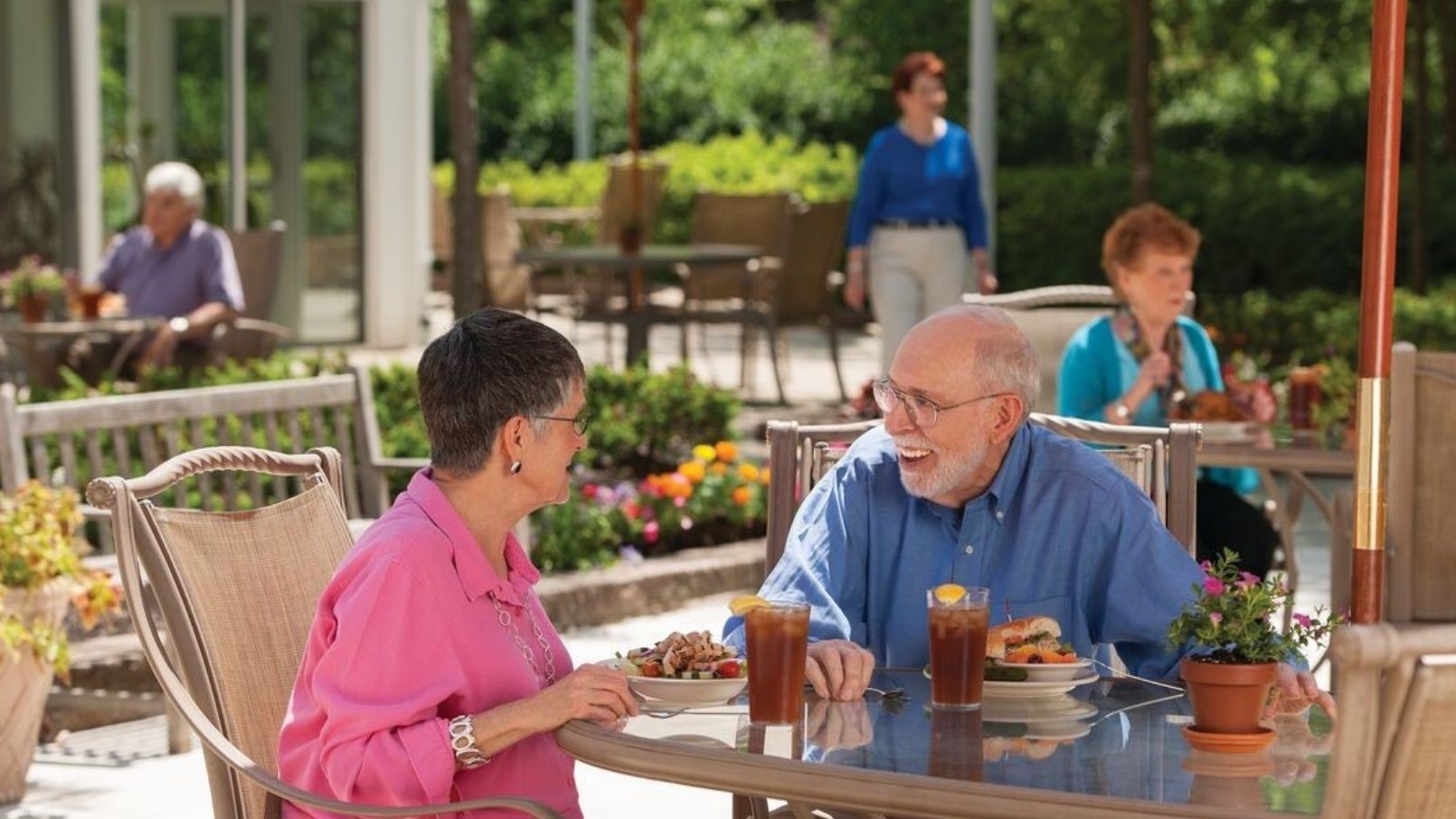 They say that home is where the heart is. For the residents of Cedar Crest, an Erickson Senior Living community in Pompton Plains, N.J., a truly caring staff that goes above and beyond to make everyday life more meaningful and enjoyable is what makes it such a great place to call home.
When Deborah Zeigler moved to Cedar Crest more than 15 years ago, she was at an uncertain place in her life. Her husband, George, had recently been diagnosed with ALS (amyotrophic lateral sclerosis), or Lou Gehrig's disease. They knew that his illness would pose challenges and drastically change their lives.
Above and beyond senior living community service
When they moved into their new home at Cedar Crest on Halloween night in 2005, they got their first taste of the exemplary customer service they would come to know and love as an integral part of life in the community.
After a long day of moving, they asked if they could have dinner delivered to their apartment, and to their surprise and delight, a young man wearing a cow costume arrived to deliver their meals. Many residents and staff alike were wearing costumes in celebration of the holiday, and Deborah and George were happy to meet a new friend in Brian Cassidy, the employee dressed as a bovine.
Cassidy was a college student and working part-time in dining services at Cedar Crest at the time. As the years went by, Deborah developed a bond with him and watched him work his way up in the company. In 2021, Cassidy was named director of sales at Lantern Hill, another Erickson Senior Living community. "We have really developed a meaningful relationship," she says.
Starting a new chapter at Cedar Crest independent living community
As Deborah would soon learn, Cassidy was just one of the many wonderful people she would meet at Cedar Crest. Unfortunately, within months of their move, George lost his battle with ALS and passed away. Although she was devastated at the loss of her husband, Deborah was grateful to be at Cedar Crest, where she made supportive and kind friends that helped her through this difficult time.
One night, Deborah awoke and was inspired to write a poem. From there, she joined the poetry group on campus, and she even eventually published a chapbook, a small book of poetry that focuses on a central theme.
Before retiring, Deborah had worked as an executive coach and career counselor. She had never considered herself a creative writer, but at Cedar Crest, her interest and imagination flourished. In addition to poetry, Deborah began writing plays and also joined the playwriting group. She also tried her hand at acting, joining the Cedar Crest Players.
"A member of that group asked me to read the female lead in A.R. Gurney's Pulitzer Prize-nominated play, 'Love Letters,'" says Deborah. "I'd always been afraid to act, thinking I'd forget my lines. But I was able to walk around the stage with the script, and that built up my confidence. I really enjoyed it."
A culture of caring
Thanks to the good friends she's made in both residents and staff, Deborah always feels surrounded by people who care. She recently drove another resident to make a return at the mall, the type of favor she says is commonplace between community members. "There's a real sense of people looking out for each other here," says Deborah.
Named as a Top Workplace by NJ.com/Star Ledger in 2020, Cedar Crest works hard to cultivate a culture of caring.
"At Cedar Crest, we uniquely have the opportunity to deliver an all-inclusive and high-quality resident experience," says Executive Director Todd DeLaney. "The culture of our community is one that centers on celebrating life and creating an atmosphere of service, activity, and a strong sense of belonging. In addition to our mindset, our programs and services create an inclusive model where any need or amenity is provided right here on campus."
Cedar Crest senior living community provided early COVID-19 vaccine access
During the past year in which the pandemic upended life as we know it, Deborah is more grateful than ever to call Cedar Crest home.
"Cedar Crest has just been unbelievable," she says. "I tell my friends who are living on their own that they should do themselves a favor and consider moving here. It just makes life so much easier." Deborah is now fully vaccinated, as is 95% of the population at Cedar Crest, thanks to the on-site vaccination clinics. "It really gives you a feeling of comfort," says Deborah. "I'm so grateful that I can be out and about now."
Consider being part of a strong and caring senior living community like Cedar Crest. Beautiful walking paths, gardens, resort-style amenities, an on-site medical center staffed by full-time medical professionals, and new friends await. Request a brochure or a visit now!
Back