Tallgrass Creek, A Special Place to Live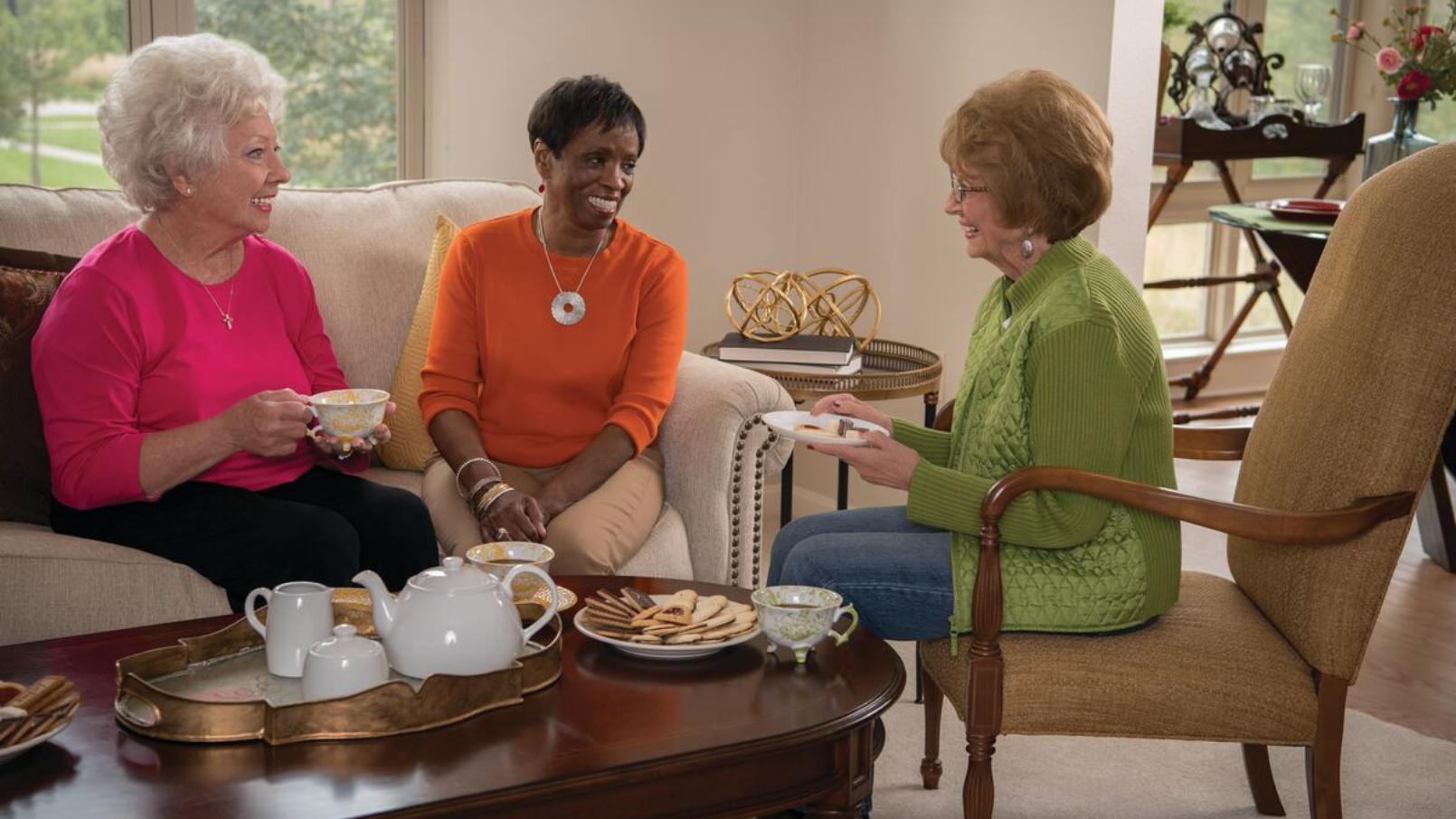 Like many of her neighbors, Peg LaMourie looked at multiple communities before moving to Tallgrass Creek, an Erickson Senior Living community in Overland Park, Kans. "I visited plenty of nice places but Tallgrass Creek is special," says Peg. "You could feel it when you walked in the door. It's so friendly and energetic and that definitely appeals to me."
Peg and her miniature pinscher Toby moved from a nearby neighborhood to a sunny, spacious apartment home at Fountain View, Tallgrass Creek's newest residence building. She loved the modern feel of the building and was impressed with the variety of social activities and dining venues at Tallgrass Creek.
"I give five stars to the number of different social opportunities here. Plus the people are so welcoming and friendly," says Peg. "It's a great fit for me." Peg also gives high marks to the help she received from the staff when she moved to the community in mid-December.
A warm welcome
"I had a big welcome basket waiting with all kinds of goodies and someone brought lunch as I was moving in," says Peg. "With the pandemic, it was a tough time to move but the staff bent over backwards to help me get settled. And they continue to be that way now that I'm settled."
Now, Peg and her neighbors are enjoying many of the community's activities, always with safety guidelines in place. Fitness enthusiasts enjoy their choice of 33 exercise classes each week along with 11 water aerobics classes that take place in the community's large, temperature-controlled swimming pool. Additional in-person classes are added to the calendar as capacity allows. Virtual exercise classes taught by Tallgrass Creek's in-house instructors are available for residents to enjoy from the comfort of their apartment homes via the community's in-house television station. Both the fitness center and pool are open for individual workouts.
Hobbies and more
In addition, residents are exploring their inner artist in the art classroom, working in the woodshop, gardening, dining in the spacious Blue Sky Restaurant and other on-campus venues, exploring the campus via its winding walking trails, exercising pets in the community's dog park, and more. As always, the resident life team adds to the fun, planning craft fairs and talent shows; concerts, walkathons, and yard game competitions; poolside gatherings, tailgate picnics, seasonal activities; and musically inspired happy hours for community members to enjoy.
"It's hard to be bored here," says resident Wes Geer, who co-chairs an environmental advocacy group, called the Green Team, which is one of 80 resident-driven clubs at Tallgrass Creek. "I don't know any place with the number or quality of activities that we have here."
Like Peg, Jean Tracy also did her due diligence before selecting a retirement community. "I researched many places and was impressed that Tallgrass Creek offered an on-site health clinic with full-time physicians and other medical services dedicated just to residents," says Jean, who moved to the community from California.
"Now that I'm a resident, I'm even more impressed with the quality of care and convenience the clinic offers."
The spacious clinic staffs two board-certified internal medicine physicians, a nurse practitioner, podiatrist, social worker, and several medical assistants. A board-certified cardiologist is also on staff. Nearly all of the community's residents utilize the clinic for their primary care, and it is available to any resident who may need medical attention.
"We have a fully functioning lab where we process COVID-19 and flu tests and other lab work for both residents and staff," says Practice Administrator Janel Southard. "No one has to travel or worry about weather or parking, which is great."
In the fall of 2020, when flu season began, Tallgrass Creek's medical team went door to door to ensure residents received vaccinations safely.
Early vaccine access
The medical staff also coordinated multiple on-site clinics where 95% of Tallgrass Creek's residents received COVID-19 vaccinations. Future residents also received vaccinations at an event held just for them. "It's wonderful having this comprehensive medical attention just steps away," notes Jean. "I don't think it's available at any other community in the area and it's a major plus."
Want to learn more about what makes Tallgrass Creek such a great place to live? Request more information today.
Back