Tallgrass Creek Residents Enjoy Options for Staying Active
By Mary Bush
June 22, 2021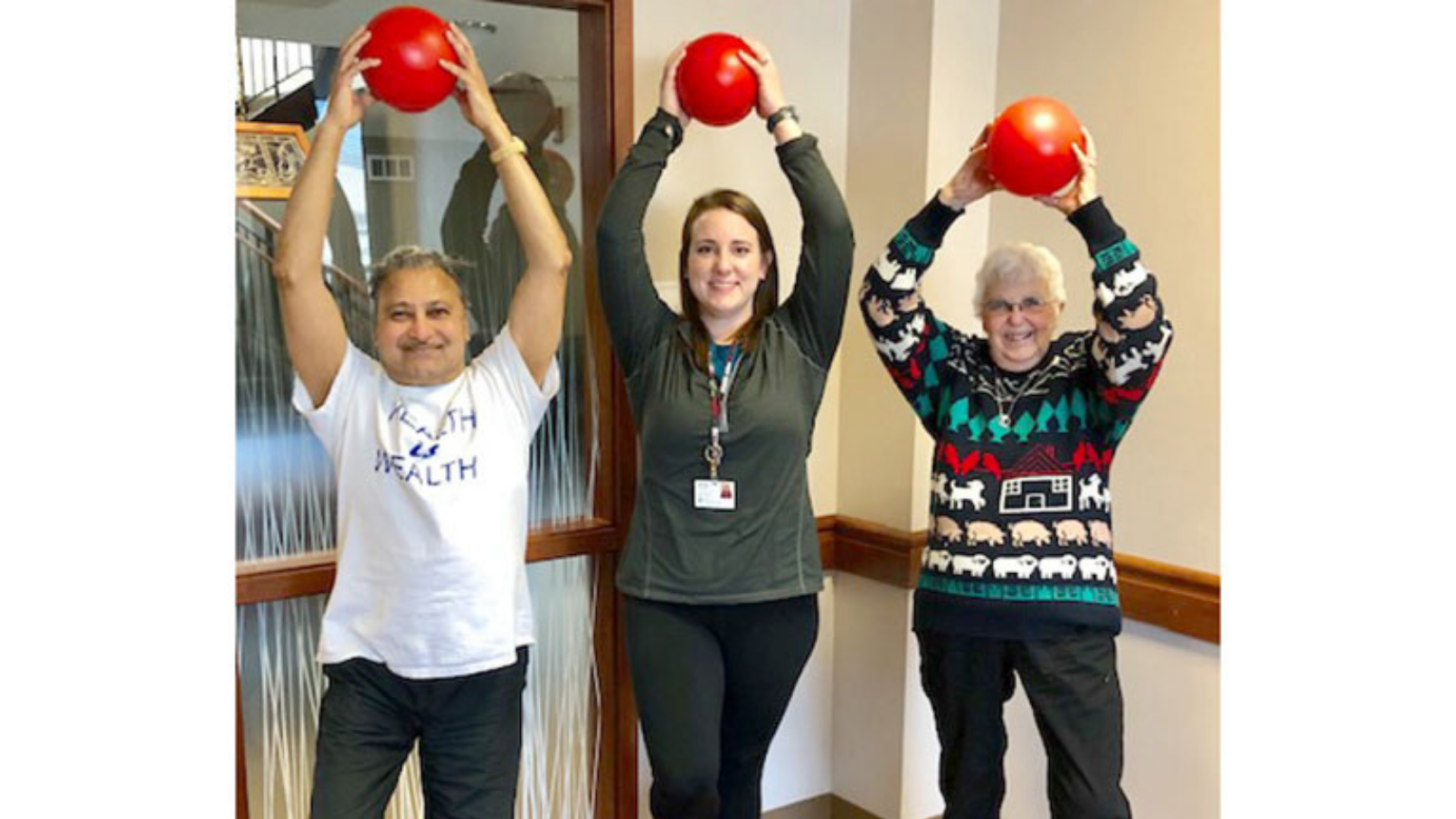 Tallgrass Creek Sales Counselor Elaine Bahr says one question frequently pops up when prospective residents visit the Erickson Senior Living community in Overland Park, Kans., about twenty minutes outside Kansas City. "Almost everyone asks about fitness and opportunities to stay active," says Bahr. "It's easy to answer because there are so many exercise classes and personal training opportunities at Tallgrass Creek. And the instructors are top notch."
Resident Carlene Martin, who takes 10 exercise classes each week, enthusiastically agrees. "There are tons of choices," says Carlene. "And they're all right outside your door."
Those choices are coordinated by fitness team members Camin Bell, Ashley Huesers, and Gabby Torline, who all have professional experience in health and fitness. They offer a wide variety of workout classes that focus on stretching, strengthening, and improving balance, flexibility, and posture; specifically designed to support healthy aging.
Residents give high marks to the classes which include everything from basic fitness moves to advanced cardio and are always lively and upbeat. "We keep fitness classes fun, lighthearted, and full of energy," says Bell. "The camaraderie [and the results] keep everyone coming back for more."
Meet the team
Bell is a familiar face around Tallgrass Creek, as she has coordinated fitness classes at Tallgrass Creek since 2015. Before coming to Tallgrass Creek, she performed for 17 years in a dance company in the Pacific Northwest and implemented exercise programs at a retirement community in Seattle. Carlene says Bell's classes have improved her balance, memory, and multitasking ability.
"Camin's classes include movement from the top of your head down to your toes," says Carlene. "She exercises both body and mind and is undoubtedly the best trainer I've ever had."
Ashley Huesers can usually be found around Tallgrass Creek's large, glass-enclosed pool where the water temperature hovers at a comfortable 88 degrees. She holds several professional fitness certifications and utilizes noodles, weights, and dumbbells in her water aerobics classes to keep things fresh and interesting.
Residents Diane and Larry Tolin were not consistent exercisers before moving to Tallgrass Creek but now participate in Huesers' classes five days a week.
"Ashley's classes are gentle yet challenging and make a real difference in how we feel," says Diane. "She does everything she can to keep us pain-free and flexible, and it works."
Gabby Torline, the newest member of the Tallgrass Creek fitness team, leads more advanced fitness classes at Fountain View, the community's newest residence building which opened last year. She has been a competitive athlete all her life and especially enjoys weight training and personal training.
Making exercise fun
Resident Phil Carr, a lifelong exercise buff, is a regular in Torline's advanced classes. "Gabby's classes give me a real workout," says Phil. "All the classes and instructors here are excellent and provide real results. They actually make exercising fun."
Over the past year, the fitness team began filming exercise classes that streamed throughout the day on the community's in-house television station. Carlene and her husband Jim were grateful for the videos which helped them continue their exercise routine from the comfort of their apartment home during the pandemic.
"We worked out right in our living room every day," says Carlene. "It was so helpful." For those who prefer to exercise independently, Tallgrass Creek's pool and fitness center are open 24/7 with well-maintained exercise equipment.
For more personalized attention, the best fitness deals around are the 30-minute individual training sessions available for a nominal charge. But at Tallgrass Creek, staying fit is about more than working out. Residents have enjoyed themed poolside parties, lawn parties with competitive games and activities, wellness seminars, and more. Each event is accompanied by healthy snacks from the Tallgrass Creek restaurant kitchen.
An enhanced lifestyle
The Tolins say the fitness program is one of many conveniences that has made their lives easier and better since moving to Tallgrass Creek. "The classes go from easy to more difficult and are taught by caring and talented instructors," says Diane. "We're fortunate to have it all right here."
To learn more about the active lifestyle at Tallgrass Creek, request more information today.
Back