Tallgrass Creek Residents Enjoy Hosting Shows on the In-House TV Channel
By Mary Bush
September 14, 2023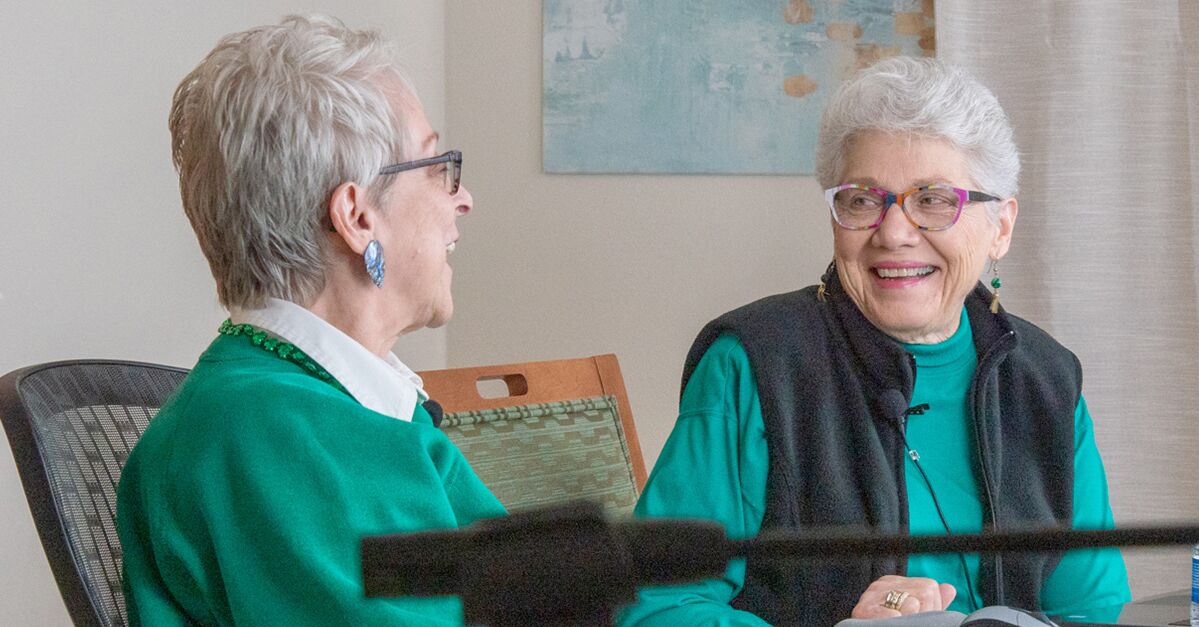 Studio lights shine bright and cameras stand by as residents Jan Meyer and Karen Cox mike up to host Live at 10! on Channel 1851, Tallgrass Creek's in-house TV station. 
The chatty 45-minute show covers upcoming activities at the bustling Erickson Senior Living community in Overland Park, Kans. It airs live every Friday morning and rebroadcasts throughout the weekend.
"We're basically a talking calendar that details what's going on in the week ahead--and there's a lot," says Jan, who has a background in advertising. "I've never done anything like this before, but I came here to have fun, and this is fun!" 
Karen and Jan keep the show conversational and lighthearted by answering call-ins, which come through a number posted on the screen, and featuring custom visuals they create with entertaining photos of residents.
"It's always fun to chat with people who call in," says Karen, a retired nurse anesthetist. "There's no shortage of interesting people at Tallgrass." 
The world of Tallgrass TV
The idea for Live at 10! was born during the pandemic, when Tallgrass Creek staff members appeared live on Channel 1851 every morning to keep residents up to date. 
"I can't say enough about the wonderful job that Tallgrass Creek did at keeping us connected and informed during the pandemic," says Karen, "and the in-house TV station was a huge part of that."
The station then expanded its programming by adding musical request hours, virtual exercise classes, game shows, and other interesting activities.
"It was such engaging content!" she adds. 
Nose for news
Though Live at 10! started last year, Karen made her debut on Channel 1851 several years ago. 
"Some of us were tossing a few ideas around about a TV show where residents learned more about each other's careers, travel experiences, and things like that," recalls Karen. "I started by doing some on-air interviews with my neighbors. Eventually, the show became 1851 Studio Chats."
Although Karen was new to TV at the time, she wasn't afraid to be center stage. She has performed in different productions over the years, choosing one of her favorite show tunes, "Happy Talk" from the musical South Pacific, as the lead-in music to the show.
Since its start, 1851 Studio Chats has interviewed a number of news anchors from Channel 41, an NBC affiliate in Kansas City. 
"We've had Taylor Hemness, Lindsay Shively, Lindsey Anderson, and, more recently, Daisha Jones on the show," says Karen. "They were all lovely and so encouraging."
Karen notes that her goal for both shows is to provide interesting, informative, and humorous content. 
"But it's more than that," says Karen. "Being of service is important, and I think these shows provide a service that's needed and enjoyed."   
Spreading the word
Beyond the Gatehouse, a bimonthly show hosted by resident Pat O'Donnell, a former director with more than 20 years of experience in the news business, provides the community with even more news and information.
Gene Meyer, Pat's cohost, is a former reporter for the Wall Street Journal and military correspondent for the U.S. Army. 
"Our show covers events and issues happening in the community surrounding Tallgrass Creek. We also interview political candidates and elected officials," says Pat. "A recent guest on the show was Curt Skoog, mayor of Overland Park." 
Gene notes that the show focuses on newsworthy topics that are of specific interest to Tallgrass Creek residents.
"We're recovering journalists," jokes Gene. "We model the show somewhat after 60 Minutes and want it to be relevant." 
Behind the scenes
The resident-produced shows are managed by CTV Coordinator Andy Ryan, who has an extensive background in mass media. Ryan also oversees the other shows that make up Channel 1851's schedule, including updates from the on-site medical center and the sales, finance, dining services, and executive teams. 
"I love working with everyone at Tallgrass, especially the residents," says Ryan. "Everyone here likes to be informed, and my job is to make that happen as smoothly as possible."
Tallgrass Creek's on-air hosts are among the many who have developed new talents and interests since moving to the active, engaging community. Residents have learned to garden, create art, play the ukulele, dance, understand technology, and much more. 
"You simply can't be bored here," says Jan. "There are so many things to do and learn at Tallgrass, and they're happening every day!" 
To learn more about senior living at Tallgrass Creek, request your free brochure to get the scoop on amenities, floor plans, and so much more.
Back