Tallgrass Creek Residents Enjoy the Freedom of a Worry-Free Lifestyle
By Mary Bush
July 14, 2021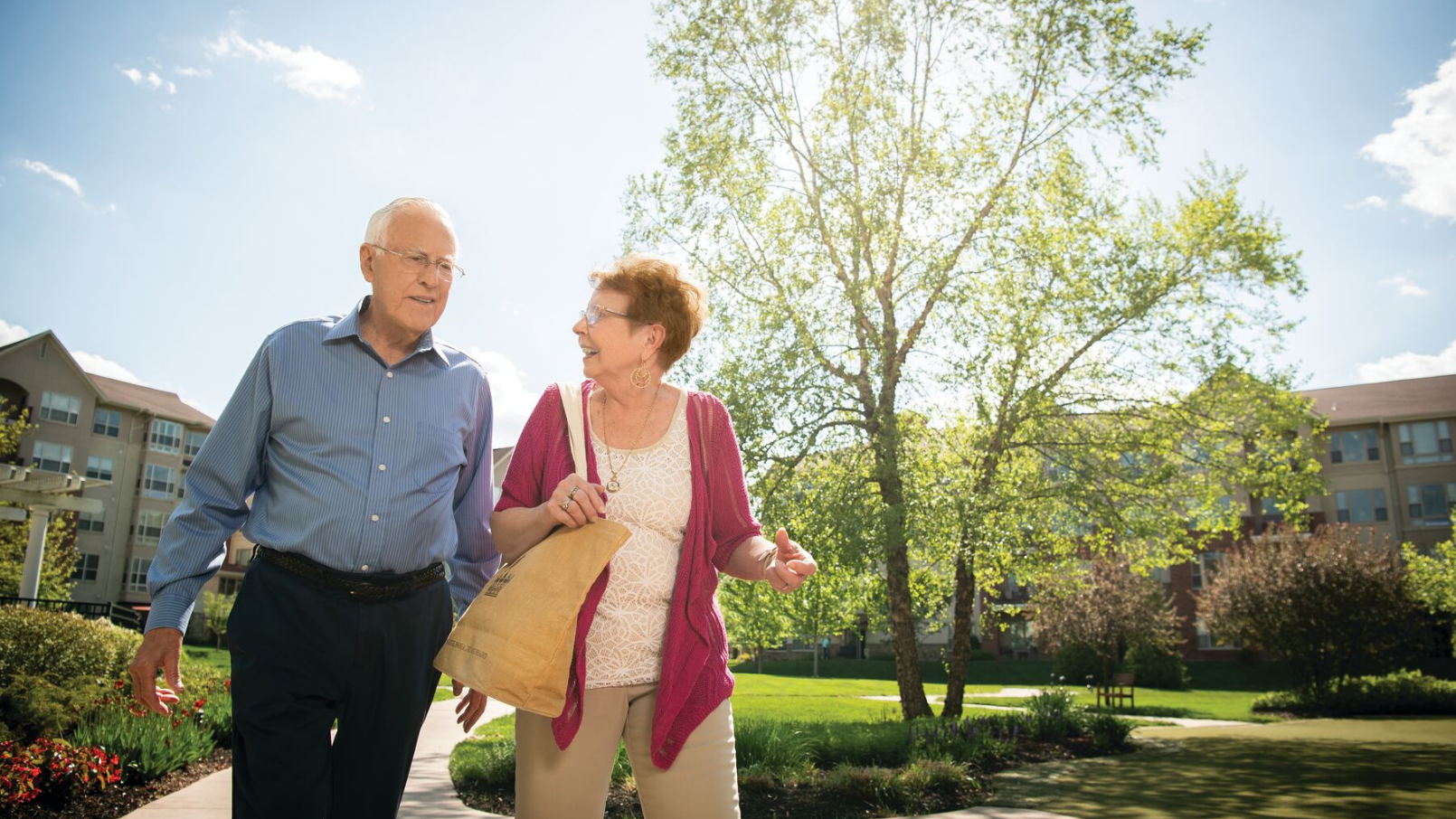 Several times a year, Pat and Rich McCartney lock the door of their comfortable two-bedroom residence at Tallgrass Creek, an Erickson Senior Living community in Overland Park, Kans., and head out. A recent two-week trip found them in Maui, Hawaii, where they enjoyed relaxing, whale watching, and soaking in the beauty of the 50th state. The McCartneys love to travel and find leaving for an adventure is much easier since moving to Tallgrass Creek.
"All we do now is notify the cat sitter and lock the door," says Rich, a retired analytical engineer. "No worries about mail, yard, or home maintenance problems that could occur while we're gone. We just leave."
Worry-free travel
It's a major plus for the couple whose travel plans include about eight trips each year to visit their family in Minneapolis. Carmen and Keith Briscoe are also among Tallgrass Creek community members who are embracing the ease and freedom of their new retirement lifestyle. Some of their past expeditions include jaunts to New York City, Italy, and the sunny shores of Storm Lake, Iowa, where Keith served as president of Buena Vista University.
Since moving to Tallgrass Creek, leaving their apartment home is worry-free for both the Briscoes and their family.
"A trip with my folks used to mean they had to find someone to watch the house, mow the lawn, water the flowers, and handle the paper and mail," says Susan Tideman, the Briscoes' daughter. "At Tallgrass Creek, all of that is taken care of. It's a wonderful addition to both of our lifestyles."
Though residents enjoy the freedom to come and go to travel, dine out, or meet up with friends and family, they also enjoy the wide variety of activities right at home on Tallgrass Creek's picturesque campus.
Needed: Hobby space
"When we started looking for a community, we wanted a place where Rich could enjoy his hobby of woodworking, a large pool where I could exercise, and also a sizable space for gardening," says Pat, a retired English teacher.
The McCartneys found all that and "much more" at Tallgrass Creek. Rich enjoys the woodshop for both his love of woodworking and the camaraderie with others who share his hobby. He even donated many of his high-end tools to the woodshop.
Staying cool in the pool
Pat enjoys exercising in the community's temperature-controlled pool, but also loves the delphiniums, daisies, pansies, and other floral varieties that grow in her garden just outside the couple's patio. She preserves and presses the blossoms, then showcases them in her colorful handmade stationery. Earlier this year, she celebrated Earth Day by treating her neighbors to a "how to press flowers" gathering and included a surprise drawing for a flower press. "Tallgrass fits our lives perfectly," says Pat. "We're free to do what we want when we want, but have all the everyday things taken care of."
Getting out and about
Tallgrass Creek residents enjoy an array of activities, represented by the 100-plus resident-driven clubs that explore everything from nature to ballroom dancing to playing the ukulele.
Enthusiastic golfer Jim Swearingen heads up Tallgrass Creek's golf group that plays each week April through October. Jim's wife Eileen often joins him to play. "There are about 35 of us at Tallgrass that play every week," says Jim. "It's a great game with great camaraderie and a wonderful way to just 'commune with nature.'"
Getting out and about is on everyone's mind these days. In the past, Tallgrass Creek residents have enjoyed trips to local destinations such as orchid farms, wildlife preserves, fountain tours, hummingbird and butterfly gardens, casinos, museums, restaurants, the theater, and more.
Plenty to do
In addition, there are fashion, craft, and talent shows; concert series; walkathons; yard game competitions; poolside gatherings, seasonal activities; and frequent DJ-inspired happy hours where the tunes are plentiful and so is the dancing. Tallgrass Creek resident Linda Westbrook often pitches in to welcome prospective residents to the community.
She says telling guests about Tallgrass Creek is a fun and easy job. "There are so many active, interesting people here and so much to do," says Linda. "I always tell people you can do as little or as much as you want, but there is something for everyone."
To learn more about the fun and freedom of a Tallgrass Creek lifestyle, request more information today.
Back