Tallgrass Creek Residents Enjoy the Freedom to Live a Fulfilling Retirement
By Mary Bush
July 25, 2022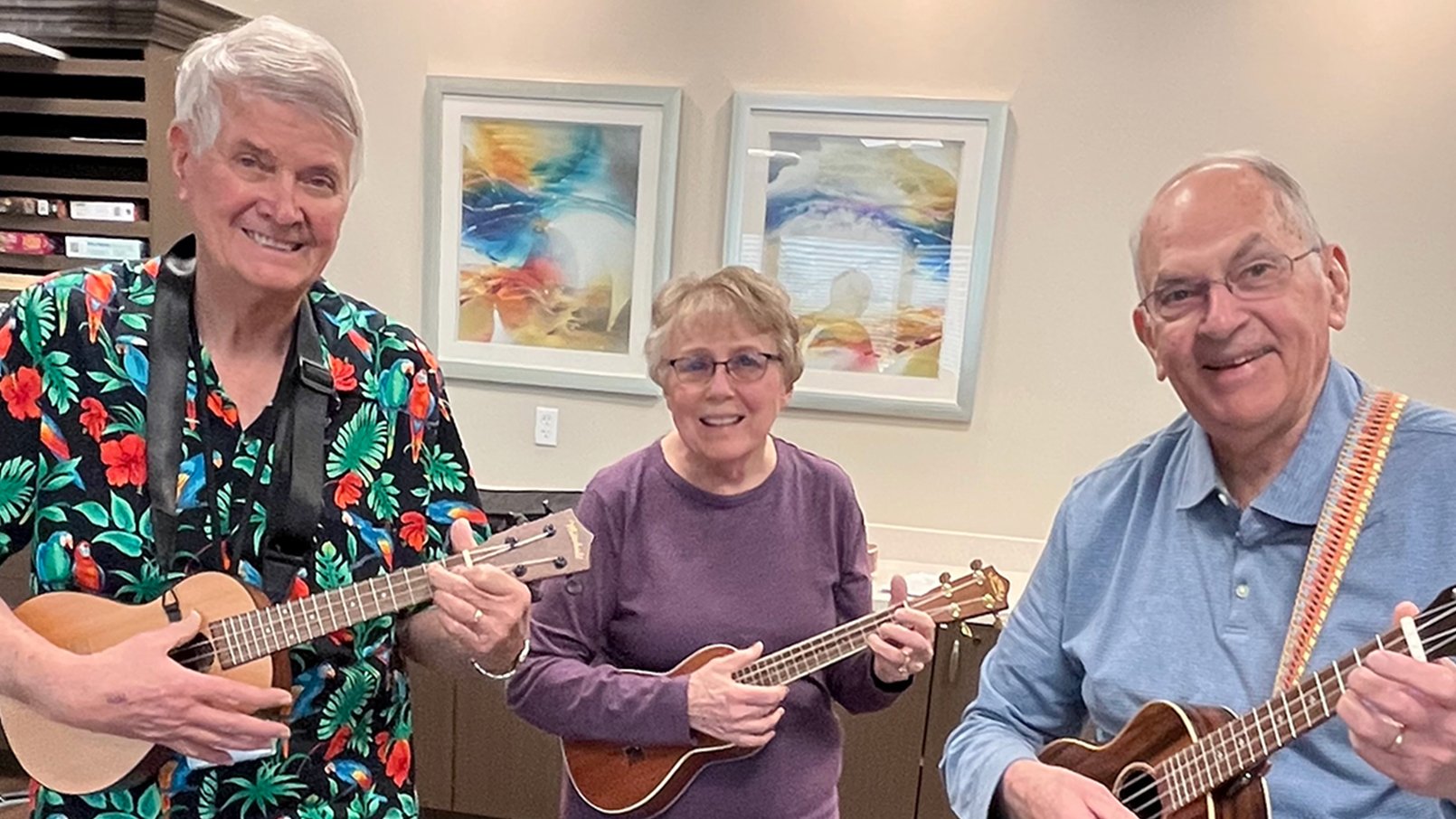 Every few weeks, Tallgrass Creek resident Judy Ogden enjoys a lively lunch with Judy Higginbotham, Judy Turner, and about 17 other neighbors named Judy at the Erickson Senior Living community in Overland Park, Kans. The group is - not surprisingly - called the Judy Club, and it's among a number of same-name clubs at the community.
Turner, who started the club several years ago, recently passed the baton over to Ogden. Prior to each gathering, Ogden will send club members an email with an activity or question to discuss. "I'll send an interesting topic, activity, or even a picture from a certain time in our life," she says. "We share lots of laughter, memories, ideas, and hopes for the future."
'Something for everyone'
Same-name clubs are the just the tip of the iceberg when it comes to resident-led groups at Tallgrass Creek. Whether you have a yen to learn more about history, knit a scarf or blanket, paint or draw, or take an interesting day trip, you're practically guaranteed to find residents with similar interests.
Ann Kleikamp, who oversees the resident life team, notes that there are actually 84 different resident-driven clubs to choose from - and that's on top of the tailgate barbeques, outdoor concerts, craft fairs, happy hours, lawn games, and more that frequent the community's schedule of activities. 
"There is literally something for everyone!" says Kleikamp.
Thanks to Tallgrass Creek's stylish, maintenance-free apartment homes, residents are free to live out the active retirement lifestyle they've always wanted. By claiming their independence from the headaches of homeownership, residents become part of an engaging community that fosters meaningful connections and supports their overall well-being.
Discovering new interests
With so much newfound free time, some residents are eager to try new hobbies and participate in enriching volunteer opportunities.
"Some have learned to paint, woodwork, ballroom dance, and try all sorts of things for the first time," says Sales Director Blake Marshall.
One group of mostly novice musicians meets for ukulele practice every Friday afternoon at Fountain View, Tallgrass Creek's newest residence building. Jim Sylte, who coordinates the practices and selects the music, says the camaraderie is as important as the strumming.
"Many of us have never played before, but we all really work at it," says Jim. "Playing music is great for mental health, and in addition, we just have lots of fun."
The musicians don ukulele-inspired Hawaiian shirts when they perform, several times a year, for their neighbors at the Sunflower Bistro on campus. Jim reports that, at every performance, "a good time is had by all," especially when it comes to the sing-along portion.
Pet lovers unite
As a continuing care retirement community, Tallgrass Creek provides resources and amenities that encourage residents to care for their physical, mental, and spiritual health - and for that of their furry, four-legged friends too. 
For dog owners, Canine Corner is the place to be. The community's fenced dog park - covered by a sea of lush, green grass - is a "wonderful spot for the dogs to play and owners to chat," says Gwyn Hall, a resident who often visits the park with Molly Joy, her Pomeranian/Yorkie mix. "There's even a walking path, shaped like a bone, that surrounds the park if you want to get a nice walk in while the dogs play."
Next to the dog park is a charming, gated area with 80 garden spaces for residents to use. As soon as the weather allows, Tallgrass Creek neighbors head out to plant a variety of tomatoes, squash, okra, cucumbers, radishes, peas, zucchini, colorful blossoms, and more of nature's bounty.  "It's a beautiful campus with so much to do and many ways to connect," says Gwyn. "We're lucky to live here."
Making connections
Tallgrass Creek residents Carole and Al Pugsley frequently comment on another important benefit of the vibrant community - socialization. 
"How would we have met all these wonderful people if we hadn't moved to Tallgrass?" notes Carole, who acts as an ambassador for prospective residents, teaches line dancing, and coordinates women's groups that encourage connection and friendships.
Al, a former pilot for TWA, chairs the Aviation Club. And with resident Wes Geer, he cochairs the Green Team, which promotes environmental responsibility.  
"Our life here is relaxing and very interesting," says Al. "We are thankful for every day at Tallgrass Creek."
"I think one of the greatest advantages of living at Tallgrass Creek is the range of activities and opportunities for socialization," agrees Marshall. "You get more than an apartment home here. You gain a lifestyle that allows you to live life to the fullest."  
Invest in your future at Tallgrass Creek. From top-notch amenities and activities to affordable, maintenance-free apartment homes, you'll enjoy your best retirement. Request more information today!
Back