Tallgrass Creek Residents Create a Variety of Eye-Catching Works
By Mary Bush
March 30, 2022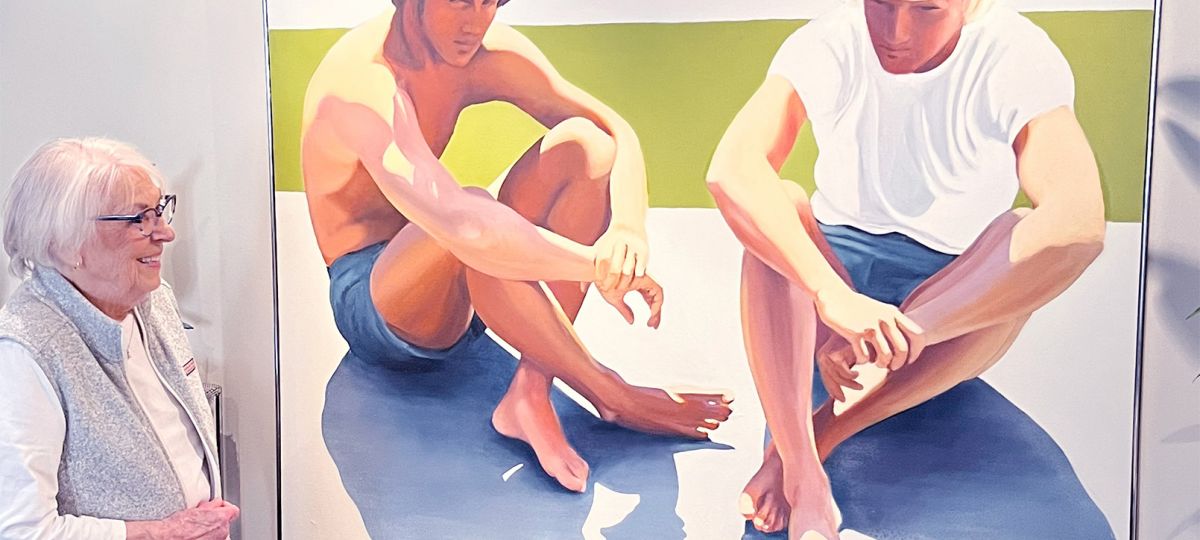 One of the more creative spaces at Tallgrass Creek, an Erickson Senior Living Community in Overland Park, Kans., is a sunny, spacious classroom where residents express themselves in a variety of art forms. Many have enjoyed painting with oils or watercolor for years, while others are stretching their artistic wings for the first time.
One enthusiastic promoter of Tallgrass Creek's talent is the community's art instructor, Alysia Quisenberry Carter, a former art teacher with a college degree in painting and printmaking.
The energetic Carter has taught both acrylic and watercolor painting classes at Tallgrass Creek for ten years. She says one of her favorite parts about her job is watching residents fall in love with the art of painting.
"I never tire of watching their growth as artists," says Carter. "Beginning artists are always surprised and excited at how quickly it begins to happen."
Residents' artwork is displayed in the gallery outside the classroom and is rotated monthly by George Lund, a retired architect and accomplished artist whose own pieces draw admiring looks.
Complex creations
Tallgrass Creek is also home to professional fine artist Barbara Simmons, whose stunning creations adorn the walls of her comfortable apartment home.
Barbara's pieces depict, in detail, complex compositions such as beach scenes and people, along with everyday objects such as eyeglasses and manhole covers - but on a very large scale. Many of her paintings, such as the one of incredibly realistic poolside chairs that hangs over her sofa, measure more than seven feet long.
Barbara's impressive paintings have been featured at Kansas City's internationally acclaimed Nelson-Atkins Museum of Art and around 40 other notable museums. Barbara is also a sculptor - her bronze works are equally as unique and in high demand.
"I just see things differently," says Barbara. "I'm attracted to shapes and real subjects and putting them together in an abstract way."
Tapestries and totem poles
Tallgrass Creek residents express themselves artistically using three-dimensional materials, too.
Nancy Byram's one-of-a-kind tapestries are meticulously created with different types of fabric, yarn, embroidery, and occasionally even beads and mat board.
The colorful textiles depict landscapes, including one of the Kansas City skyline; gardens; and graphics. Each piece is beautifully framed by Nancy's husband Steve, a retired architect who also owned a framing business. 
"I love fabric and texture," says Nancy, a former accountant who also enjoyed teaching quilting. "The fabric tells me what it wants to do and I go with it." 
Outstanding works
Then there are Suzi Dobbelaere's non-traditional wood creations, which truly stand out - and up. Her living room wall showcases a plethora of handmade carvings and tapestries, including an eight-and-a-half-feet tall totem pole.
The fun continues outside with a towering, vibrantly colored earthwork - adorned with a nest any bird would be proud to call home.
"Where some people might see something common - like a stick - I see a bird or a giraffe or some other animal, so that's what it becomes," says Suzi, who created artwork throughout her career as a Hallmark employee. "It all brings joy and color to my life."
The warmth of wood
From beautifully crafted ink pens and hand-carved toy cradles to well-made furniture pieces, Tallgrass Creek's woodworkers add to the community's artistic talent. Members of the spacious woodshop work their magic using both large and small tools - accessible to them whenever inspiration strikes.
Tallgrass Creek knitters create colorful quilts and knit caps, among other handmade pieces. Some are donated to organizations that help the homeless and others become part of the dazzling array of items at the community's annual craft fair.
Other Tallgrass Creek residents pursue the arts through writing, creating vocal and instrumental music, ballroom dancing, and more. 
"The joy of trying something new never gets old," says Suzi. "It's all worthwhile and positive."
To learn more about affordable, independent senior living at Tallgrass Creek, request your free brochure to get the scoop on amenities, floor plans, and so much more.
Back