Tallgrass Creek Residents Achieve Their Well-Being Goals
By Kayla Hampton
January 26, 2022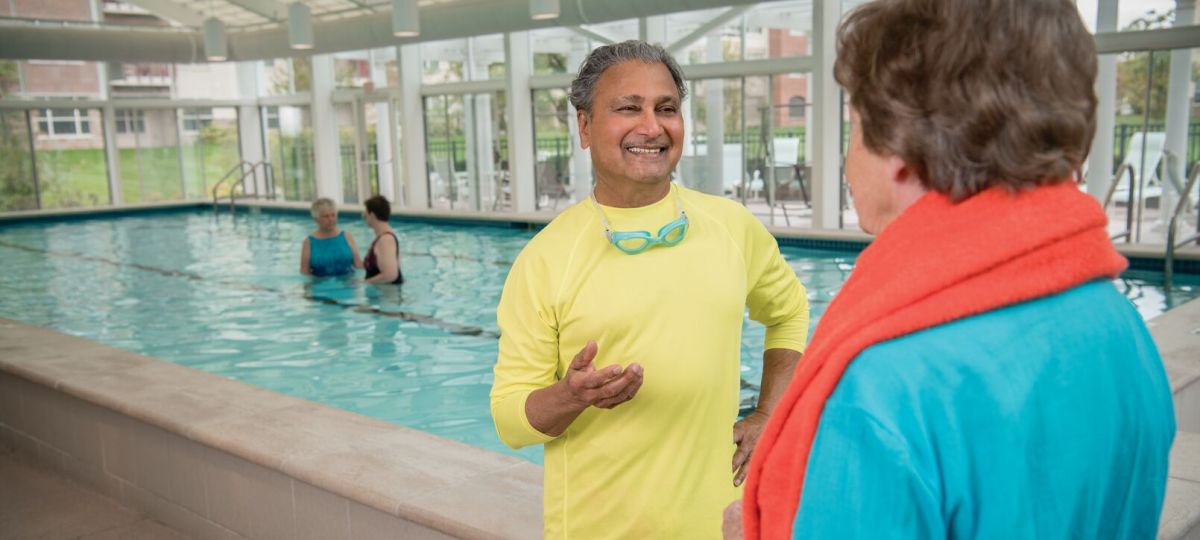 The New Year is a great time to reflect on your personal goals, particularly when it comes to maintaining your physical health, as well as your mental and spiritual well-being. Living at Tallgrass Creek, the Erickson Senior Living community in in Overland Park, Kans., makes it easy to stay fit, engaged, and relaxed; with fitness centers, walking paths and trails, clubs and activities, and more.
An artful beginning
Staying active is easy for Vicki Williamson, who moved to the community in December 2020 with her husband Ron. She quickly began participating in activities, such as Zumba classes at the on-site fitness center, weekly art classes in the community's studio spaces, and even off-campus group outings with her new neighbors.
Vicki is especially enjoying her art classes, which she has to thank for her newfound passion for contemporary art. Time in the classroom allows Vicki to focus on her projects at her own pace, while also socializing and meeting people with similar artistic interests.
"I love meeting new people and having the freedom to try something new," says Vicki.
Art classes also introduced her to new painting styles—and even new décor. Pieces of her artwork now decorate her two-bedroom, two-bath apartment home, following along with her contemporary interior design theme. Seeing her artwork on display at home has strengthened her desire to further cultivate her skills and continue to learn more about the fine art of painting.
Outside of art class, Vicki and Ron stay busy by taking evening walks, either indoors on campus—thanks to climate-controlled walkways that connect the buildings on campus—or to the local shops just beyond the community's gated entrance.
Vicki says, "The convenient location of Tallgrass Creek's campus gives us the ease of going out for a shopping trip or dinner nearby without having to drive."
New fitness offerings
For fitness fans, the new year is also bringing many new programs and features to Tallgrass Creek.
"This year, we are launching a new fitness program called Wellbeats," says Senior Manager Ann Kleikamp of Resident Services at Tallgrass Creek. "Residents use the Wellbeats app to track how long they've been active, as well as how many classes they take through the fitness center."
Virtual classes are available through the Wellbeats app—a perfect addition to at-home exercises. For residents who prefer to be out-and-about, it's easy to sign up for daily exercise classes and personal training sessions at the fitness center, which now has interactive screens that allow residents to have a more personalized experience.
The community is also launching a new yoga space, upgrading the dog park, and adding a new meditation garden that will open later this year.
Healthy dining
Eating nutritious, balanced meals is another important part of maintaining good health.
Tallgrass Creek has several on-campus restaurants that offer a wide variety of fresh, healthful, made-to-order meals. Nutritional information about the meals served are available through My Erickson, an app specially designed for community members. With convenient access to this information, residents can choose the menu items that best meet their unique tastes and preferences.
Connecting as a community
Strolling the campus of Tallgrass Creek—passing a book club discussing the "pick of month" and a group outside birdwatching—it's clear that residents are finding ways to stay physically and mentally engaged. With more than 70 clubs and classes to choose from, residents are bound to find at least one new hobby to enjoy.
When considering their move to Tallgrass Creek, Vicki and Ron say they were drawn to the vibrant lifestyle at the community.
"We couldn't stop coming back to the fact that this community was so alive. We saw countless flyers for events and club meetings—we just knew there would always be something to keep us busy."
Vicki and Ron are excited to see what their next adventure at Tallgrass Creek will be. 
As we enter into the New Year, Tallgrass Creek residents are well equipped to make personal wellness their priority. And thanks to the Erickson Senior Living 's unique, worry-free lifestyle, community members have time to explore many opportunities, allowing them to live life to the fullest.
To learn more about the abundant fitness and wellness opportunities available at Tallgrass Creek, schedule a virtual or in-person visit.
Back