Tallgrass Creek Couple Finds 'Excellent Value' at the Community
By Mary Bush
April 6, 2022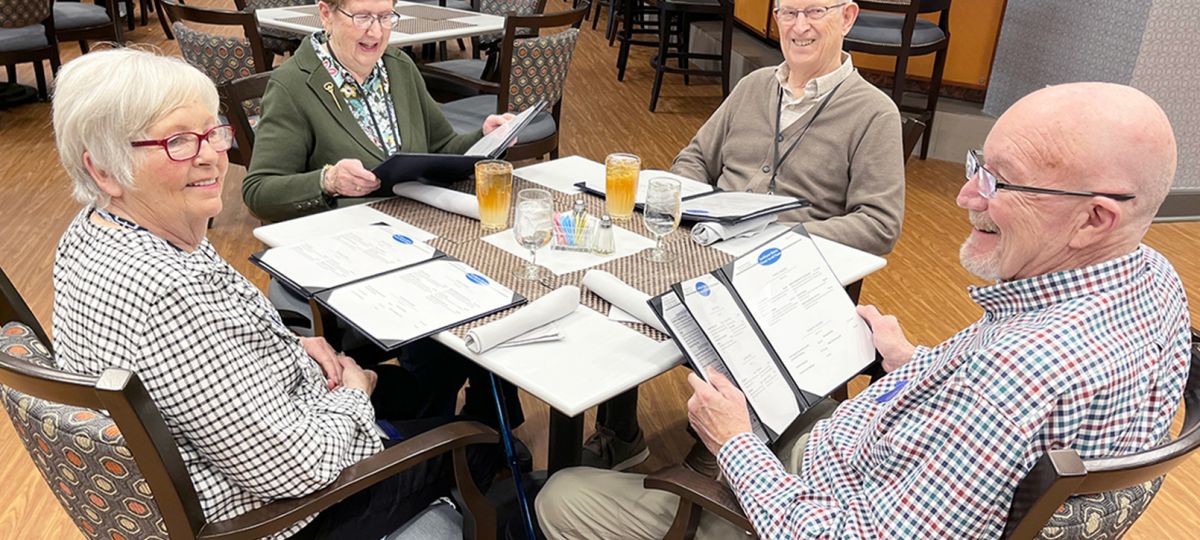 Orean and David Kent first heard about Tallgrass Creek, an Erickson Senior Living community in Overland Park, Kans., when they traveled from their home in Lawrence, Kans., to visit family and friends in Virginia.
"We stayed with friends at Greenspring, another Erickson Senior Living community in Springfield, Va., and got a firsthand look at how nice it was," says Orean. "Our friends said there was an Erickson community in Kansas, so it piqued our interest."
The couple made an appointment with Tallgrass Creek Sales Counselor Elaine Bahr soon after they returned home. Their first impression of the vibrant community resonated with them. 
"There were some new residents in the lobby - who weren't locals - that were getting ready to take a tour of the Kansas City area," says David, a former chaplain in the Army. "They were very welcoming, and that sense of friendliness and warmth continued as we passed people throughout our visit."
Lots to like
The Kents moved to Tallgrass Creek in 2020 and settled into a comfortable apartment home at Fountain View, Tallgrass Creek's modern new residence building. Their apartment home features a screened-in porch, which David and Orean really enjoy - as does their cat Bentley.
"We liked that Tallgrass Creek had quite a few floor plans to choose from," says Orean. "They all have a different look, which is impressive."
The Kents also appreciate having several different restaurants on campus to choose from. "It keeps things interesting," notes Orean. The community's restaurants offer fresh, flavorful dishes prepared by professional chefs, making it easy to eat healthy or satisfy a craving.
There will soon be even more choices with the opening of Santa Fe Ridge, a brand-new residence building scheduled to open later this year.
Affordable and consistent
The couple has noticed another significant benefit since moving to Tallgrass Creek: their monthly living expenses are less than what they incurred while living in their former home.
"We used to pay 10 or 12 bills each month for home maintenance and expenses," says David. Now, in addition to the convenience of only one bill, "we actually have a nice surplus at the end of the month."
Sales Director Blake Marshall notes that prospective residents are often surprised when they compare the cost of maintaining a larger house to the cost of living at Tallgrass Creek. 
"Day-to-day home expenses, like yard maintenance and ongoing repair issues, mount up quickly," says Marshall. "Our monthly service package covers expected and unexpected expenses that can hit your pocketbook."
The monthly service package includes heating and air conditioning and nearly all utilities; a flexible dining plan that can be used at the community's restaurants; maintenance, including repair and replacement of appliances; snow removal; fitness center and temperature-controlled swimming pool; at-your-door trash collection; scheduled transportation; 24-hour security and emergency response; and access to an on-site medical center, private dining room, hair salon, dog park, gardening areas, woodworking shop, and game rooms.
When factoring in the community's many amenities, clubs, and activities, which cover a variety of interests and provide frequent fitness, social, and educational opportunities, residents like David and Orean realize that they are investing in making the most of their retirement.
"When you look at the entire picture, Tallgrass Creek offers excellent value," says David. "We're very pleased we chose to live here."
Stability matters
Marshall says that residents are equally impressed with the strength and stability of Erickson Senior Living, a national leader in senior living and health and wellness. The company, based in Baltimore, Md., currently manages 21 senior living communities across 11 states - including Tallgrass Creek.
Tallgrass Creek's sensible financial structure includes a 90% refundable entrance deposit,* which offers financial peace of mind to residents and their beneficiaries. The Resident Care Fund, which supports community members experiencing unforeseen financial circumstances, offers additional support.
"All of these things, and more, represent Tallgrass Creek's commitment to residents," says Marshall. "Residents frequently tell me how comforting it is to be associated with a company that has financial backing and experience you can depend on. It provides tremendous peace of mind." 
The Kents agree, adding that their life at Tallgrass Creek has produced some wonderful new friendships and reduced the stress associated with managing a larger house.
"It's hard to put a price on that sort of thing," says David. "It means a lot."
Invest in your future at Tallgrass Creek. From top-notch amenities and activities to affordable, maintenance-free apartment homes, you'll enjoy living your retirement to the fullest. Request more information today!
*As per the Residence and Care Agreement.
Back