Social Opportunities Abound at Tallgrass Creek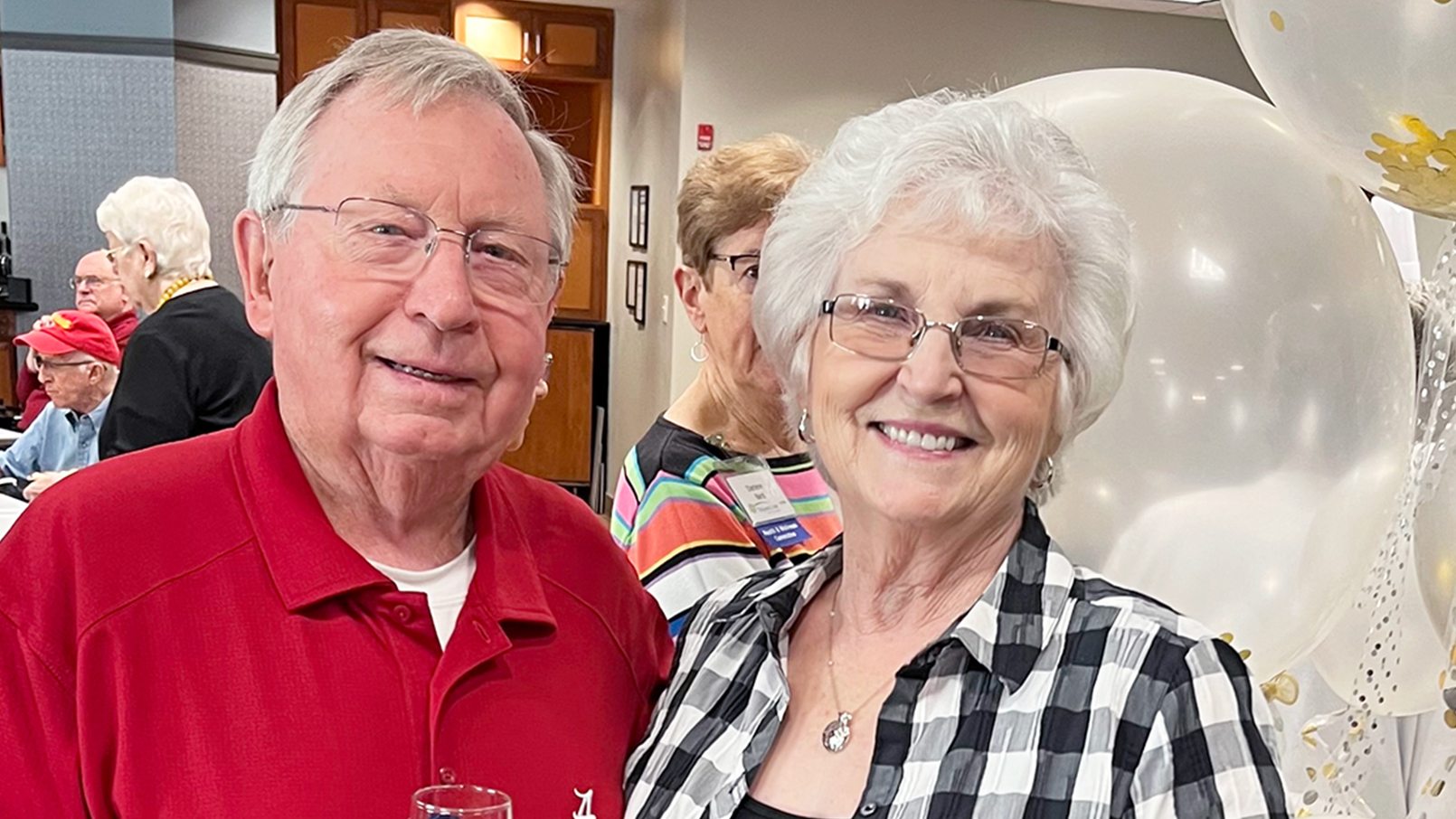 When Tom Bax met Janice Himegarner by chance on an elevator at Tallgrass Creek, the Erickson Senior Living community in Overland Park, Kans., he didn't realize he was chatting with his future wife. The two moved in--just several months apart--in 2019, and, after their serendipitous elevator ride, became friends.
"We had so many connections, like having a daughter and a stepdaughter who share the same name," says Janice. "And we really enjoyed being around each other."
When the pandemic began, they passed the time together by meeting up for walks around Tallgrass Creek's campus and later enjoying video calls in the evenings.    
"We were very careful about staying healthy. Soon enough, we decided to be in each other's 'bubble,'" says Janice. "It made everything easier during that time."
All in the family
Janice and Tom married a year ago. The officiant was Tom's priest, whom Janice had coincidentally met as a child after his family moved to her Edmond, Okla., neighborhood.
When the couple isn't busy participating in events and activities around campus, they spend time with many of Tom's family members, who also live at Tallgrass Creek.
Tom's brother Larry moved to the community in 2019 from Highland Springs, an Erickson Senior Living community in North Dallas, Tex. Their brother Frank and his wife Mary moved to Tallgrass Creek from Virginia. Lastly, the Bax brothers' cousins, Mary Ann and Katie Wyrsch, joined their extended family in October from Washington, D.C.
"We're glad to be in one place together," says Tom.
Continuing a neighborly tradition
For Janet and Bob Butterworth, it's friends, not family, who are all in one place again--25 neighbors from their former subdivision made the move to Tallgrass Creek.
In addition to relishing their longtime friendships, the couple thrives off making new connections. "We only changed addresses," says Bob. "We still live active, social lives and have met wonderful people that we wouldn't have known if we weren't here."
Like Janice and Tom, the Butterworths' calendar is full of opportunities to explore different interests and develop new relationships. The community's long list of activities includes day trips, nature outings, happy hours, art classes, educational speakers, fitness classes, holiday celebrations, and more.
Ann Kleikamp, senior manager of resident services at Tallgrass Creek, says there are around 100 clubs representing multiple interests--many of which are led by residents. However, the resident life team also hosts frequent special events.
"I see so many people blossom as they participate in all these different events and activities," says Kleikamp. "It's all here, and you can do as little or as much as you choose."
Bob and Janet's neighbors--both old and new--also create their own social occasions, hosting dinners in private dining rooms and their own apartment homes. 
Priceless relationships
"Having enjoyable social connections is an important, yet often overlooked, aspect of personal health and well-being," says Dr. Matt Narrett, chief medical officer for Erickson Senior Living.
Judy Higginbotham, who moved to Tallgrass Creek not knowing anyone, couldn't agree more.
"I thought I'd be eating alone every night, but I couldn't have been more wrong!" says Judy. "I was surprised, but gratified, at how easy it was to foster wonderful new friendships."
Within days of moving to Tallgrass Creek, Judy met others who had just joined the community as well. The group of newcomers began enjoying dinner, outings, and other activities together.
"Several of us went on a fun overnight trip together," says Judy. "I can't put a price on the friendships I've formed here."
'The best decision'
When Carole and Al Pugsley first moved Tallgrass Creek, they, too, were unsure about their future at the community.
"We put the decision off for years," says Carole. "However, the second day we were here, Al turned to me and said, 'This is the best decision we've ever made.' We met so many people right away!"
Carole and Al joke that they feel like jugglers, as they have myriad activities to choose from.
"These last five years at Tallgrass have been incredibly busy," says Carole. "We find so much joy living here, and looking back, wish we'd moved sooner."
Invest in your future at Tallgrass Creek. From top-notch amenities and activities to affordable, maintenance-free apartment homes, you'll enjoy living your retirement to the fullest. Request more information today!
Back