Residents Enjoy a Wide Variety of Fresh, Creative, Made-to-Order Meals
By Mary Bush
September 15, 2022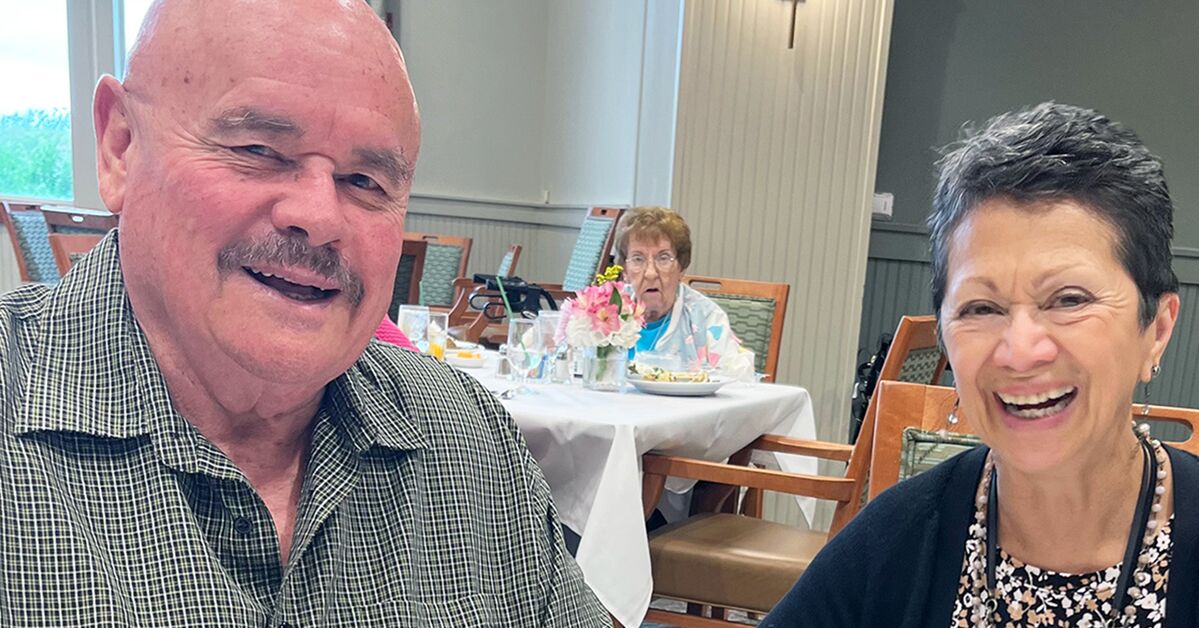 Early each morning, mouthwatering aromas drift from the gleaming, state-of-the-art kitchens at Tallgrass Creek, an Erickson Senior Living community in Overland Park, Kans.
"We start prepping early for the 800-plus residents who will join us throughout the day in one or more of the five restaurants on campus," says Tallgrass Creek Dining Director Tom Barnett, who oversees the community's kitchens, menu choices, varied dining venues, and staff members. "Our kitchens are busy places."
And, Barnett knows a thing or two about cooking for a crowd. During his 35 years in the restaurant business, he has served as executive chef, general manager, and managing partner for upscale local restaurants such as Bravo, Hereford House, and Michael Forbes.
"My philosophy is that quality of food comes first," says Barnett. "But I'm also motivated by providing great service in an appealing environment. The two go hand in hand for a wonderful dining experience."  
Choices are endless
Tallgrass Creek's five restaurants are also busy places. Residents enjoy lunch and, later, happy hour or small plates in the Sunflower Bistro. Or they may prefer to dine at Amelia's, where both lunch and dinner are served in an airy, casual environment. Dinner is also offered at the Blue Sky restaurant, a more elegant, upscale venue.
Many residents are enjoying chatting over dinner at the Heartland restaurant--the community's newest eatery--where the menu includes unique, themed meals.
"We change menu items at Heartland frequently," says Nicole Goodson, Barnett's administrative assistant, who was hired 15 years ago straight from culinary school. "Sometimes Italian selections are available; whereas, another time, a tailgate-type barbeque theme might be offered. It's a fun place."
Milo's is the perfect spot for grabbing a snack, beverage, or delicious bowl of homemade soup. And, if they choose, residents can order carry-out or have meals delivered to their apartment homes.
Residents Maria and Jerry Traynham enjoy dining at all five restaurants at Tallgrass Creek.
"It's fun to mix it up," says Maria. "We find the food at all the restaurants to be fresh, creative, and really tasty, and the wait staff is delightful."
Dining with a difference
Thanks to Tallgrass Creek's Signature Dining program, which emphasizes high-quality, cooked-to-order dishes, residents enjoy delicious meals made with fresh ingredients every time they dine.
Lunch menus at Tallgrass Creek include a variety of hot and cold selections. Evening menus consist of about 20 entrées; four daily specials; and multiple appetizer, side, and dessert choices. Gluten-friendly and heart-healthy selections are always on the menu as well, along with one other very popular item--barbeque.
"Barbeque is huge in this area, so we get lots of requests for our slow-cooked, hickory-smoked ribs," says Barnett. "It's a fan favorite."
"And everyone loves our fried chicken and warm apple pie à la mode," adds Goodson.
"We're different. Many retirement communities cook food in batches and keep it warm or even have meals delivered by an outside service," says Barnett. "Here, every meal is cooked to order by our chefs in our kitchens. It's fresher, hotter, and offers a more personal, delicious dining experience."
Culinary teamwork
Residents also appreciate the attentive students at nearby high schools and colleges who serve as wait staff, who reinforce the community's vibrant, welcoming spirit. 
Along with Goodson, Barnett is quick to give credit to Executive Chef Ian Zoellers, multiple prep cooks and sous chefs, and the 90-plus member culinary team. "They keep everything running smoothly," says Barnett.
Tallgrass Creek residents are kept in the know with kitchen updates that are published in a weekly newsletter titled A Week at the Creek. They can also tune in--twice a month--to Tallgrass Creek's in-house television station, where Barnett hosts a live call-in show and answers dining-related questions.  
"I usually have one of the chefs join me, but I keep the floor open to hear from residents," says Barnett. "It's important to know what's on everyone's mind."   
Karen Cox, a community member at Tallgrass Creek, leads the resident-driven dining committee and says the stellar restaurants are just one of many things that sets Tallgrass Creek apart from other retirement communities.  "I'd be surprised if any other community has the number of daily, fresh choices and different places to dine that we do," she says. "And everything is cooked just the way you like it. It's a big positive."
Invest in your future at Tallgrass Creek. From top-notch amenities and activities to affordable, maintenance-free apartment homes, you'll enjoy living your retirement to the fullest. Request more information today!
Back