Residents Enjoy Spending Time in and Around Tallgrass Creek
By Mary Bush
October 18, 2023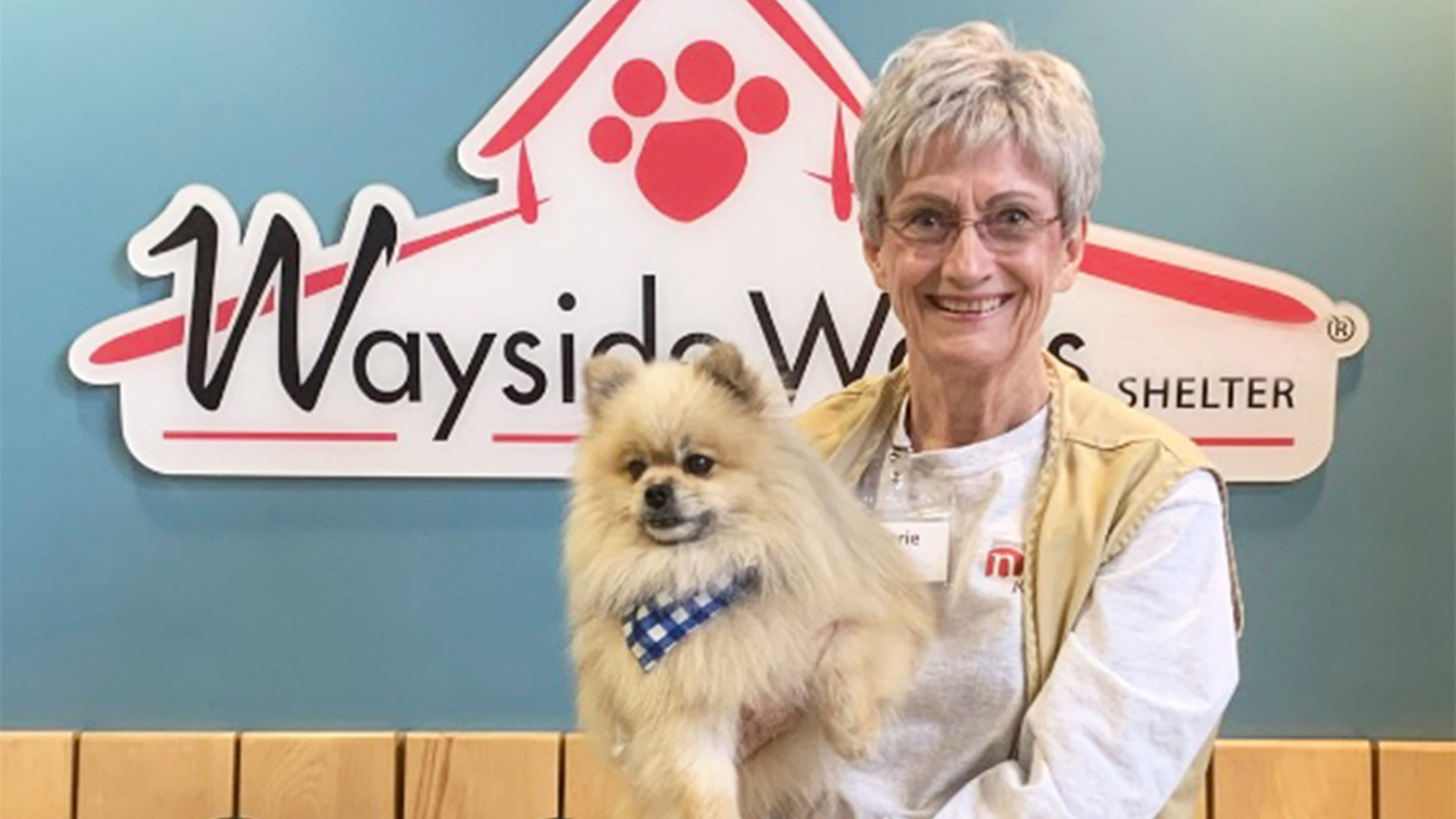 Every Saturday morning, Cherie Loudon drives over to Wayside Waifs, a large animal shelter a few miles from where she lives at Tallgrass Creek, an Erickson Senior Living community in Overland Park, Kans. 
"I love volunteering at Wayside Waifs," says Cherie. "I sit with the dogs and encourage them to approach me when they're ready. It's wonderful to see them become more trusting and comfortable."
Some of Cherie's neighbors also volunteer with her. Each month, the group of volunteers is chauffeured to the shelter in Tallgrass Creek's luxury coach as part of the community's complimentary shuttle service. 
"We all wear Tallgrass Creek T-shirts so everyone knows us!" says Cherie. "We fold laundry, make dog treats--just whatever needs to be done."
Many hands helping
On her solo volunteer days, Cherie arrives at Wayside Waifs with a carful of items that her neighbors had generously donated.
"People at Tallgrass Creek are so generous and eager to help," says Cherie. "They drop off used newspapers, paper towel rolls, and other items the shelter needs."
Cherie recently suggested to the community's director of finance, Lynn Schaffer, that a bin be placed in Tallgrass Creek's busy Resident Life office to collect even more items for the shelter. 
"Lynn jumped in and made it happen in an hour," says Cherie. "That kind of quick action means a lot."
Family time
Cherie is among many residents who are out and about every day in the community as well as the surrounding area. Located just south of Overland Park's vibrant 135th Street corridor, Tallgrass Creek is an easy walk, drive, or shuttle ride to upscale shops, theaters, restaurants, museums, and family activities.
The community's convenient location has come in handy for residents Dawn and Ron Wertz, who enjoy visits from their ten great-grandchildren--all under the age of six.
"We have seven great-grandchildren in the area, including five-year-old quadruplets, and three in North Carolina," says Dawn. "We love spending time with them."
On-the-go learning
The community's resident-led clubs often incorporate off-site visits into their activities. The trip committee recently organized tours to the J. Rieger Distillery in Kansas City, Mo.; the Truman Presidential Library in Independence, Mo.; and Arrowhead Stadium in Kansas City, Mo., home of the Kansas City Chiefs. 
"We had a private tour at Arrowhead, visiting the locker rooms and other spots around the stadium you don't usually see," says Jean Tracy, chair of the committee. "It was very interesting!"
The group always travels comfortably in Tallgrass Creek's coaches, so parking and traffic are never an issue. "It makes everything so much easier," adds Jean. 
The natural world
The community's nature club combines on-campus events with off-site visits as well. Residents have spent time at the Overland Park Arboretum and Botanical Gardens and the Deanna Rose Farmstead, a delightful attraction featuring butterfly gardens, animals, and more. 
Nature-oriented presentations hosted at Tallgrass Creek include visits from Operation Wildlife, an organization that rehabilitates injured wild animals. A handler from the organization usually brings birds under rehabilitation so residents can learn more about them. 
"There's nothing like seeing these birds face to face," says Suzi Dobbelaere, chair of the nature club. "People love learning about animals in the wild." 
Love for travel
Cindy Van Hooser, an explorer of near and far lands, heads up the Travel Lovers' Club at Tallgrass Creek. The group recently organized a train trip to Chicago, where they spent several days enjoying museums, restaurants, and shopping. 
"And last year, about 30 of us went to northern Michigan and Mackinac Island for a week," says Cindy. "We had a fun group!" 
This spring, Cindy will cruise the Danube River from Germany to Austria, visiting the world-renowned Christmas markets. 
"My favorite part of traveling is meeting people and getting involved in different cultures," she says. 
With their maintenance-free apartment homes nestled in a safe, gated community, resident travelers like Cindy no longer have to worry about mail, landscaping, or the security of their belongings when they hit the road. 
"I just shut the door and go, knowing that everything at home is safe," says Cindy. "I worry about nothing while I'm gone." 
This worry-free lifestyle, paired with Tallgrass Creek's convenient location, is just one of the many reasons so many retirees choose this active, vibrant community. 
To learn more about the benefits of moving to a community filled with interesting things to do, request more information today. 
Back