Residents Appreciate the Friendly, Affordable Tallgrass Creek Lifestyle
By Mary Bush
February 26, 2022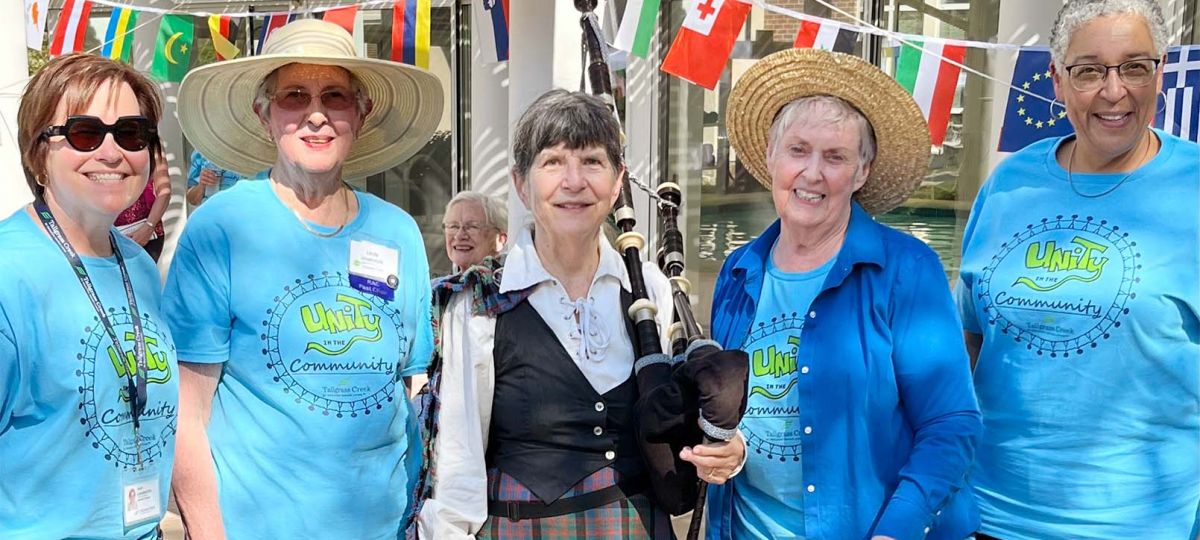 "Tallgrass Creek offers so much in terms of lifestyle, affordability, and amenities," says Sales Counselor Elaine Bahr. "We have a wonderful story to share."
That story began in 2007 when Tallgrass Creek, an Erickson Senior Living community, opened Bluebird Crossing—its first independent living residence building—on 65 scenic acres in Overland Park, Kans. Back then, Tallgrass Creek's campus and the surrounding area looked much different.
Judy Turner and her husband Terry were among the first residents to move to Tallgrass Creek. "It was pretty quiet out here," says Judy. "There were just a few restaurants and limited shopping in the surrounding area."
Located just south of 135th Street and Metcalf Avenue, the area surrounding Tallgrass Creek is now incredibly lively, with restaurants, shopping venues, museums, and more. "Erickson had great vision when they developed Tallgrass Creek in this part of Overland Park, which has grown right alongside our community," says Bahr. "Guests frequently comment on how much they love our location."
Something for everyone
Tallgrass Creek boasts more than 70 resident-driven clubs that explore everything from nature to ballroom dancing to technology. Interesting trips—featuring destinations like orchid farms, wildlife preserves, hummingbird and butterfly gardens, casinos, museums, cities, and restaurants—are always on the calendar.
In addition, Tallgrass Creek's fitness team leads an array of water aerobics classes each week, along with land-based fitness classes, that are designed to meet all levels of fitness. The resident life team adds to the action with fashion, craft, and talent shows; entertainment events; walkathons; fitness competitions; poolside gatherings; and weekly happy hours.
"It's impossible to be bored here," says Judy, who coordinates a monthly book club, is active with a meditative coloring group, and attends fitness classes. "You can do as little or as much as you want, but there is something for everyone."
Residents also host events throughout the year, such as October's inaugural Unity in the Community event, which featured many local groups showcasing beautiful crafts and talents from different countries and cultures.
"I've lived in several different parts of the country and found that at the end of the day, people have much more in common than not. Tallgrass Creek is no different. The residents here are the same in some ways but also different, which is what makes us all interesting and unique," says Mary Guindon, who chairs the Diversity, Inclusion, and Belonging Committee and who served as project manager for the event. "So many people at Tallgrass helped plan Unity in Community and made it the interesting event it was. It definitely took a village and Tallgrass Creek is our village."
See for yourself
Several times a month, Bahr accompanies prospective residents as they tour Tallgrass Creek's campus. When Bahr and her guests stop to chat with community members they pass along the way, one particular question comes up. 
"Guests want to hear from those who live here why they chose Tallgrass Creek, and our residents are happy to tell them," Bahr says. She can answer that question herself, too, as her mother, Doris Waller, moved into an apartment home at Tallgrass Creek after Bahr began working there.
"What a great personal testimony," says Bahr. "It says more than any conversation or sales brochure could."
Guests touring Tallgrass Creek enjoy seeing the large fitness center, temperature-controlled swimming pool, beauty salon, meeting rooms, library, private dining room, comfortable movie theater, art center, well-stocked woodshop, and plenty more. Bahr will often show guests the 30-page monthly activity calendar that details the unique social, educational, and fitness opportunities the community offers.
There are many reasons to tour Tallgrass Creek, but above all, it's to get a first-hand look at the vibrant lifestyle, unparalleled amenities, and spacious apartment homes. And with virtual and in-person tours, getting the inside scoop of what life is like at Tallgrass Creek has never been easier.
Affordable value
Sales Director Blake Marshall notes that some people may mistakenly believe that a retirement community like Tallgrass Creek is outside their means.
"We have a beautiful campus both inside and out, and it's easy to see how it could seem unaffordable," says Marshall. "But, as many of our residents have found, that's just not so."
Tallgrass Creek's monthly service package includes apartment home maintenance, professional lawn care, property taxes, heating and air-conditioning, at-your-door trash and recycling collection, multiple dining venues, most utilities, basic cable TV, regularly scheduled transportation, 24-hour security, and emergency response services.
"These are exciting times for us," says Marshall. "When guests visit this active community and see for themselves all it offers—given the price tag—they are reserving immediately."
To learn more about the affordability of the amenity-rich lifestyle at Tallgrass Creek, request a brochure or a visit now!
Rachel Donohue contributed to this article.
Back