Prairie View, Tallgrass Creek's Newest Residence Building is on the Rise
By Mary Bush
November 20, 2023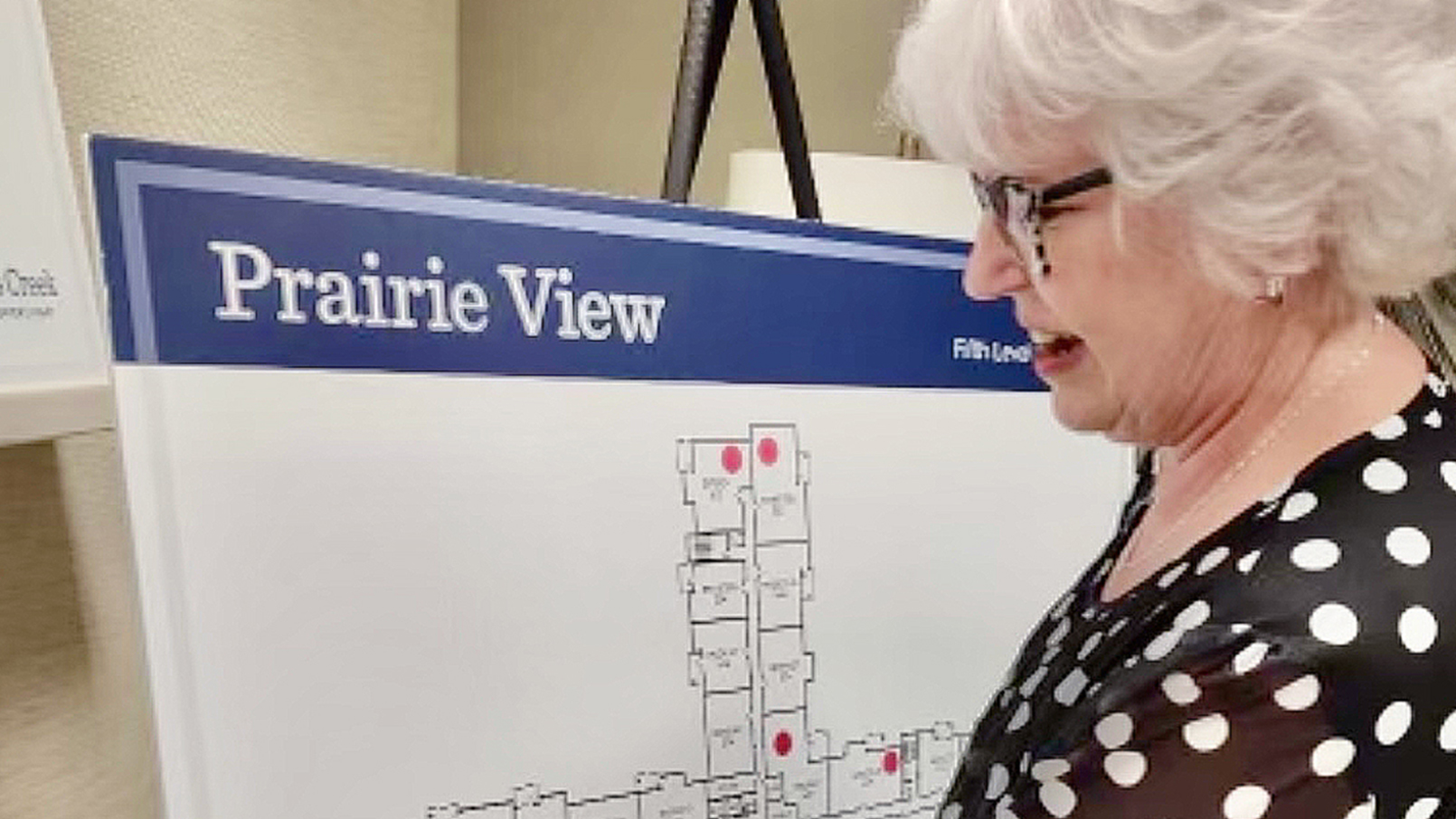 When Prairie View, the newest residence building opening next year at Tallgrass Creek, an Erickson Senior Living community in Overland Park, Kans., is complete, Donna and Frank White will be among the first retirees to move in. 
To say that the couple is excited to be moving into a brand-new apartment home is an understatement, as they are coming from a house dating back to the late 1800s. 
"It's a classic farmhouse on four acres that we've updated and loved for the last 25 years, but it's time for a change!" says Donna. "We're ready to have less responsibility and enjoy some things we haven't had time to do."
The Whites initially considered moving to a smaller house or a 55-plus community, but they changed their minds after visiting Tallgrass Creek.
"It just made more sense to move once and not twice," says Donna. "And even though we don't need it now, having additional levels of health care available is important."
Introducing Prairie View
Prairie View will offer 107 modern apartment homes featuring the most in-demand floor plans with deluxe appliances and finishes; upgraded lighting and flooring; and a choice of patio, balcony, or screened-in porch. And, a new bocce court will be located just outside the building. 
For those interested in personalizing their space, Tallgrass Creek's in-house design center offers additional design options for window treatments, flooring, countertops, paint, wallpaper, custom closets, and crown molding. 
Close to everything
Like their future Prairie View neighbors, Donna and Frank will enjoy easy access to all the amenities on Tallgrass Creek's bustling campus, including an on-site medical center, six restaurants, well-equipped fitness centers, temperature-controlled swimming pool, beauty salon, library, pickleball court, movie theater, and art center. 
And their Maltese mix named George will especially appreciate Canine Corner, the community's well-maintained dog park.
First impressions
Donna and Frank first visited Tallgrass Creek a year ago and were impressed with the integrity of the sales team, the friendly atmosphere, and the location. 
"We're excited to be much closer to our church and nice shops and restaurants," says Donna. "We drive by every week and take pictures as the building changes." 
The Whites joined the Priority List soon after their first visit, helping them secure their preferred location and floor plan in Prairie View. 
When prospective residents submit their fully refundable $1,000 priority list deposit, that date is noted as their priority list date. Once a floor plan becomes available, the sales team gives right of first refusal to members based on the date they joined. 
"If you decide that you aren't ready to move, you just maintain your spot on the list. We simply offer the floor plan to the next person on the list," explains Sales Director Blake Marshall. 
Using the priority list to their advantage, Donna and Frank chose a large corner apartment home with a balcony on the fifth floor. 
"We love watching sunsets from our house in the country, and we will still be able to from our future home," says Donna.
One big, happy family 
When Mary Treece joined the Priority List and selected her apartment home in Prairie View, she started a trend. 
"I suggested to a friend, Alan Emery, that he move to Tallgrass Creek. Then I called my brother and sister-in-law, Steve and Judy Ernst, in Katy, Tex., and my older brother, Mike Ernst, who lives nearby," she says. 
Finally, she contacted her former husband, Jim Gerlt, with whom she continues a fond relationship. 
"They all decided they would move here too! Judy always talked of living in a family compound in our later years, and this is about as close as you can get," says Mary, with a laugh. 
Learn more!
If you're interested in learning more about Prairie View's apartment homes and Tallgrass Creek's amenities, Marshall recommends scheduling a visit and joining the Priority List. 
"Priority List members also get exclusive invites to informational and social events that are held on campus," says Marshall. "It's a great way to start enjoying this active, vibrant community and meeting your future neighbors!"
To learn more about senior living at Tallgrass Creek, request your free brochure to get the scoop on amenities, floor plans, and so much more.
Back