Pets And Their Human Companions Find a Warm Welcome at Tallgrass Creek
By Mary Bush
June 19, 2023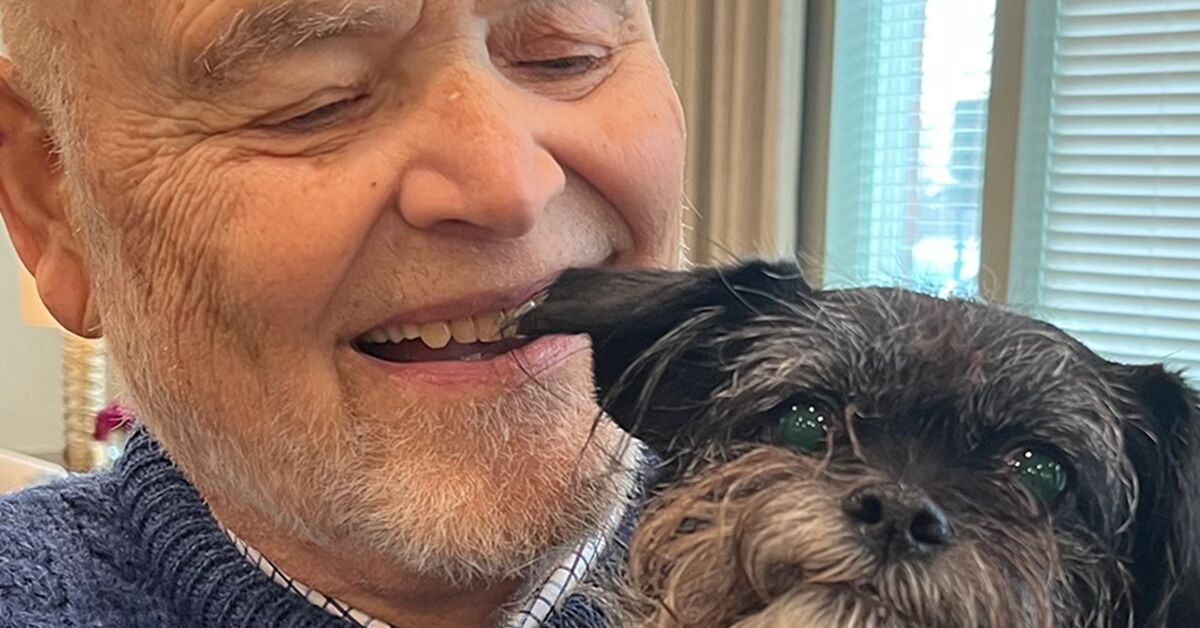 When Nancy and Ron DeYoung moved to Tallgrass Creek, an Erickson Senior Living community in Overland Park, Kans., their furry, four-legged companion Rockee was right there beside them. 
"We adopted Rockee as a puppy. She's nine now!" says Ron. "We wouldn't have moved without her." 
Ron found Rockee when he stopped by a local animal shelter in Rockport, Tex., a charming coastal town that the couple frequently visits during the winter months. 
He saw several dogs but when the little black dog with the peek-a-boo face showed up, Ron knew she was the one. "She's an American mutt," laughs Ron. "Since she's female and we found her in Rockport, we named her Rockee."
About 70% of American households have pets, according to the American Pet Products Association. At Tallgrass Creek, many residents consider their dog, cat, bird, and even fish to be part of their family. 
"It was very important to us that Tallgrass Creek was pet friendly," says Ron. "Rockee is definitely part of our family!"
Great move for all
After researching eight other retirement living options in the area, the DeYoungs decided to visit Tallgrass Creek. 
"The minute we stepped onto Tallgrass' campus, we knew it was the right place for us," says Ron. 
In September 2022, Nancy and Ron moved into Santa Fe Ridge, Tallgrass Creek's newest residence building, from nearby Shawnee, Kans.
The couple found the sales team to be outstanding - a perfect representation of the community's welcoming environment. They were also impressed with their apartment home's spacious floor plan and the many amenities and restaurants available right on campus. 
"And now that we're here, Rockee loves hanging out on the screened-in porch," says Ron. 
Staying active together
Ron and Rockee enjoy daily strolls around the community's park-like campus. "She actually walks me," jokes Ron. "The campus has lots of good sidewalks, and Rockee is always ready to go."
In addition to walks with Rockee, Ron plays pickleball three times a week - on the court that's just one floor away from his apartment home - to stay fit. 
"There are some good players here," says Ron. "There's nothing like our camaraderie anywhere else."
Ron and Rockee also visit Canine Corner, the community's large, well-maintained dog park that's just a short walk from the main entrance. The park is enclosed by a sturdy fence and double gates, so dogs can run unleashed and not wander. 
The area includes a charming shaded gazebo and comfortable benches for residents to sit and relax while their pups romp about. A walking path, shaped like a bone, surrounds the park so owners can stroll while their dogs are at play. 
Lilly takes the lead
Resident Maria Traynham says her four-year-old schnauzer mix Lilly also loves going to Canine Corner. 
"She knows the way as well as I do, so she takes the lead," says Maria. 
Maria and her husband Jerry adopted Lilly while vacationing in Missouri at Lake of the Ozarks.
"We were at a restaurant having lunch, and a woman came in looking for a home for this little five-month-old puppy," says Maria. "We couldn't leave without her, and we're so glad we didn't. She's a great dog!"
Purr-fect pet
But dogs are not the only four-legged pets at Tallgrass Creek. 
Sara and Tom Meyers, who moved to Santa Fe Ridge in December, are the proud owners of Chloe Jane, a five-year-old tortoiseshell cat they adopted at the beginning of the pandemic. Chloe was among many animals left homeless during that time.
"We were on the list at Wayside Waifs, [a local animal shelter], when Chloe became available," says Sara. "She only weighed about five pounds when we first saw her, but she grabbed our hearts."
Sara and Tom have nothing but positive things to say about their first few months at Tallgrass Creek. 
"This is such a pet-friendly community, and we're happy to be here - including Chloe!" says Sara. "Moving to Tallgrass Creek was a great decision for all of us."
To learn more about affordable, independent senior living at Tallgrass Creek, request your free brochure to get the scoop on amenities, floor plans, and so much more.
Back