Good Times in the Great Outdoors at Tallgrass Creek
By Mary Bush
July 19, 2023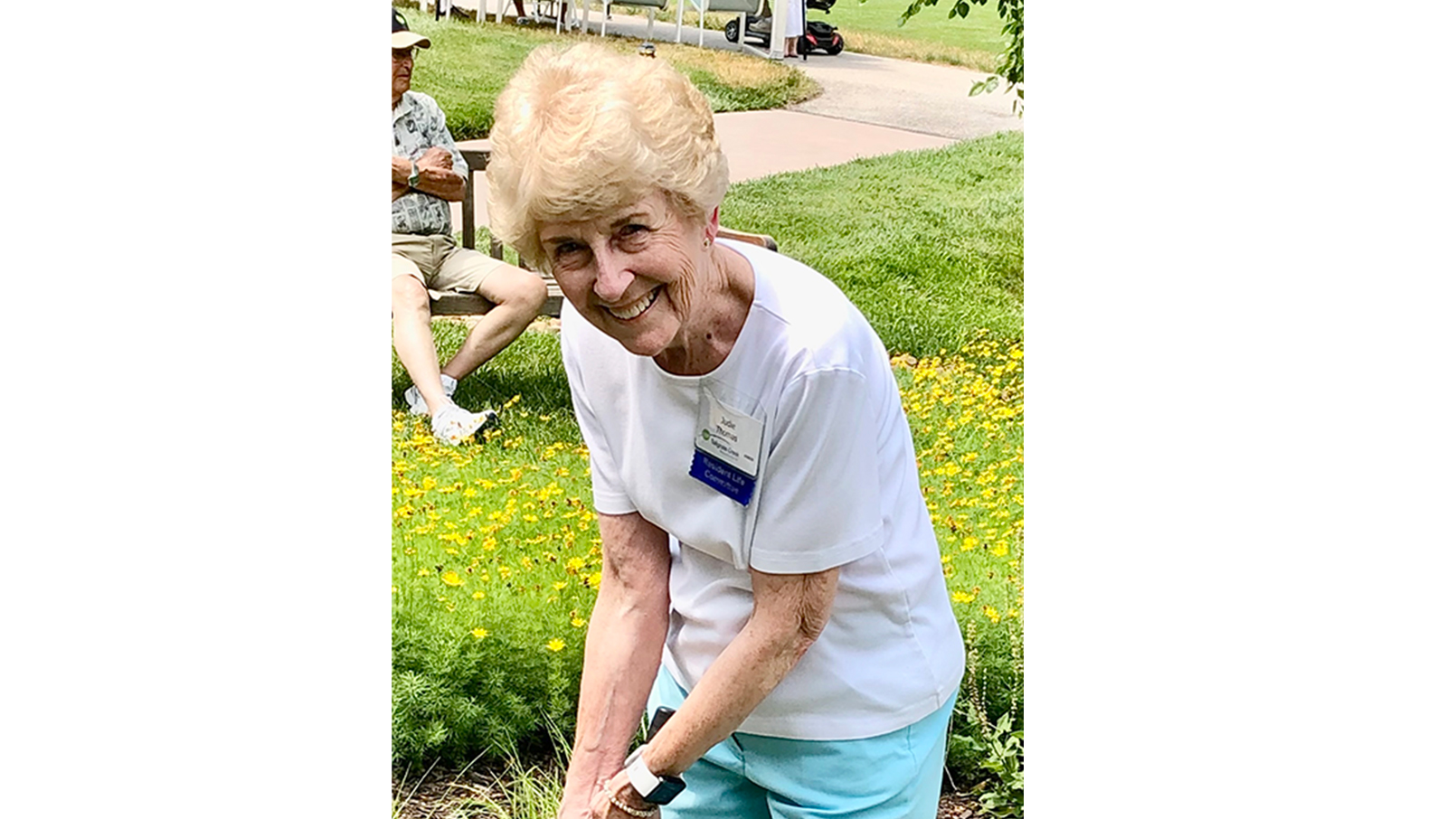 With summer in full bloom, Tallgrass Creek, the beautifully landscaped 65-acre Erickson Senior Living community in Overland Park, Kans., is bustling with activity. 
Residents find that being out and about, whether gardening, golfing on the putting green, strolling around the park-like grounds, heading to the community's dog park, or just relaxing on the shady patio, enhances their carefree lifestyles. 
Wheeling around
Tallgrass Creek residents Judy and Wes Geer love to walk and bike-or, in Judy's case, trike-around campus. 
She rolls along on a three-wheeled electric tricycle that offers more stability and control than a regular bike, logging about two miles a day. 
"There are plenty of places to ride safely," says Judy. "It's a great way to exercise outdoors and is much more interesting than riding a stationary bike!"
When Wes isn't joining Judy on his two-wheeled electric bike, he ventures off campus to run an errand or bike on the city's public trail that winds behind Tallgrass Creek. He travels about four miles a day and is planning a longer trek this summer on the trail. 
A walk in the dog park
As Judy and Wes cruise through campus, they often pass dogs pulling their owners toward Canine Corner, the large, well-maintained dog park just a short walk from the community's main entrance. 
The park is protected by a sturdy fence and double gates, so owners can let their dogs run unleashed, worry-free. 
While their pups romp about, residents relax and chat on comfortable benches dotted around the park and underneath a shaded gazebo. A walking path shaped like a bone surrounds the entire park, so residents can get their daily walks in while their pets are at play.
"We love the dog park! We spend a lot of time there," says Gwyn Hall, who lives at Tallgrass Creek with her four-legged pal Mollye Joy. "It's a happy place for both owners and dogs."
Practice your putt
Golf fans eagerly anticipate Tallgrass Creek's annual putting competition, which kicks off every summer. 
The event, started by resident Bob Butterworth three years ago, takes place on the putting green next to the large shady patio and courtyard. Tallgrass Creek's Dining Services team provides refreshments to keep thirsty golfers hydrated and energized. 
"Lots of my fellow residents jump in to help," says Bob. "The contest draws about 150 golfers and helpers, along with lots of bystanders rooting us on."
Judie Thomas, who gets in 10,000 steps every day, says she is more of a walker than a golfer, but hasn't missed a competition. 
"It's a very fun event with lots of laughs and camaraderie," says Judie. 
Gardens galore 
Resident gardeners also enjoy a beautiful area to indulge in their favorite pastime, with well-tended garden spaces, full of on-the-vine fruits and vegetables, fresh leafy lettuces, and eye-popping blossoms. 
The garden spaces, measuring 10 feet square each, are tucked away behind a secure fence. Gardeners utilize four handy faucets for watering.
Tallgrass Creek recently expanded the area with more garden spaces and 14 raised beds. 
"And it was just in time," says Larry Tolin, chair of the garden club. "We have more residents than ever who want to garden." 
Larry and his wife Diane tend to four garden areas where they grow tomatoes, summer squash, zucchini, cucumbers, onions, peas, and lots of okra. 
"Our okra plants get to about nine feet tall in the fall," says Larry. "We have several ways we like to cook it, but we freeze some as well so we can have it all year long."
Investing in well-being
The garden expansion was made possible through the Well-Being Fund, a multimillion-dollar investment by Erickson Senior Living to support the health and well-being programs and services available to residents across the country. 
Thanks to the fund, Tallgrass Creek residents are also enjoying new firepits, disc golf, and more casual seating in the community's spacious courtyard. 
Indoors, the fund contributed to the new state-of-the-art exercise equipment in the busy fitness center. Residents also appreciate the new shuffleboard table close to Sunflower Bistro, one of six on-site restaurants at Tallgrass Creek. 
Enjoy the active lifestyle
"These additions just enhance the active, engaged lifestyle that Tallgrass Creek offers," says Associate Executive Director Bryan Bee. "And we're not finished! There are more initiatives on the way, both indoors and outdoors, that will promote health and wellness."
To learn more about the ways residents are enjoying the great outdoors, request more information today!
Back