Design Your Dream Dwelling at Tallgrass Creek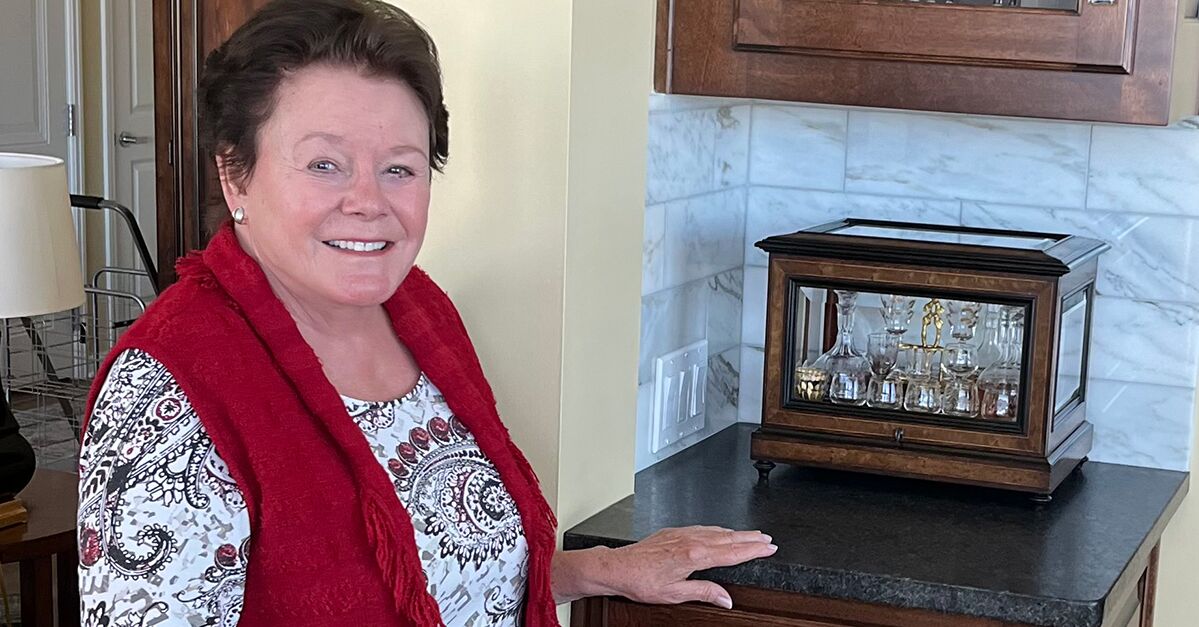 When Nancy and Steve Byram found the perfect apartment home at Tallgrass Creek, an Erickson Senior Living community in Overland Park, Kans., they were sold.
What made their decision to move even easier was the ability to customize their new abode to perfectly fit their lifestyle. 
"We looked at it through a different lens and saw ways to make our new home work a little better for us," says Steve, a retired architect.
 The couple started by removing a wall in their entryway to provide more room in the den and dining areas. "We picked up about four feet in the den, which is where I spend a lot of time," notes Steve. 
The Byrams also added gallery lighting to showcase the unique tapestries that Nancy creates with yarn, fabric, embroidery, beads, and mat board. Neighbors frequently stop by to see her pieces, which have been displayed and sold at different galleries. 
"The proper lighting over the pieces makes a big difference," says Nancy.
Outdoor oasis
The couple's redesign also extended to the area just outside their sliding glass door.   
"The patio was nice, but it was surrounded by shrubbery before we moved in. We had the shrubs removed and enlarged the area a little so we could create a garden," says Steve, an accomplished gardener who grows elephant ears, irises, cannas, perennials, and more. 
"I added a birdbath, a water fountain, and a stone path. I go out early every morning to listen to the birds in the garden," he adds. "It's my own little retreat." 
The Byrams' kitchen also got a refresh, with beautiful new quartz countertops and a backsplash that Nancy selected from Tallgrass Creek's Custom Interiors Design Center.   
The center displays samples of window treatments, flooring, countertops, backsplashes, paint colors, wallpaper, custom closet organizers, crown molding, and more for residents to choose from. Both new and current residents can visit the Custom Interiors team that handles everything from pricing to selection to installation.
"It's quite the showroom!" says Blake Marshall, sales director at Tallgrass Creek. "All kinds of samples are there, including the latest trends in interior design. People don't want a 'cookie- cutter' look in their residences, so they appreciate having choices and customizations to choose from that truly suit their tastes." 
Personalized details 
Linda Crosser, who moved to Tallgrass Creek in 2021, agrees with Marshall. She wanted an apartment home that reflected her unique style and "wasn't like everyone else's."
The open, airy look she was aiming for started with a fresh coat of soft yellow paint. "The walls change color as the light hits them throughout the day. It's so pretty," says Linda.
Although her previous house had louvered shutters, she decided to install shutters with larger dividers in her apartment home to let in more light. She also added crown molding, a beautiful Italian tile kitchen backsplash, and modern ceiling lighting throughout.
Just around the corner from her kitchen, Linda had a special wine refrigerator built into an attractive wooden cabinet with a stone top and marble backsplash. A smaller cabinet was installed above to store her wine glasses, making it easy to enjoy refreshments with friends when they stop by.
"It all came together and really reflects my personal taste," says Linda. "I like coming home!"
Rustic and cozy 
Marvin Singleton, another Tallgrass Creek resident who wanted to take advantage of the ability to customize his apartment home, appreciated the support and guidance of the Custom Interiors team. 
"Everyone I worked with was very accommodating," says Marvin. "They provided lots of samples to choose from, and all the work was completed by the time I moved in." 
Like Linda, Marvin wanted to echo the atmosphere he had in his previous house. "I arranged to have a rustic stone fireplace installed in the living room, much like the one I had in my farmhouse in Missouri," says Marvin. "I turn it on first thing in the morning! I like the warmth and ambience it provides."
Marvin added to the room's cozy feel with a ceiling fan and louvered shutters.   
At Erickson Senior Living communities, retirees appreciate the opportunity for a fresh start - and the ability to create a beautiful space where they can live the carefree retirement they've always imagined. 
Some choose a spacious two-bedroom apartment home and use the second room as an office, craft room, or guest room. 
Others choose a one-bedroom residence, knowing they will spend time out and about, enjoying the community's many amenities and social activities that are accessible via climate-controlled walkways. 
"These thoughtfully designed living spaces are just one part of Tallgrass Creek's carefree lifestyle that residents love," says Marshall. 
Invest in your future self at Tallgrass Creek. From top-notch amenities to affordable, maintenance-free apartment homes, you are sure to live your retirement to the fullest. Request more information today!
Back