Resident Enjoys the Convenience of Living at Cedar Crest
Kate Streit
August 3, 2021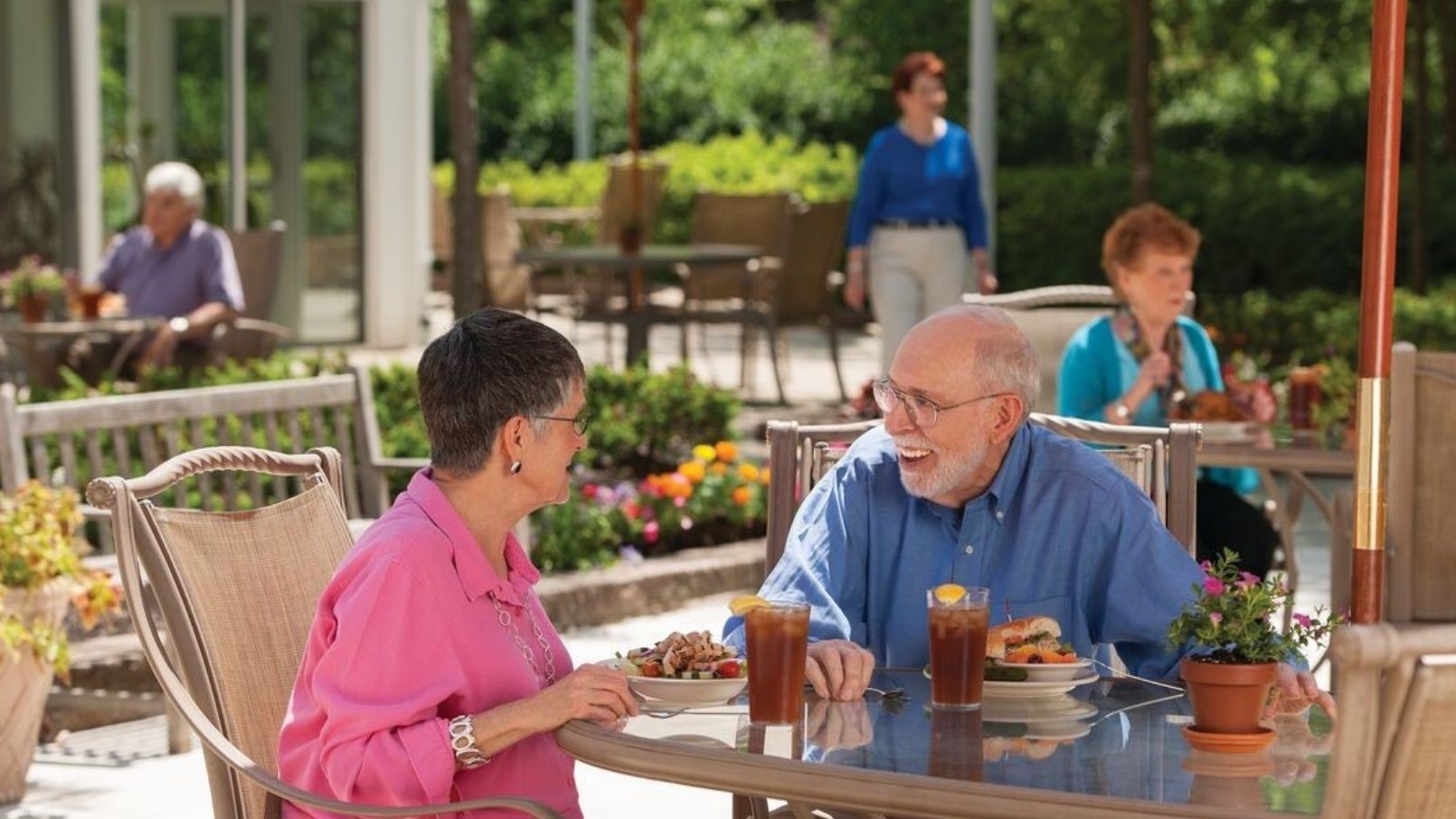 When Margaret Mack began to consider downsizing in retirement, a natural choice was Cedar Crest, an Erickson Senior Living-managed community in Pompton Plains, N.J. She has a friend who has lived in the community happily for the past 15 years, and two of Margaret's three daughters live nearby. Her husband Pete had also spent time at Cedar Crest's Mountainview Gardens rehabilitation center after having surgery at Chilton Medical Center. The move was just as easy as the decision. A team of caring staff members at Cedar Crest helped the Macks make the transition, ensuring every step of the process went as smoothly as possible.
"Sales Counselor Ruth Phillips showed my husband and me many different styles of apartment homes that were available that would meet our needs," says Margaret. "Debbie Rappold was our Welcome Home representative and even came to our home in West Milford. Personal Moving Consultant Anne Connor also came to our home to help me determine which furniture my apartment would accommodate and where to place it."
Margaret was especially grateful with Cedar Crest's recommendation of Kathy Checke, a senior move manager who offers organizing, downsizing, and unpacking services. "At the time that we were moving, my husband was in the hospital, and we wouldn't have been able to move without Kathy's services!" says Margaret. "My children were amazed at her efficiency and skills. Kathy and her team prepared everything at my home prior to the arrival of the movers, followed us to the apartment on moving day, sorted and unpacked boxes, and even hung pictures and mirrors."
Home sweet home
Margaret was very happy with her choice and quickly settled into her new home. "My favorite thing about my apartment is that there is an abundance of natural light which fills each room," says Margaret. "It's very bright and cheerful. I also selected the model due to its spacious rooms, especially the kitchen since I enjoy baking as a hobby."
Margaret loves sharing her kitchen creations with neighbors and friends. However, she says, "I don't have to worry about meal preparation because of the delicious selection of entrées prepared daily in the various kitchens. The chefs are all excellent, and the dining team is exceptional." She also appreciates all the services provided by the General Services and Housekeeping teams.
No more snow plowing!
"Thank goodness for snow removal, and I no longer have added expenses to maintain my property," says Margaret. "Landscapers mow the lawn, trim trees, blow leaves, plant flowers, and keep the property looking magnificent."
Community of support
Unfortunately, Pete passed away in April 2020, just a few short months after they moved to Cedar Crest. In the wake of her loss, Margaret was thankful for the support of the community. She joined the bereavement group and found comfort and friendship among its members.
"The group is led by Pastoral Ministries Manager Hattie Williams, and she is so passionate about her work and makes everyone feel welcome," says Margaret.
Margaret also keeps busy with participation in a number of other clubs and activities on campus, including two book clubs, the crochet group, and the coloring club, through which she has met many talented and friendly women. She plays bingo weekly through Cedar Crest's in-house TV channel.
"It stimulates my brain and is fun too," says Margaret. She likes watching programming on the channel, including The New Normal with Executive Director Todd DeLaney and Associate Executive Director Kristen Compton, The Cedar Crest Today Show, and What's Cooking with Executive Chef Harris Gondelman.
Amenities on site
Margaret utilizes the fitness center and aquatic center and loves the convenience of the on-site library, bank, and hair salons. She also maintains a square in the Cedar Crest Community Garden, where she plants a variety of flowers and spices. While Margaret loves campus life, she has a car and visits her children and grandchildren as often as possible. She likes that she has the flexibility to attend their sports games, go out shopping, and meet up with old friends from West Milford. She also belongs to the Pequannock Library Book Club and a retired teachers group from Maple Road School in West Milford called Retired and Happy. She enjoys traveling, especially to her daughter's home in Connecticut and to another daughter's vacation home in Newport, Rhode Island. But she's always happy to come back home to Cedar Crest.
 Consider being part of a strong and caring senior living community like Cedar Crest. Beautiful walking paths, gardens, resort-style amenities, an on-site medical center staffed by full-time medical professionals, and new friends await. Request a brochure or a visit now!
Back