Outdoor Enthusiasts Find A Lot To Like at Cedar Crest
Kate Streit
August 24, 2021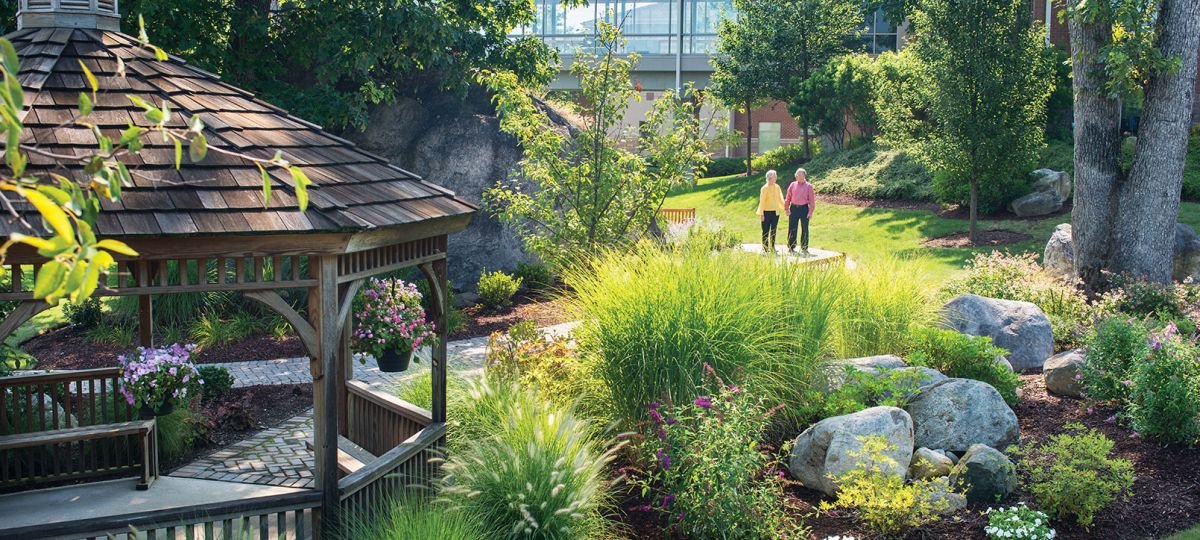 Getting out and enjoying the great outdoors is one of the best ways to boost both mental and physical health. A little fresh air and sunshine can do wonders for your body, mind, and soul, and has been shown to improve immune function, sleep patterns, and interpersonal relationships, just to name a few. At Cedar Crest, an Erickson Senior Living-managed community in Pompton Plains, N.J., residents who like spending time in nature have formed the Amblers and Scramblers, a group that takes weekly hikes on campus and in the area, which offers plenty of places to explore.
"I've been a hiker for a long time, and I enjoy continuing to do that with friends at Cedar Crest," says resident Jack Driller, who co-coordinates the group along with Helen Buckley.
Amblers and Scramblers
Jack first heard about Cedar Crest from hiking friends. He moved to the community three years ago, and the Amblers and Scramblers is just one of the ways that he enjoys being outdoors.
"The meticulous landscaping and gardening on campus create a pleasant and inviting atmosphere, which residents really appreciate," says Jack.
Indeed, Cedar Crest is situated on a 130-acre campus with scenic mountain views, charming courtyards, well-maintained walking paths, and a putting green. "Cedar Crest is well-managed and gives thoughtful concern for the residents," says Jack.
Nearby, the Ramapo Mountains State Forest offers additional miles of trails for hikers of all skill levels and is a popular spot for the group. The 120-acre Ramapo Lake has stunning views from a number of rock outcroppings and ledges and is also a well-liked fishing site. A variety of birds can be seen in the area, making it ideal for birdwatchers as well. Located just a short 20-minute drive from Cedar Crest, Ringwood State Park also offers an intricate trail system and is home to the State Botanical Garden, which is open all year round. The group takes a range of hikes from those that are flat and easy to more ambitious and challenging routes with rocks and hills. About 60 residents receive a monthly schedule of hikes and choose which ones they'd like to participate in. About five to ten people participate in each hike, on average. No preregistration is required. Residents can simply show up at the meeting place and participate as often as they like.
Gardening for health and leisure
Residents who enjoy nature in a different way participate in the resident-run Cedar Crest Garden Club. The community garden has more than 100 areas where residents grow a variety of vegetables, plants, and flowers. A shed supplies tools and equipment, and members also have access to compost bins and mulch. Gardening is a great way for residents to spend time outdoors and exercise. Goldfinches, hummingbirds, butterflies, and bees can frequently be seen in the summer months, making it a wonderful spot for wildlife enthusiasts as well. Margaret Mack maintains a square in the garden and says it's her favorite part of life at Cedar Crest.
"I plant a variety of beautiful flowers as well as a few spices," says Margaret. "I enjoy working outside and meeting so many talented and friendly gardeners. I look forward to preparing my patch and seeing my plants thrive and grow. They bring enjoyment not only to me but to others as well."
Outdoor fun and games
 For those with a competitive streak, bocce ball is popular. The game offers the opportunity to exercise, socialize, and enjoy the outdoors. Residents compete in a series of tournaments throughout the spring and summer, which culminates in a championship tournament in late summer.
"We're proud to offer a variety of ways for residents to spend time outdoors and get the associated benefits at Cedar Crest," says Executive Director Todd DeLaney. "Whether it's a hike in the Ramapo Mountains, a game of bocce with friends, or maintaining a garden plot, our residents have so many opportunities to enjoy nature and fresh air."
Consider being part of a strong and caring senior living community like Cedar Crest. Beautiful walking paths, gardens, resort-style amenities, an on-site medical center staffed by full-time medical professionals, and new friends await. Request a brochure or a visit now!
Back