Healthy, Active Lifestyle in Full Swing at Cedar Crest Independent Living
Kate Streit
January 4, 2022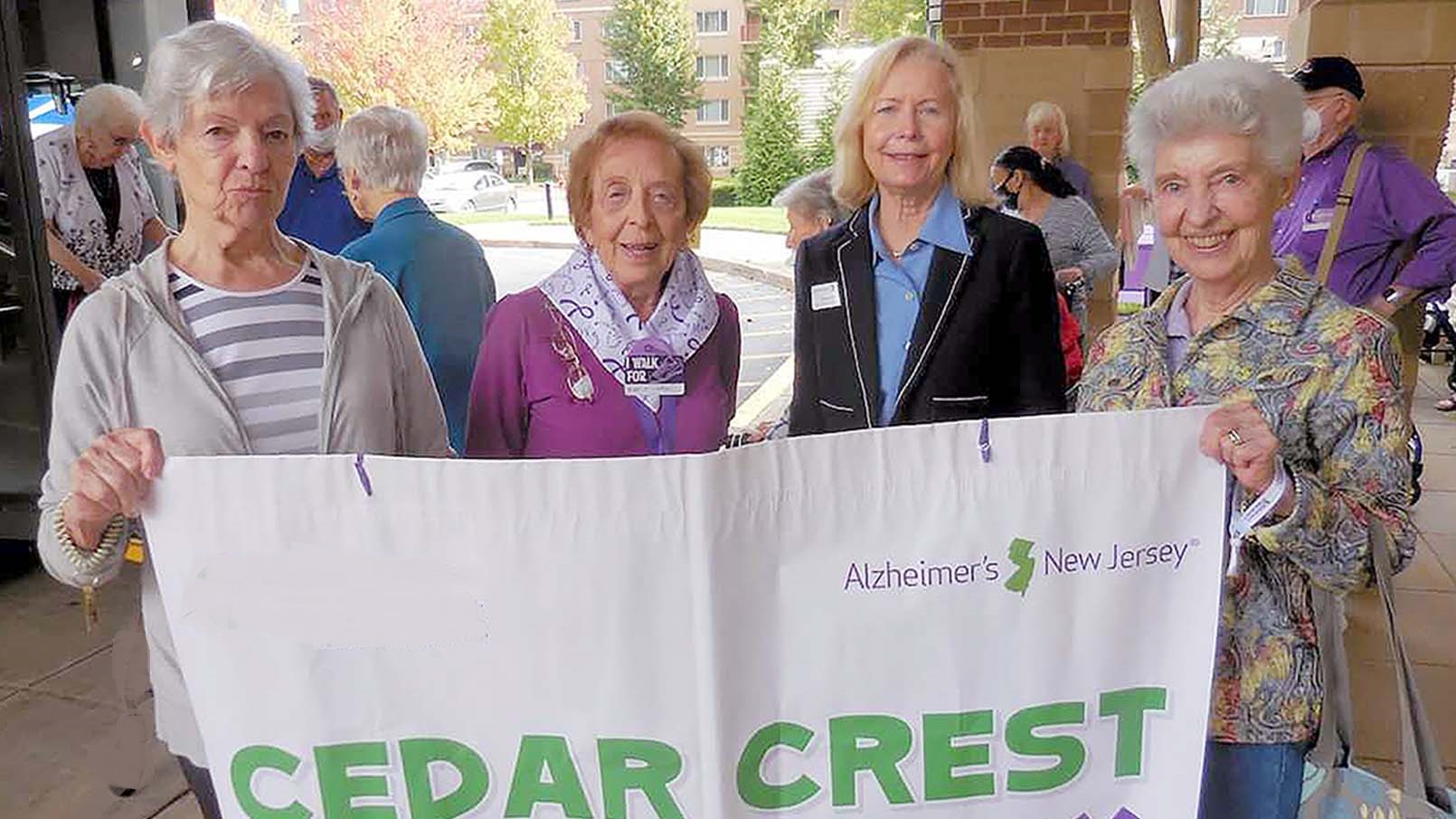 The New Year is an ideal time to refocus on health and wellness, which includes your physical, mental, and spiritual well-being. Residents at Cedar Crest, an Erickson Senior Living community in Pompton Plains, N.J., have a wealth of opportunities available on campus--only a short walk from their doorsteps--to help them live a healthy lifestyle and prioritize all aspects of wellness.
The community offers a variety of amenities, events, and activities to support a vibrant, engaging lifestyle. Resources like the state-of-the-art fitness center, on-site medical center, healthy dining options, pastoral services, and many groups and clubs ensure that residents are living life to the fullest, every day.
The Active Community Within Cedar Crest Independent Living
For more than 12 years, Cedar Crest residents have supported the efforts of the Alzheimer's New Jersey Association by participating in the organization's annual walk, aimed at raising awareness and funds for the disease. The walk is just one example of health-focused events that enable residents to be active and spend time with their neighbors, all while supporting a worthwhile cause.
Joann West serves as the resident advisor to the Alzheimer's At Home Care Group and helps organize Cedar Crest's participation in the walk. "The walk was a great success—again—this year, and I'm so grateful to everyone who participated," says Joann.
It's the vibrant, social atmosphere at Cedar Crest that really brings residents together and helps them stay active.
When resident Janice Rubin visited campus for the first time, she saw residents walking around with notebooks and talking excitedly with one another. "It looked like people were going to class," says Janice.
Janice was delighted to learn of the community's many clubs and activities—in addition to the promise that if she couldn't find one she liked, she could always start her own.
Staying Fit and Healthy in Senior Living
At the Cedar Crest health fair, held this past August, residents learned about mind and body well-being: socializing and balanced eating; exercising regularly, whether individually or in a group fitness class; and practicing mindfulness.
With this knowledge in mind, residents are taking full advantage of the updated, fully-equipped fitness center, creating workouts that fit their physical capabilities and personal goals. Cedar Crest fitness specialists ensure that residents are exercising safely and achieve optimal wellness.
Whether you get active with friends in the fitness center or go for a stroll yourself, there's something for everyone.
As a former long-distance cyclist, Janice stays in shape by using her stationary bike—a perfect addition to her spacious apartment home—and by walking around Cedar Crest's beautiful, 130-acre campus, set amid the scenic Ramapo Mountains.
"Walking here at Cedar Crest is so peaceful," says Janice.
Encouraging a Diverse Spectrum of Spirituality at Cedar Crest
Cedar Crest offers residents lots of opportunities to explore and practice spirituality. Multiple religions are represented at the community and many religious services are open to everyone, regardless of residents' varying beliefs and affiliations.
Janice joined a Buddhist Sangha practice group more than 20 years ago. When she moved to Cedar Crest in 2015, she started her own Sangha group, so that both practicing Buddhists and residents who were interested in learning more about the religion could join. The group meets on Wednesdays.
"We teach love and compassion for all sentient beings, as do all of the world's great religions," says Janice. "We strive to practice what we teach during every moment of our lives."
She also participates in a meditation group on campus, and she appreciates that Cedar Crest is so diverse, as many residents—from distinct backgrounds—feel included during spiritual programs.
Cedar Crest's long-standing Protestant group, which celebrated its fifteenth anniversary in 2021, encourages everyone to attend its services. The community purchased a new concert grand piano for the Interfaith Chapel to mark the group's milestone.
In September, the Jewish Council of Cedar Crest built its first sukkah: a walled structure, covered with plant material, meant to evoke the temporary dwelling in which farmers would live during harvesting time. The sukkah was built in celebration of Sukkot, an eight-day holiday in honor of the harvest and year's end—all were welcome to attend the holiday's celebrations.
"We're proud to offer a wide array of opportunities for residents from diverse backgrounds to practice their faith," says Executive Director Todd DeLaney.
Offering Holistic Care for Cedar Crest Senior Living Residents
The on-site medical center is staffed with full-time providers who specialize in senior care and serve only the Cedar Crest community. The center strives to offer safe and convenient options for each resident—including same-day, in-person appointments; telehealth calls; and home visits. And in case of an emergency, health care providers are on-call during nights and weekends.
Cedar Crest residents are welcome to keep their current primary care physicians and still use the medical center for flu shots, tests and screenings, and urgent care as needed.
Looking forward to embracing the New Year, Cedar Crest residents have all the resources they need to strengthen their well-being by staying physically, mentally, and spiritually active.
Ready to take a look at the endless wellness amenities offered? Schedule a virtual or in-person visit to Cedar Crest today.
Back