Fostering Friendships at Cedar Crest
Susan Ingram
January 4, 2023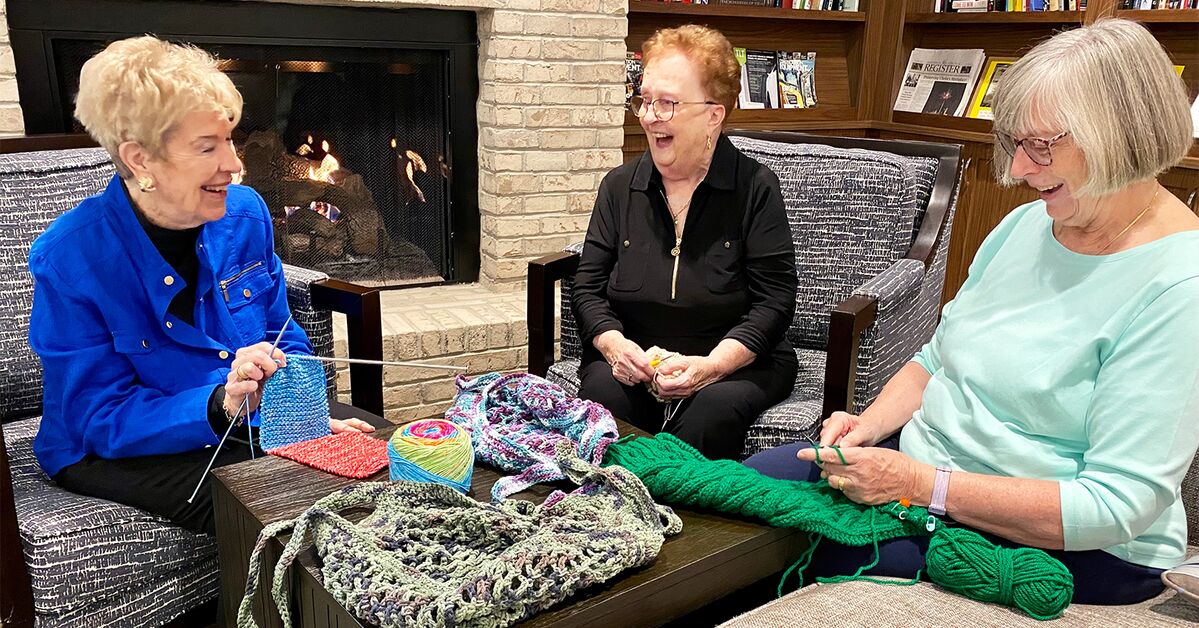 Looking for a social, worry-free environment in the next chapter of your life? At Cedar Crest, an Erickson Senior Living Community in Pompton Plains, N.J., it's easy to build relationships with people who share similar interests - and who live just a short walk away!
Whether it's fostering close friendships, reuniting with past acquaintances, or simply being part of a close-knit community, the opportunities for meaningful connection at Cedar Crest are endless, offering a healthy alternative to the isolation that many seniors may experience when living alone.
There's such an abundance of amenities and activities that, sometimes, residents find it hard to choose what to pursue first.
But, from experience, resident Agnes Hinnigan says, "Just pick something and get started! Try to find something that interests you - it will get you more engaged."
Getting involved
In 1999, Agnes and her husband Jim took one look at Cedar Crest, decided it was the place for them, and joined the priority list - even before one brick was laid.
"We were in our 50s then!" says Agnes.
After raising their family in Pompton Plains, the couple retired to their Pennsylvania mountain home. "But the winters became very harsh," says Agnes. "We knew, then, that it was the right time to move."
Two years ago, the couple made the move to Cedar Crest, securing a one-bedroom apartment home with a magnificent 160-degree view of the Ramapo Mountains.
For Agnes, her foray into their new community was a simple game of Scrabble.
"I was a Scrabble player all my life, so when I saw there was a Scrabble group, that was number one on my list to join," she says. "And through that particular group, I've formed friendships with several folks."
She adds, "I'm also a crocheter, so I joined the Yarn Creations group. That's a nice large group where I've had a lot of engagement and met a lot of nice people."
When she's not busy keeping up with her jam-packed calendar, Agnes and Jim enjoy grabbing dinner with other residents at Cedar Crest's on-site restaurants.
Making connections
Friendships not only make life more enjoyable and enrich everyday experiences, but research shows that social relationships play an important role in health and well-being, particularly for older adults.
"Having enjoyable social connections is an important, yet often overlooked, aspect of personal health and well-being," says Dr. Matt Narrett, chief medical officer at Erickson Senior Living. "From a robust calendar of events and dozens of clubs to sharing a meal together with friends, our communities are designed to maximize social engagement opportunities for residents."
Drew Nieuwenhuis, resident services manager at Cedar Crest, couldn't agree more.
"From a mental health perspective, friendships really add a level of positivity," says Nieuwenhuis. "And opportunities to connect with others are absolutely here. Something simple, like joining a neighbor on a walk, can lead to a deep, meaningful relationship."
For some residents, building a support system has made all the difference.
"Whether you're processing the loss of a spouse or getting ready to welcome your first grandchild, there's someone else here who has most likely gone through the same thing," says Nieuwenhuis. "The importance of living in a community of peers cannot be understated. Having a support system combats isolation, lowers stress, and helps manage everyday challenges."
A common thread
Finding common ground, notes Nieuwenhuis, helps new residents get acclimated to their new home even quicker.
"I see a lot of people coming out of their shells, and we encourage them - right from the get-go - that if there's something they enjoy, but they don't see it on any of our monthly offerings, to start their own group," Nieuwenhuis says. "Other people are sure to join!"
Nieuwenhuis recounts a group of men who started a friendly drop-in poker game.
"They booked a room, and it's open to whoever wants to come. They're in there for a couple hours each day, playing cards together. It's really taken off," he says. "These men didn't know each other before they came here. Now, they also have dinner together and go out bowling."
At Cedar Crest, residents thrive thanks to the relationships they form with others. Add these valuable friendships to the benefits of Cedar Crest's maintenance-free living, and people quickly discover that they are enjoying a more joyful, fulfilling retirement.
Invest in your future self at Cedar Crest. From top-notch amenities to affordable, maintenance-free apartment homes, you are sure to live your retirement to the fullest. Request more information today!
Back