Follow Your Retirement Dreams Straight to Cedar Crest
Susan Ingram
March 1, 2022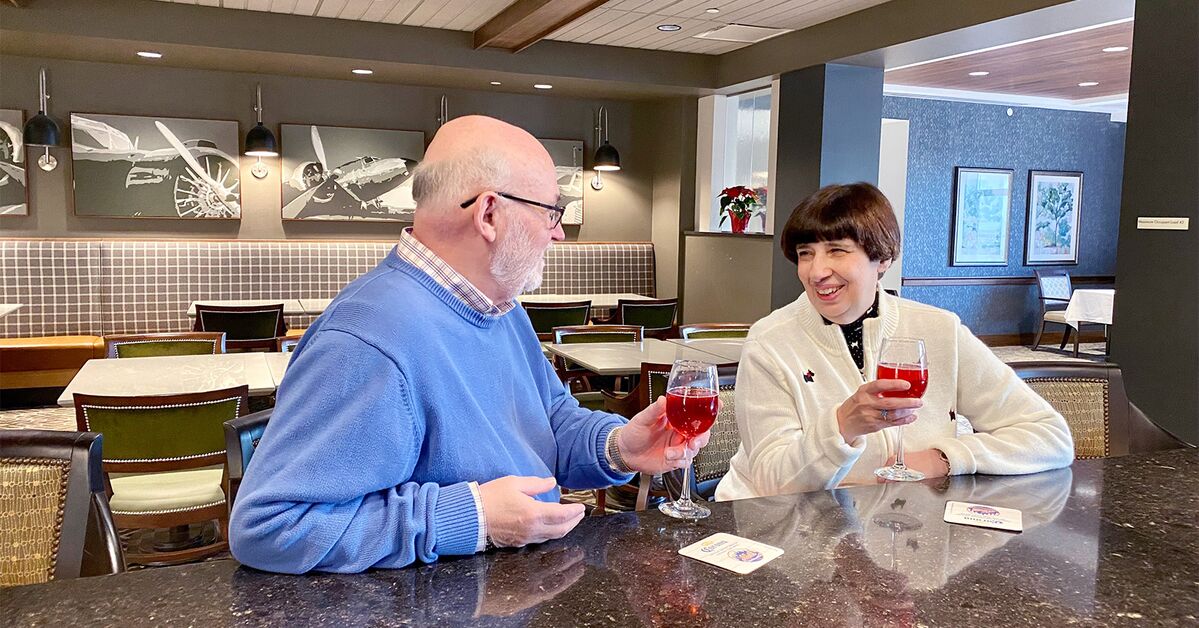 Throughout the years, you worked hard and planned carefully for your retirement. Now's the time to make the leap into that worry-free lifestyle you've been looking forward to - you earned it! By choosing Cedar Crest, an Erickson Senior Living community in Pompton Plains, N.J., you can enjoy a lively, connected, and rewarding retirement.
Cedar Crest offers a wide range of opportunities for those pursuing an active lifestyle, notes Resident Services Manager Drew Nieuwenhuis. Plus with the support of maintenance-free living, your retirement dreams are not just possible, but achievable.
A 'well-run, happy place'
Cedar Crest resident Jane Lavers, who recently moved from Rockland County, N.Y., enjoyed visiting the community with her late husband before she moved in.
"We always had a wonderful feeling when we came here for dinner with friends," she says. "It just seemed like a very well-run, happy place."
The couple was so impressed with Cedar Crest that they began planning a move there, but as Jane's husband fell ill, those plans came to a halt. After he passed, Jane was able to keep up with the house, but as time went on, it became too much to handle.
"And then I thought of our plans for Cedar Crest," she recalls, "And how it might be a practical answer for when you are alone and making a change."
When she began to explore the community in earnest - on her own - she was sold.
So many options
"You have so many different apartment home models and locations to choose from. There's a wonderful selection to fit anyone's needs," she says. And the best part? All of them are maintenance-free.
Jane chose a spacious two-bedroom, two-bath corner apartment home and is now enjoying far more free time. She also appreciates the convenience of making one simple monthly payment.
The monthly service package bundles expenses like electric, water, cable, and Wi-Fi into one predictable bill, allowing residents to balance their budgets with ease and confidence. The package also covers unexpected repairs, so if a faucet starts to leak or a lightbulb burns out, the general services team is just a call away.
"Who needs to be paying for someone to snow blow your driveway? Or take care of your lawn? This way, it's all together," says Jane.
Downsizing to enjoy life
Jim and Felicia Goodness also enjoy the freedom from the many chores of maintaining a house. Prior to moving to Cedar Crest, they lived in nearby Bloomingdale, N.J., "in a very big house," Felicia says with a laugh.
"We had a lot of updates done to our house, but then there was lots of lawn work and snow removal. We were always dealing with that," says Felicia.
"We had been in that house for 37 years," Jim adds. "So, this past year, we solidified the idea that it's too big of a house for us - and that it would be the perfect time for us to move. We wanted something that was maintenance-free, was downsized, and would still keep us in the area … we raised our son here."
Jim and Felicia were drawn to the Cedar Crest's active lifestyle and the ability to downsize to a smaller apartment home. The on-site medical center and continuing care were also a big plus, according to Jim.
Since their move, "There's a great amount of peace of mind," says Jim. "We love that we don't have to worry about the roof. We don't have to worry about the windows; we don't have to worry about leaks or anything."
Staying active
Cedar Crest's maintenance-free lifestyle allows residents to thrive by pursuing their interests and hobbies. For one, Jane is incredibly pleased with the multitude of opportunities to stay active and meet new people.
"At Cedar Crest, there are so many things you can do, so many choices. It's not like living in a house by yourself," she says. "It's like when you were a kid and you looked in a candy store and you picked out a few. It's got so much to offer!"
"We find that people appreciate the ability to maintain connections through group activities and programs, which is something that we have in abundance here," Nieuwenhuis says. "When you look at what's available to residents, there's truly something for everyone."
He continues, "Residents get involved in things that appeal to them, and then that peer interaction often leads them to join other activities. And, because this is an independent living setting, residents can set their own pace. Some even have busier schedules than I do!"
The Goodness couple also loves meeting new neighbors by visiting Cedar Crest's on-campus restaurants and has gotten involved in several resident-run activities. Felicia enjoys relaxing with the coloring group and getting fit by participating in a stretching and toning class. Jim jumped right into the Scrabble group and, "Has already been drafted for bocce ball," he adds, chuckling.
If you're seeking a financially secure and active lifestyle with many opportunities to learn, grow, and socialize, then consider Cedar Crest!
Invest in your future self at Cedar Crest. From top-notch amenities to affordable, maintenance-free apartment homes, you are sure to live your retirement to the fullest. Request more information today!
Back